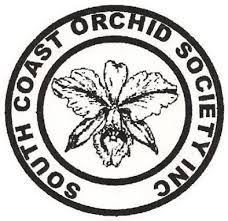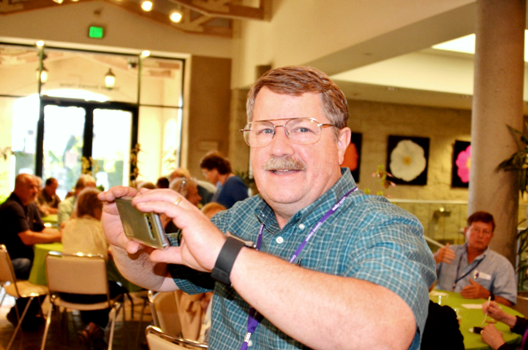 Did you ever wonder about the stunning photographs of the orchids awarded at the Long Beach judging center? They are the work of Arthur Pinkers, assisted by other members of the AOS Pacific South judging team. Arthur is usually the first to arrive, with a formidable array of photographic gear. Before anyone can say cheese, he has it all set up, including yards and yards of perfectly black draperies that almost always provide the optimum background, for all but the most problematic of orchids — and that would be Fred Clarke's black Catesetum hybrids, which are so dark they virtually disappear against a black background. That's the Arthur we usually see at South Coast Orchid Society meetings, the intrepid but easy-going and sociable photographer of whatever challenging orchid plant comes through the doors of the judging center. But it's not just pretty pictures, he has decades of experience with all aspects of growing orchids.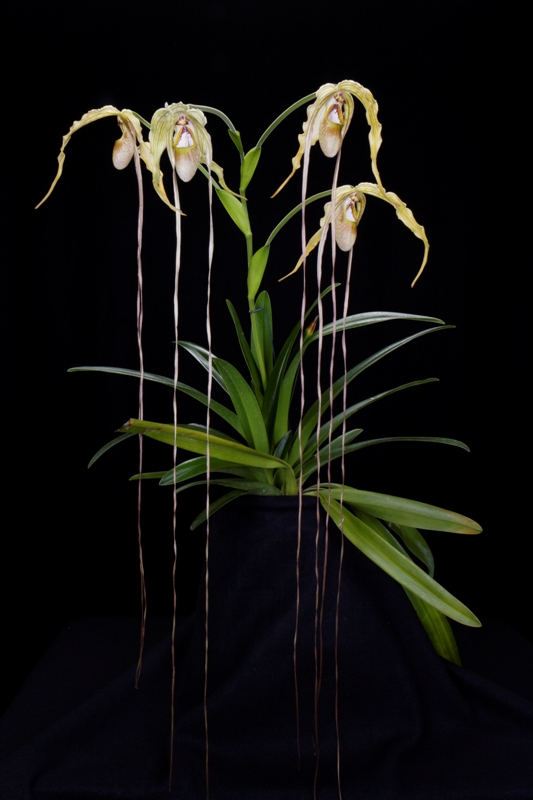 Arthur Pinkers has been an orchid enthusiast since the age of sixteen, when he acquired a plant of Slc. Glittering Jewel (Sl. Gratixiae x Slc. Hermes), which infected him with the orchid bug. His forty plus years of experience growing orchids started in the Pacific Northwest with a greenhouse to fend off the cold, rainy days, but a decade ago a job change forced him to move to Santa Clarita, California, where the conditions are extreme for growing orchids.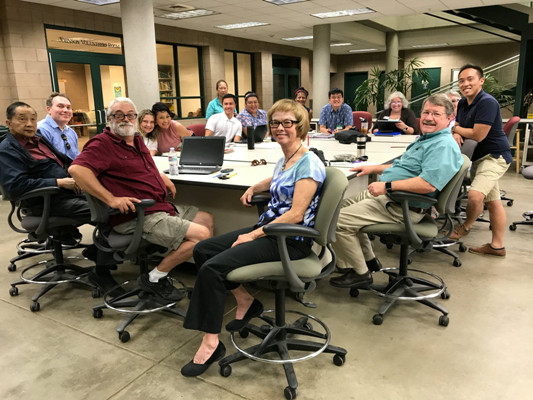 Growing up in the Seattle area, Arthur attended Western Washington University in Bellingham, Washington, graduating with a B.S. in Chemistry and Biology. He worked for many years as a chemist, and had the fortune of having his dream job as the Lab Director for Beall Orchid Company until shortly before its close in 1990. Despite not having a current career working with orchids, Arthur has taken an active role in the orchid community. He has been an Accredited Orchid Judge for over twenty years, served in most executive positions on the Board of the Northwest Orchid Society, including serving as President from 1988 to 1989, President of the San Fernando Valley Orchid Society beginning in 2016, and now as Past President. He is also currently the Treasurer for the Cymbidium Society of America. He was the center photographer for the Pacific Northwest Judging region 1993–2004. Arthur now serves as the Center Judging Chair at the Pacific South – San Marino Judging Center and as one of the photographers for the Pacific South Judging Center. Though he has an interest in a wide variety of orchids, botanicals are a special draw to him for their diversity and charm.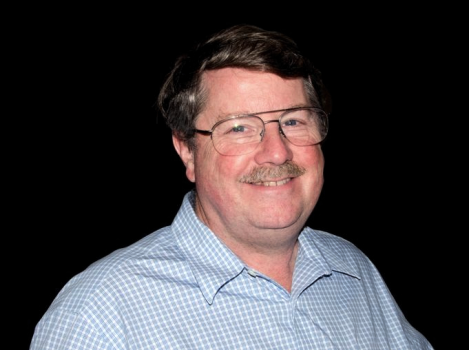 Arthur has been married to his wife, Margie, for over twenty-nine years, and has two adult children and a granddaughter. While they have not inherited his knack for growing orchids, his family enjoys the beauty and wild aromas his backyard jungle brings to their home, a respite from the desert landscape around them.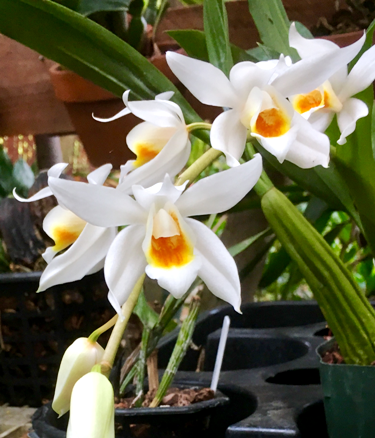 For our August, 2019 meeting, Arthur will speak on "Coelogyne, The Orchid That Hooked Me". Coelogyne is one of those large orchid genera that we would like to know better! Estimates of the number of species range from about 150 to 200, most of which are hardly ever seen in cultivation. They are widely distributed in south Asia through the islands of the eastern Pacific, and from the Himalayas down to sea level. Not surprisingly, cultural requirements vary! Some of them don't enjoy hot weather, others can't survive cold nights, and some seem to require a bright and sunny winter but a shady summer.
Many species of Coelogyne have white sepals and petals. The color is so pure, it is often compared with snow. The lip on these species often has a contrasting throat, which somehow makes the white flowers even more stunning. But other species come in a wide variety of colors and forms. We offer some examples to pique your interest!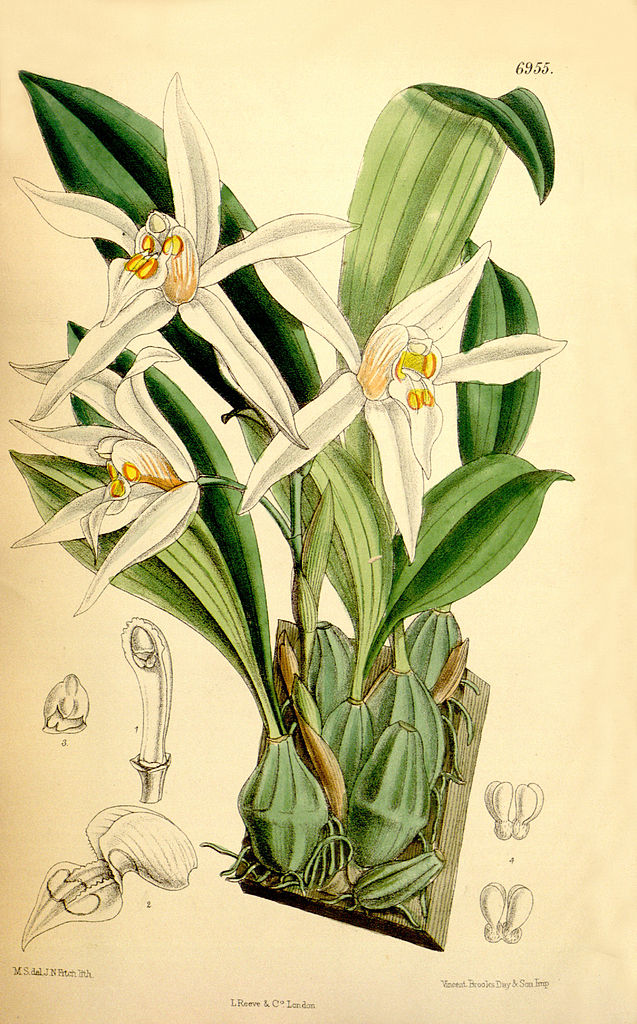 About 60 species of Coelogyne have received AOS awards of some kind. However, only a very few hybrids have been awarded. One of those, Coel. Bird in Flight, has received 17 awards, with flowers on some cultivars of this hybrid over 5" across. As of 2019, the total of registered hybrids of Coelogyne stands at about 200. The most prolific hybridizer in the last decade has been Kevin Dawes in Australia. What are the goals of Coelogyne hybridizing? At this point, there does not seem to be a clear trend, other than to explore all of the possible primary hybrids. Going forward, fertility could be a problem, as different species have different numbers of chromosomes. It may take some time to sort that out, but the results so far look promising. What will the next crosses bring?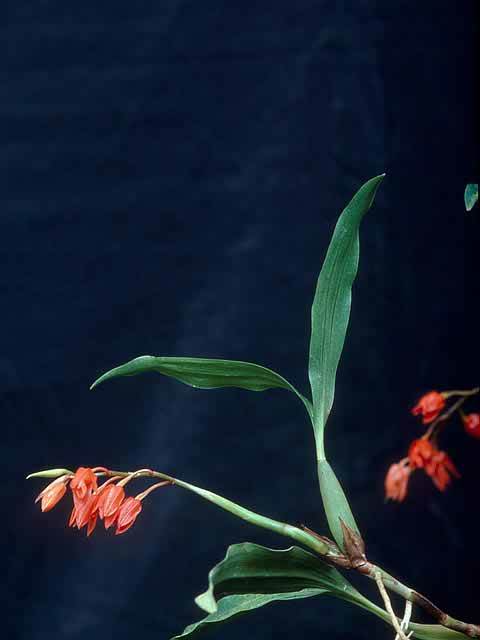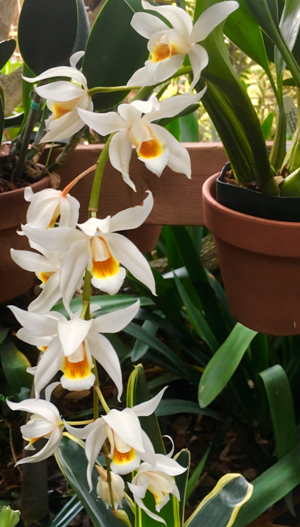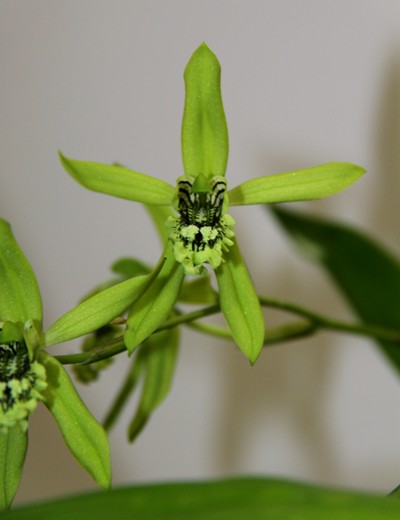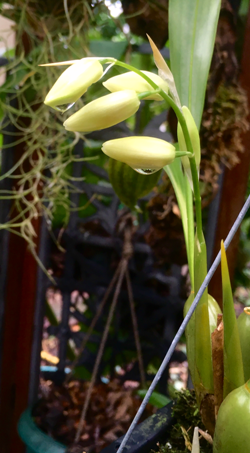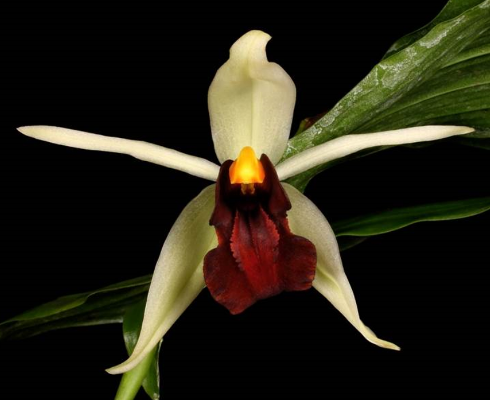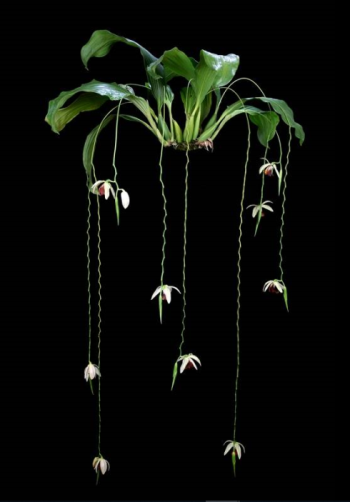 ---