South Coast Orchid Society
AOS Judging Center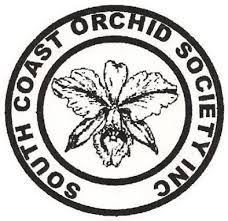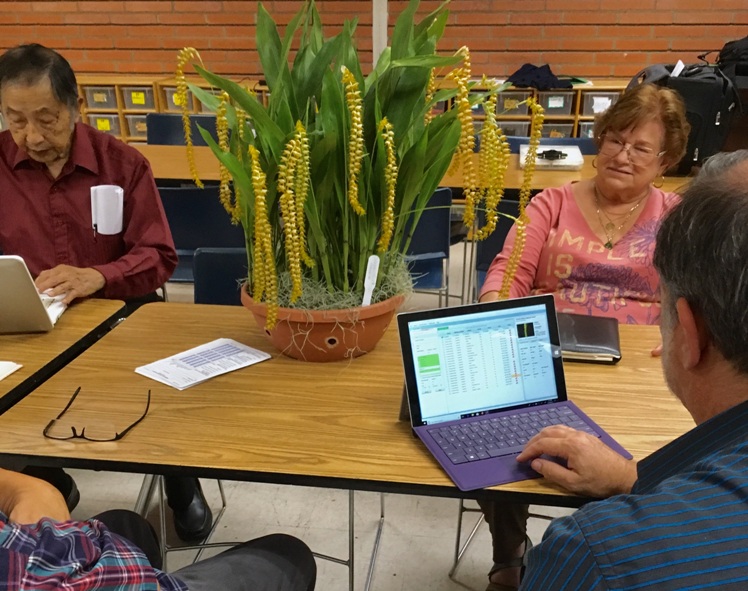 SCOS has for many years provided space for an official American Orchid Society (AOS) judging center during our monthly meetings. The current director of the Long Beach center is Peter Lin. The Long Beach site, in turn is a part of the Pacific South Judging Center. Visitors to the judging center are welcomed and encouraged!
The AOS established its first systematic program of judging orchids in 1949. Judges are trained to apply a uniform set of standards across all judging centers. The AOS judging program serves several purposes:
Provides recognition for superior cultivars
Provides recognition for outstanding growers
Provides an extensive educational resource for all orchid growers, professional and amateur alike, in matters of selecting desirable plants, growing them for best effect, and identifying them correctly.
On the other hand, beauty is in the eye of the beholder. There is nothing wrong with preferring a particular plant that never won any awards, but nevertheless pleases YOU! Fashions in orchid flowers change over time. The judging system may not catch on to new trends immediately.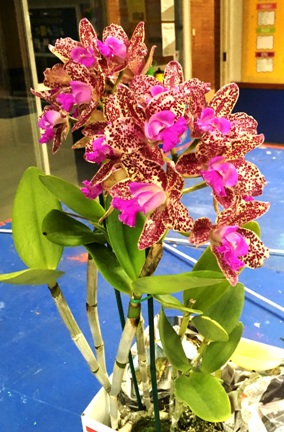 However, awarded plants are often the ones that are selected for cloning and mass marketing. Awarded plants are more likely to be used in breeding new hybrids as well. Over time, the judging program influences the direction of orchid breeding, growing, and marketing.
One reason to be aware of the judging system is that you could easily end up with a first-bloom seedling that happens to turn out exceptionally well. Remember that seedling orchids from a given cross usually show many differences in form, color, growth habit, etc. Most seedlings of hybrid orchids are sold to the public before they have bloomed. Someone has to get the best plant from among the unbloomed seedlings of a particular cross, and that someone could well be you! Bringing your plant to one of our meetings for judging is the way to find out if you have something special!
Most of the plants that win an AOS award at the Long Beach judging center will appear in the SCOS newsletter, an excellent resource for keeping track of who's growing what in our area.
---