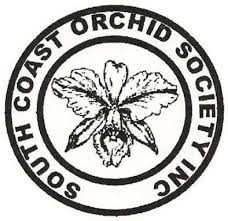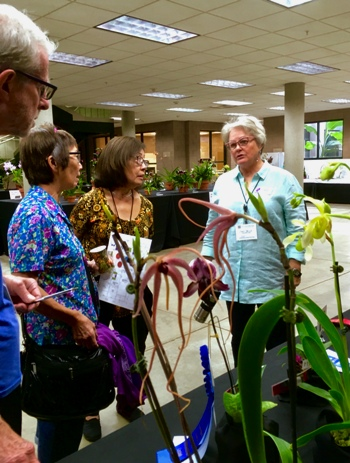 At the 2018 Fourth Annual Huntington Botanical Gardens International Orchid Show, two of us from South Coast Orchid Society (John McCoy and Una Yeh) were assigned as volunteers to Carol Beule's ribbon judging team. Our team was assigned to the Cattleya species and hybrids. Does it really take half a dozen people to judge all the Cattleyas in a big show? Yes it does! There were so many plants, scattered over two floors and three separate areas, that we pretty much had to sprint from 9 AM to 1 PM. The plants that needed to be compared directly with each other were always, inevitably, diabolically located as far away from each other as possible. We just kept moving. Along the way, Carol led a lively discussion about the flowers and many other aspects of orchid lore. An exhausting day, but well worth it. If you can, volunteer for ribbon judging at the next Huntington show — best way to boost your orchid knowledge, ever!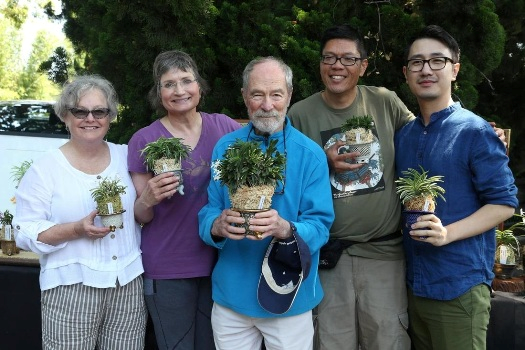 Carol Beule is an EMMY Award winning Costume Designer with a Master of Fine Arts in Costume and Lighting Design from the University of Wisconsin, Madison. She was a professional Costume Designer from 1974 until her retirement in July of 2017, and has designed for film, commercials, theatre productions and TV shows. She lived in NYC at the beginning of her career.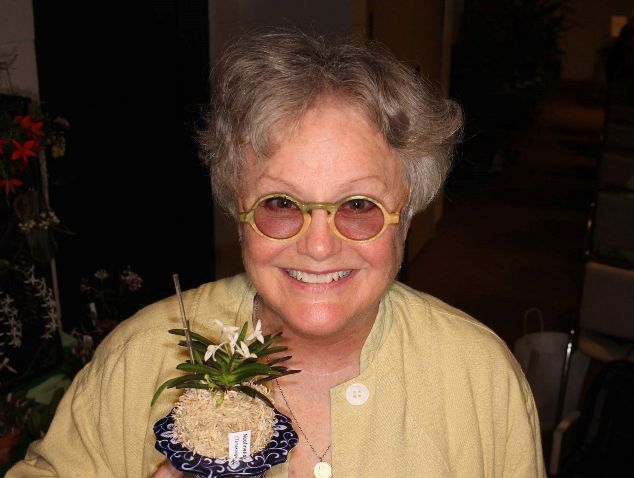 Growing orchids in NYC was not considered a possibility, so she has grown orchids only since moving to Southern California in 1992. Growing outside with no greenhouse in Studio City at the edge of the San Fernando Valley is sometimes problematic. With temperatures ranging from 28 to 118 Fahrenheit, and humidity as low as 7% at times, it is usually a challenge. It has been her quest to find out what will and will not bloom and prosper under these circumstances.
In her search to find the perfect plant for her growing area, Carol discovered the Japanese orchid called Neofinetia (Vanda) falcata and various other species that thrive outside in Southern California. Carol grows various forms of Paphiopedilum, Phalaenopsis, Cattleya, Laelia, Dendrobium, Lycaste, Asian Cymbidiums and Rossioglossum on her patio.
Vanda falcata is native to South East Asia, specifically, Korea, Japan and Southern China. While they can be grown in a greenhouse, they can also be grown along side many other outdoor-growing temperate climate range orchids when their specific needs are met. It takes considerable time, but they can become specimen plants. As they are slow growing and small by nature, they take up little room and can easily be fit into any growing regimen. The reward is flowers that bloom from May to October (depending on the variety) and some of the most fragrant orchids available. Five flowers can easily perfume an entire room.
Carol is an AOS Associate Judge (soon to become officially Accredited!), the 1st VP of the Orchid Society of Southern California, and is on the committee that creates the Society's display for the Huntington's annual International Orchid Show every October. She has just started a new business venture: Artistic Original Designs for Asian Orchids, and makes Neofinetia (Vanda) and Cymbidium presentation pots. Carol will bring a pot or two with her, as well as show how to re-moss and care for these little orchids.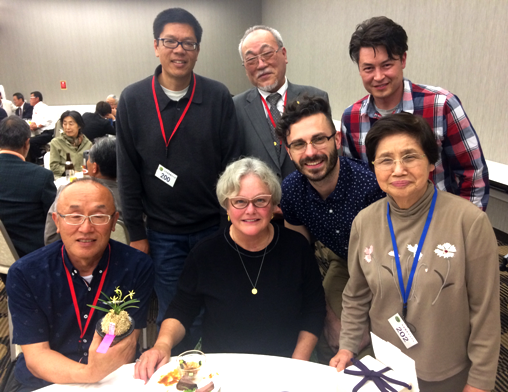 Carol seems always in motion, but she's not spinning her wheels! She tackles many projects (from what I have seen, the more challenging, the better), stays focused, and she gets results! "I love problem-solving", she told me. Carol has almost a decade of experience in judging orchids, not a simple accomplishment. She has found time to take an active role in her local orchid club, and has presented programs to many other orchid societies. Recently she joined the Board of Directors for Orchid Digest Corporation. She has become an expert in growing Sarcochilus species and hybrids, after a lot of experimentation to figure out what they need in order to succeed in the summer heat in the San Fernando Valley. When her attention turned to Neofinetia falcata, which many of us in the West think is a cute miniature, but which is the subject of almost fanatical interest in the Orient, Carol kept digging to understand the mystique of this little plant, and ended up applying her Masters of Fine Arts degree to the design and manufacture of the elaborate formal ceramic urns that are considered a necessity by Asian devotees of Neofinetia and Cymbidium. The art of making these urns seems all but lost in Japan. She has done such a good job of mastering the lore of Neofinetia that she has been able to participate in the esoteric world of the big Japanese exhibitions of Neofinetia (fuukiran or fūkiran in the Roman alphabet, 富貴蘭 or phonetic "hiragana" script ふうきらん in Japanese).
About those pots:
The Japanese have a long and well-documented history of the appreciation of nature, and indeed, the worship of nature in all its aspects as a tangible manifestation of the divine. Various plants and flowers are associated with qualities such as strength, persistence, the fleeting nature of life, the special aspects of each season that teach us how to deal with life's challenges and opportunities. So it is perhaps not surprising that a little plant such as Neofinetia that somehow survives clinging to wind-blown tree branches in the mountains, yet still brings forth sweetly fragrant flowers of great beauty, would make a deep impression in Japan. And whatever has esthetic value in Japan, needs some sort of a wrapper or container to symbolize the value that it has — the act of carefully wrapping something shows our esteem for it. So the pot that holds the Neofinetia plant shows, first, the value that we place on the plant.

But then the pot itself, even when the plant is not in it, acquires value through its association with the plant, and so the pot now needs a wrapper or container as well, traditionally a carefully crafted, deceptively simple wooden box. But to express the fact that the box contains something that we prize, now the box in turn needs a wrapper, and that will be a carefully selected piece of cloth, called furoshiki. Traditional Japanese carry all sorts of important objects tied up in furoshikis, ranging from lunch (in a bento box) to gifts, treasured implements, legal documents, etc. Indeed, a whole art of creatively wrapping various things (for example, two wine bottles, that a guest might bring to a dinner party!) in a furoshiki has developed, to the point where there are classes and tutorials on the subject.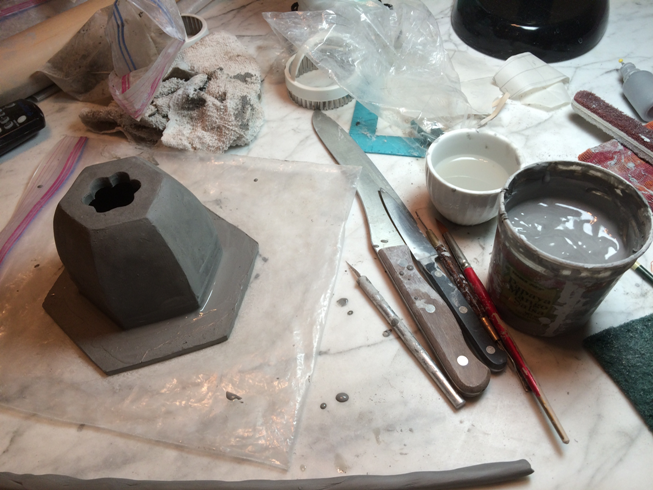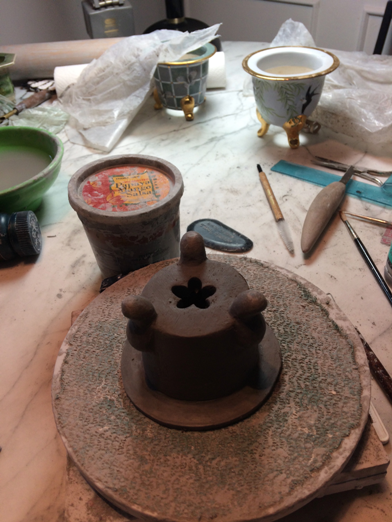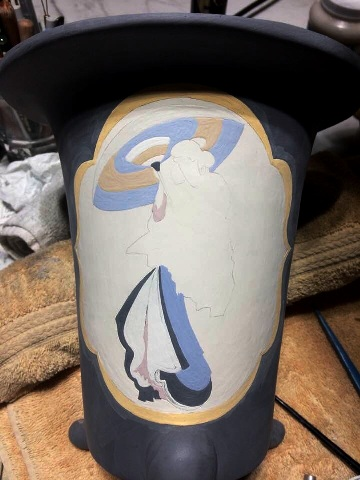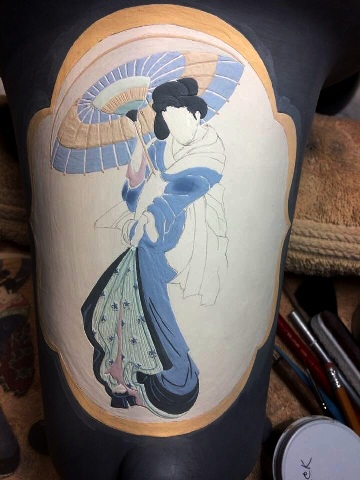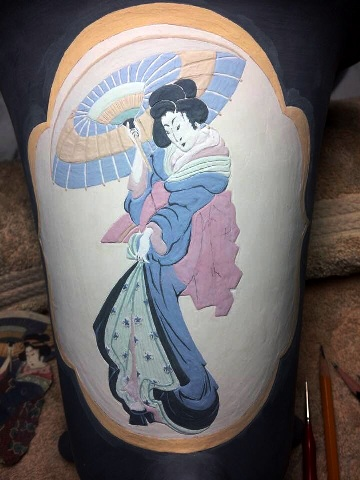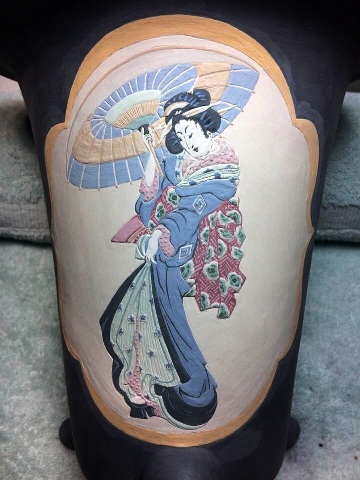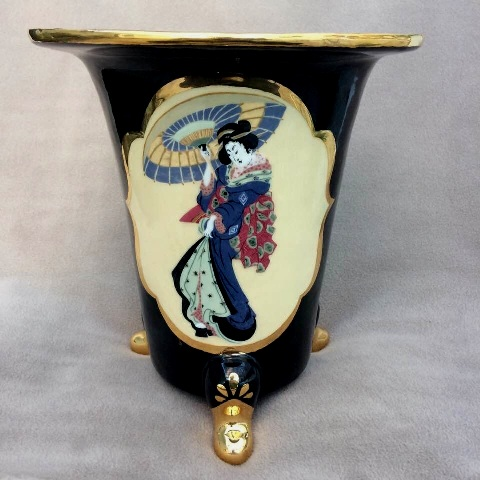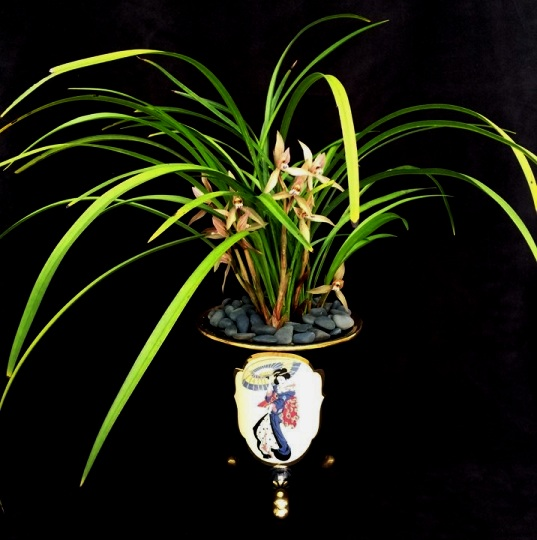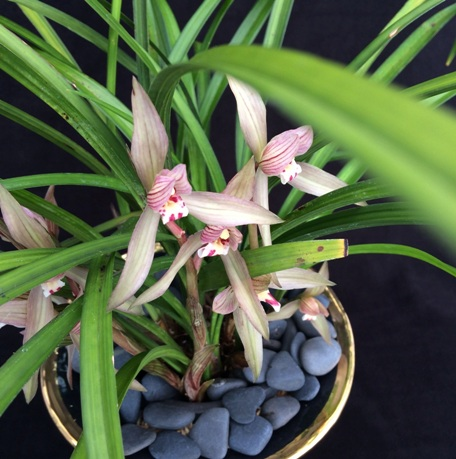 And finally, a plant and a pot working together! This one is Cymbidium tortisepalum var. longibracteatum 'Vineland's Pink', for which Carol was awarded an HCC at the Long Beach supplemental judging center during the January, 2019 SCOS meeting! There is a similar and very long tradition of pots and the esthetic appreciation of Cymbidium species, especially in China. Carol creates pots suitable for each of these traditions. Explore her web site at www.firsthousefurnishings.com.
---