January, 2019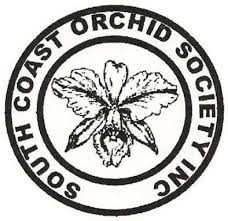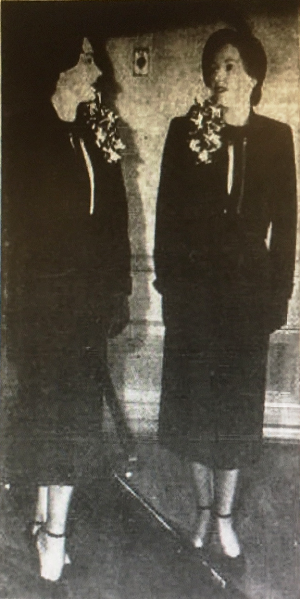 A Blast from the Past: 1950 —
Our First Bash!
The story of our first big party, on December 20, 1950, was reported in The Independent on Sunday, December 24, with several pictures — two of the "lovely Claire Hammel", elegantly dressed and with South Coast Orchid Society corsages to accent her beautifully tailored outfits from Dinel's Feminine Apparel in downtown Long Beach (long gone, and perhaps that's why nobody dresses like this anymore?), and a photo of our society's first President, the "oil man" Paul N. Baker.

(From The Independent, Long Beach, California, Sunday, December 24, 1950)

Orchid Growers' Contest

By BESS SETTLE.

In her hair she wore a gorgeous brassolaeliacattleya, Decorating her wrist was a dendrobium Formosum giganteum . . . and adorning her bodice was an oncidium zygopetalum.

If you don't know what the gal was wearing just ask her. She will probably say "orchids to you."

Your reporter, who can scarcely distinguish a phaleanopsis from a dendrobium, found herself slightly confused amid an ocean of orchids Wednesday night in Bowling Green Clubhouse, Recreation Park, where the South Coast Orchid Society staged a meeting and grower's contest. Head of the society is Paul N. Baker of Long Beach who lives at 424 Windslow Ave., and as a hobby raises his choicest blooms in a glass house at 370 E. 37th St.

But as the Bard of Avon so aptly put it, "What's in a name?" To the uninitiated a cyripedium cymatodes is just as pretty as a cypripedium delanatti . . . it's all a matter of personal preference.
Any orchid grower will tell you that there are 15,000 varieties. Fortunately for you and me most of them have common names such as "Big Festivity" designated by the grower as "brassolaeliacattleya."
Wednesday night's session was in the form of a contest for plant growers and corrsage making. Many of the amateur growers also excel in the art of making bouquets and corsages of their dainty blossoms.
WIN AWARDS
Winner of the grand prize was Ann MacQuiddy of Compton. First prize for the best cattleya went to Genevieve Toy of Gardena; second prize to Nora Pino of Torrance and third to Mrs. Morris Holmquist of Long Beach.
Awards for making orchid corsages went to Mrs. Paul N. Baker, Long Beach; Mrs. Charles Atkinson, Balboa, and Nora Pino of Torrance. Mrs. Baker won all three honorable mention awards for making corsages.
Judges were Lillian Newman, Rosemary Short, Claire Hammel and Minka Zorka. Many members of the South Coast Orchid Society are also affiliated with the Southern California Orchid Society and with the American Orchid Soceity at Harvard University.
During 1951, meetings of the South Coast Orchid Society will be conducted each fourth Monday night of the month in Woodland Clubhouse, Recreation Park.