November, 2018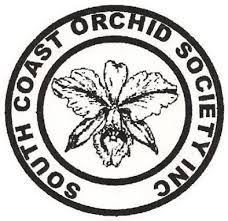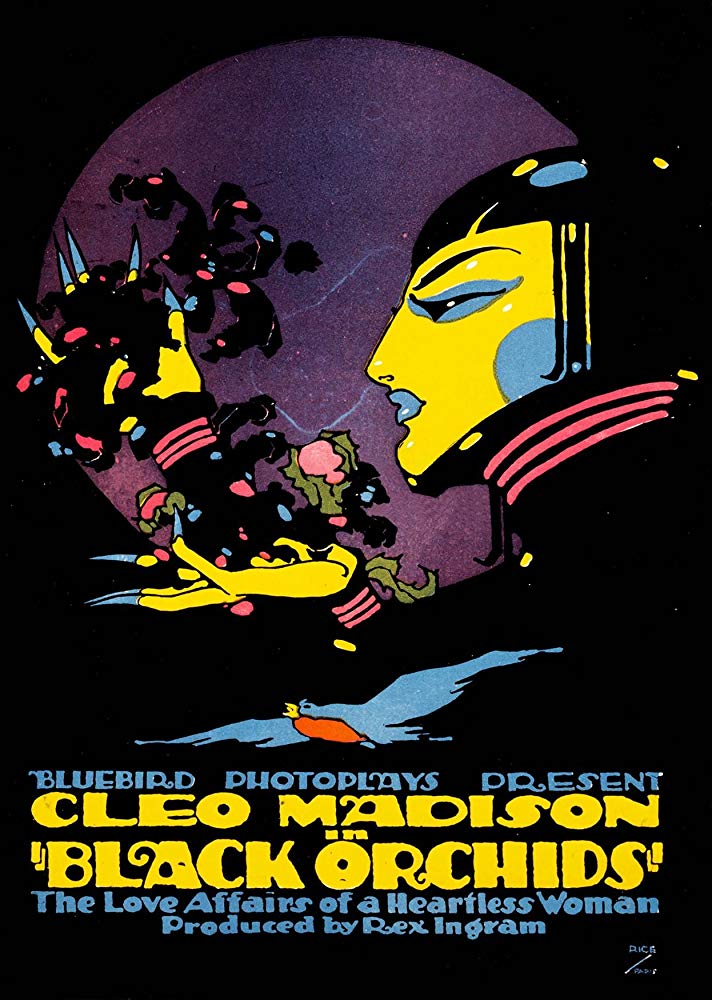 Fascination of Black Orchids:
Why black orchids? Perhaps it is the association of the exotic and the mysterious, something that evokes dark recesses of the human condition, both fascinating and terrifying? In the popular media, the first example may have been the silent film Black Orchids that appeared in 1917. The film is apparently lost — mercifully, if we can judge from the lurid synopsis that survives — but a stylish lobby poster remains. As far as is known, the black orchids in question only appear in what must have been a dim, grainy film, when the evil temptress Zoraida (Fred Clarke, are you listening? How about naming one of your black orchids after this character?) places them on the grave of her husband the Marquis, who, as it turns out, is not actually dead. So, these black orchids seem to have been irrelevant to the plot, though symbolic of something evil or even depraved.

But wait! There's even more about Black Orchids !

Black Orchids, synopsis: Marie, the daughter of novelist Emile De Severac, is engaged to famous artist George Renoir. Because Marie becomes very flirtatious with other men while she is on vacation from her convent school, her father relates the plot of his unpublished novel, Black Orchids, in which Zoraida, the protagonist, seduces many men. Sebastian De Maupin, whose son Ivan is Zoraida's current lover, desires her himself and thus arranges for Ivan to go to war. When Zoraida then dallies with the handsome Marquis De Chantal she enrages De Maupin, who tries to poison the marquis, but is himself killed when Zoraida exchanges the lethal cup. After Ivan returns from battle, he and Zoraida renew their affair, thus precipitating a duel between himself and De Chantal which ends when Ivan seemingly slays his rival. Ivan and Zoraida then go to a castle which De Chantal has bequeathed to her. Although De Chantal has been fatally wounded, he lives long enough to go to the castle and seal the lovers into an airless death chamber. After the story is complete, Marie resolves to pursue a different course in life. (AFI web site)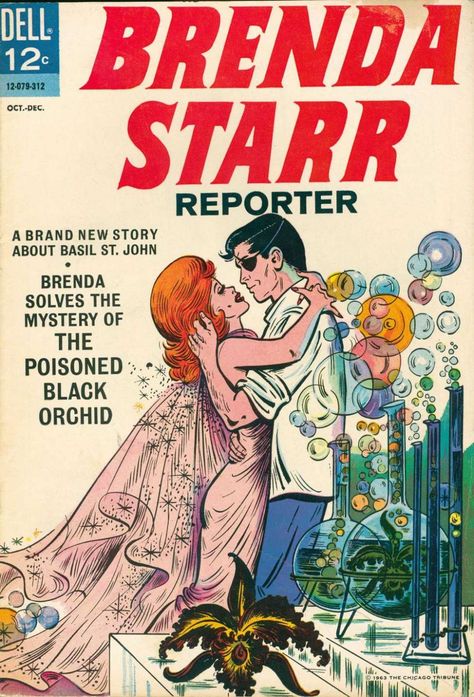 Black orchids were a central part of the story of the comic strip heroine Brenda Starr, resourceful and fearless newspaper reporter, struggling to be taken seriously by her male colleagues. The strip first appeared in 1940 and ran until 2011 (under different authors after 1985). Something of an overachiever, Brenda was always the reporter who managed to get the most sensational stories, frequently at great personal peril. Along the way, she chanced to fall madly in love with a dashing Basil St. John, her "mystery man". But he was afflicted with some unspeakable, incurable disease that could only be held at bay with a serum derived from "black orchids" from the Amazon jungle, and so he kept disappearing on what today would be called eco-travels. These black orchids look a lot like a large Cattleya, perhaps something like C. maxima. He spent a lot of time in a jungle laboratory preparing his "serum". Countless orchid fanciers probably wanted to go with him, your web master among them.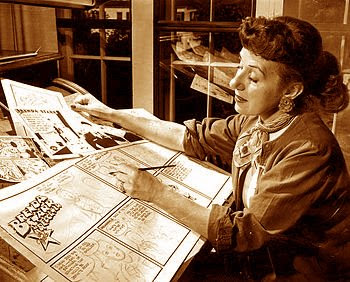 Dale Messick (1906-2005), creator of Brenda Starr, Basil St. John, and his black orchids, was herself a pioneer in a field then reserved for men. Somehow, she came to resemble her own creation. Art resembles life and life resembles art. As for Brenda, she found her way into comic books and films, but, as far as we know, never made it onto Broadway.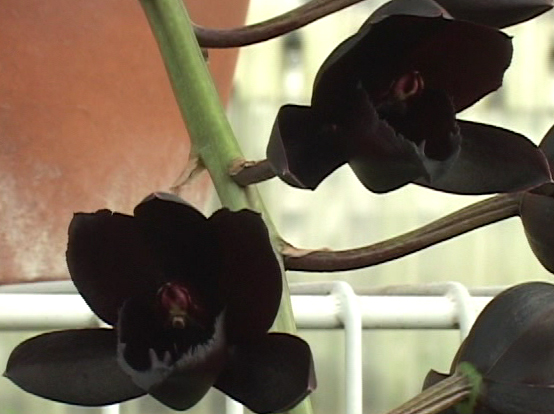 More recently, black orchids appeared both as a plot device and in real life, in the form of a sort of orchid documentary, The Judge, the Hunter, the Thief, and the Black Orchid (2012), drawn from orchid-related episodes that came to the attention of the film-maker Rich Walton. Among his subjects was our friend Fred Clarke of Sunset Valley Orchids, and his real black orchids. A review in the Long Beach Post (August 9, 2012) describes Fred as "an orchid hybridizer, one of a dying breed", but, fortunately for us and for the future of orchid hybrids, Fred and many other orchid breeders are still with us. We talk with them every month at our meetings, and at shows and sales throughout the year! The lurid ideas associated with black orchids (and perhaps also with orchid fascination gone wild) apparently got the better of the reviewer.
The reviewer also reports that Walton found "[orchid] societies themselves are not nearly as clandestine as one might think"! Evidently the black orchids are still inflaming the imaginations of newspaper reporters. For us, it is more a matter of trying to grow these orchids well.
---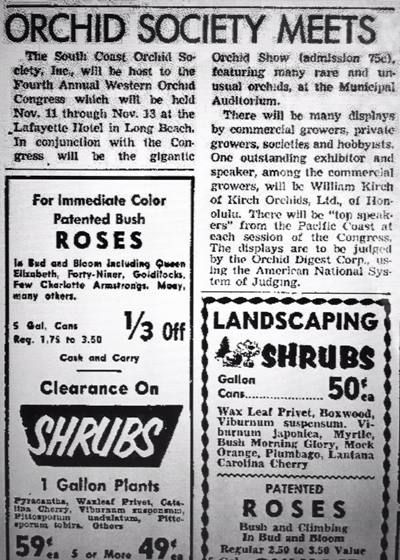 Blast from the Past: 1955 South Coast Orchid Society was barely five years old when it hosted the Fourth Annual Western Orchid Congress, November 10-13, 1955. SCOS was already meeting at 7:30 PM on the fourth Monday of every month, in 1952 at the Woodland Clubhouse in Recreation Park, and by 1955 at the Silverado Park Clubhouse. The headquarters for the convention was the venerable Lafayette Hotel at 140 Linden Ave. in downtown Long Beach, now an apartment block. Admission to the exhibits and lectures at the Municipal Auditorium was 75¢. Presiding was Morris Holmquist (Oscar Morris Holmquist, 1902-1990), a Long Beach realtor and developer, but at the time apparently living in Artesia, who was active in the little group of orchid enthusiasts who were responsible for the organization of various orchid clubs in Southern California. Holmquist served as President of the Orchid Society of Southern California in 1952.
At the Congress in 1955, the first Orchid Digest Medal of Honor, an award of recognition for "Meritorious Service to the Orchid World", was presented to Robert Casamajor, first editor of Cymbidium News, who had been chairman pro tem at the 1946 organizational meeting of the Cymbidium Society. Casamajor (1885-1960) was active in many of the garden clubs in Southern California, including the Camellia Society, whose members formed the nucleus of the new Cymbidium Society. He has the distinction of having a Camellia, a Paphilpedilum (he was well known for his Paph hybrids and his cultural techniques), and a Cymbidium named after him.
The Long Beach Press-Telegram (November 7, 1955, p. 15) reported: "Orchid Care to be Shown Parley Here — Demonstrations and displays on corsage-making and potting and care of orchids will be held Friday at Municipal Auditorium as part of a four-day convention of the Western Orchid Congress. The show Friday, from noon to 10 p.m., will be open to the public.
"The congress will open sessions Thursday at 5 p.m. with a reception and social hour at convention headquarters, Lafayette Hotel. Morris Holmquist, Artesia, will preside.
"Special convention events include tours of the commercial orchid-growing establishments in the Long Beach – Los Angeles areas, meeting of the amateur growers, tours of amateur greenhouses and a banquet."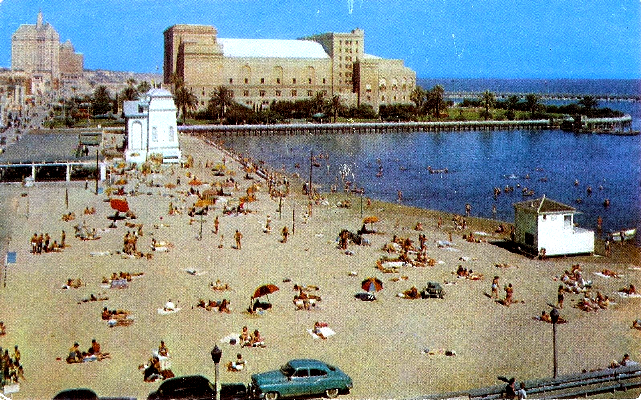 Both Holmquist and Casamajor were involved in the development of orchid judging in Southern California. John D. Stubbings (A Short history of American Orchid Society judging, Awards Quarterly, 18:90-91, 1987) noted that "in 1953, judging was expanded to include quarterly sessions in California headed by Morris Holmquist, Jay Muller, Robert Casamajor, Howard Anderson, and Etta Gray as a subcommittee of the COA" [Committee on Awards, renamed as the Judging Committee in 1996]. By 1955, as a result of developments at the First World Orchid Conference (St. Louis, 1954), a second edition of the AOS Handbook on Judging and Exhibition had been published, and an AOS regional judging center, meeting monthly, had been established in Los Angeles. Although we haven't tracked down the rest of the story yet, it appears that SCOS must have been involved in orchid judging under the Orchid Digest rules at that time, since the article in the Pasadena Independent seems to mention those rules. And it has been a very long time since we saw an orchid corsage, although we seem to recall that more than a few them were worn with the obligatory floppy Cattleya facing upside-down.
Ernest Hetherington (March 14, 2004, "Introduction", on the web site of the Cymbidium Society of America, Inc.), quotes Jack Hudlow, one of the founders of the Cymbidium Society of America who spoke in 1966 at a meeting of the Society in Pasadena, Californa, as follows: "Early in 1946, a small group of gardening enthusiasts (previously members of the Camellia Society) were invited to meet at the Pasadena public library with the purpose to 'initiate steps toward the organization of an "outdoor orchid society" '. These invitations, in the form of a letter, were sent out by Dr. David McLean. Prospective members were invited to bring a Cymbidium plant for the exhibit table. The organizational meeting was held April 3, 1946. At this meeting, the following persons were elected, pro tem: Robert Casamajor, chairman; Roy M. Bauer, secretary; and James Wright, treasurer. About forty members paid a $5.00 entrance fee..."
So far, we have not found any press coverage about the exhibits, the plants and their awards, or other activities held during the 1955 Congress. Please contact the web master if you have additional information.
---
October, 2018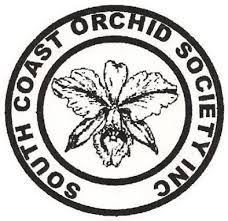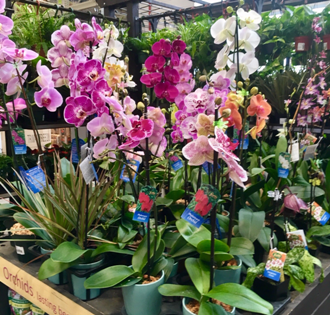 Grocery Store Orchids:
An interesting article by Atlas Obscura traces the history of the "Grocery Store Orchid", a marvel of biological research and technology, and now a multi-million dollar industry worldwide. Were it not for the advent of inexpensive cloned orchids—the technology works for all the popular orchid genera except Paphiopedilum—, few of us would be be able to afford good quality plants that could otherwise only be propagated by division.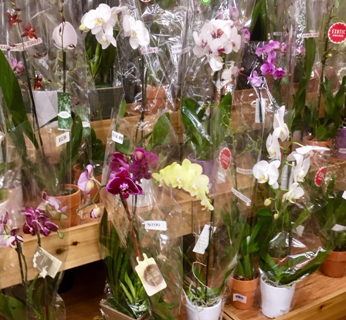 Not so long ago, buying an orchid plant required an all-day pilgrimage to an orchid nursery. Today, we can buy a pretty orchid on a whim, at almost any grocery store or home improvement store. Some garden centers also sell orchid plants, usually bigger or fancier, and at higher prices, to set themselves apart from the ordinary mass market.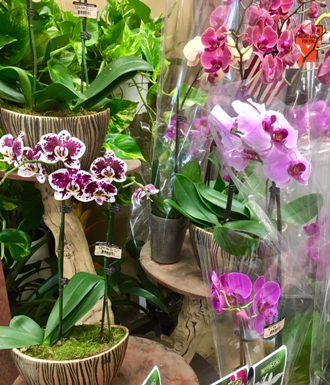 It is even possible to work out when the best plants will likely appear at Home Depot, and snap them up when they are fresh off the truck. Or, wait until they have finished blooming and pick them up for a reduced price. Many of the grocery store plants don't have labels, but some of the no-name orchids have turned out to be dependable plants with excellent flowers. Watch for an appreciation of our favorite no-name orchids in next month's column!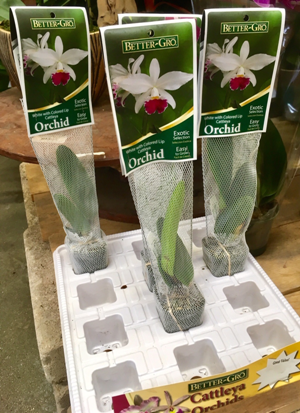 Occasionally, you may find a small selection of seedlings or mericlones in 2-inch pots, with complete labels, reasonably priced. It's worth taking a closer look at these. Some of the seedlings are from well-known or even awarded parents, and the plants are usually in good condition. Once we found a Dendrobium aggregatum seedling among these plants; it has grown into the nice specimen shown in our September, 2018 column.
All the accompanying pictures were taken within the space of an hour at stores in Long Beach on a Saturday morning.
---
Growing Orchids without a Yard or a Greenhouse:
How many of you live in an apartment or condo where you don't have access to a garden or patio where you can build a dedicated orchid habitat, let alone a greenhouse? Is it still possible to begin growing orchids in such a situation? The answer is an emphatic YES! Let's explore some of the possibilities.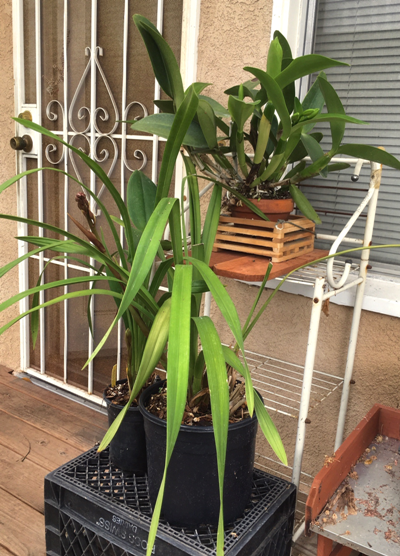 Space, the Ante-Penultimate Frontier: How much space does it take to grow a few orchids? If you can also provide the appropriate temperature and humidity, and it you select the right kinds of orchids, you can get away with very tiny spaces. For growing indoors, orchids can be grown under lights, or on a windowsill. Outdoors, some orchids (not planted in the ground! — most orchids that beginners will encounter are epiphytes that belong in pots or mounted on a support of some kind) will do well on a patio, porch, or balcony. As long as you understand the temperature requirements of different kinds of orchids, inexpensive grocery store orchids, the kind you might receive as a gift, can survive and even thrive in a tiny space.
Temperature: Many orchids do best with warm days and cool nights, the same temperature conditions we experience outdoors for most of the year in Southern California. Cymbidiums fall into this category. They can adapt (gradually!) to nearly full sun and they have been known to survive and bloom after a hard frost. However, some of the more popular orchids (Phalaenopsis and Paphiopedilum, notably) can't handle our cold, damp winters at all — they respond by turning to mush —, and so must be grown indoors or in space that remains above about 50° F and out of the rain during the winter months.
Orchids are traditionally grouped into categories of cool, intermediate, or warm temperature requirements. These categories were originally developed in the era of large greenhouses, but the temperature ranges, especially the night temperatures, help us select an appropriate outdoor or indoor growing environment. "Warm growing" orchids do best when the night temperature is in the range of 65°-70° F; "intermediate growing" orchids prefer nights around 55°-65° F, and "cool growing" orchids are best adapted to nights around 50°-55° F. However, orchid hobbyists in our area continue to find that many species are far more tolerant than these numbers would suggest. One proviso to keep in mind, though, is that at least some orchids, along with many other types of plants, flower most easily when exposed to cool nights: a possible reason why an orchid grown indoors with a constant night temperature around 70° F fails to flower!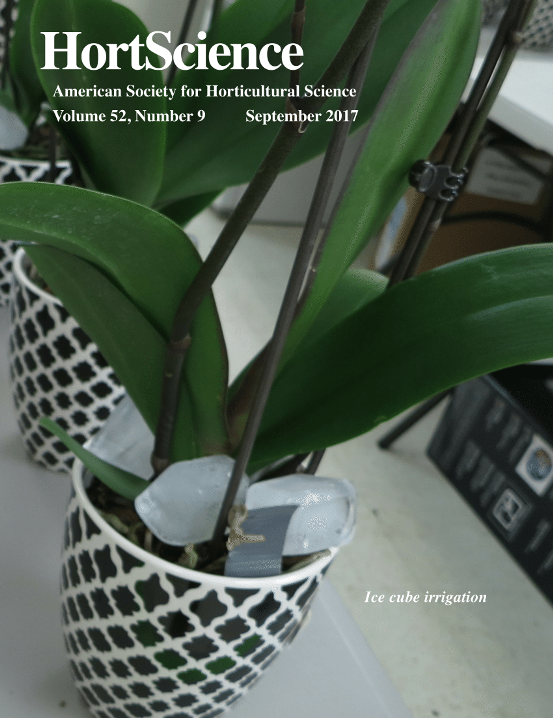 Humidity and Watering: Orchids need enough water to support growth and flowering, but excess water can easily lead to root rot. Without roots, orchids die. Also, water requirements change during the year. Many orchids have a distinct dormant season during which they are even more sensitive to over-watering. Over-watering probably kills more orchids than anything else.
There is even a sort of urban legend to the effect that Phalaenopsis should be watered with one ice cube per week — a strange idea, but easy to remember, and the plants don't seem to mind! In fact, the question was actually studied under controlled conditions, with the conclusion that "ice cube irrigation" did not decrease the time during which the flowers remained in good condition.
Where to Begin: For most people, the first orchid was something bought at a grocery store or home improvement store, or maybe it was a gift. After you have enjoyed the flowers for a few days, the question inevitably arises, "Now what? Will this thing grow in my house?" At that point, a good first step is to figure out what kind of orchid it is. Often it is a Phalaenopsis or perhaps a Cymbidium. Less frequently, it will be something related to Oncidium, an Epidendrum, or perhaps something even farther afield. All the common orchids are easily found on Google, and that is also the easiest source to find out what sort of growing conditions the plant wants. At least to start with, wait until the pot feels light, then water thoroughly. Don't let an orchid sit in water. If it's a Phalaenopsis, keep it indoors with filtered light (east window is usually a good choice, but avoid direct sun). Most of the other orchids that inhabit grocery stores will probably do well outdoors in warm weather, but they usually need to be adapted to outdoor conditions gradually, over a period of weeks, and most of them do not like full sun. They generally do better in dappled sun (under a few tree limbs for most of the day) or under shade cloth. Cymbidiums, in particular, are incredibly tough, but the leaves can be damaged if they sit in full sun on an extremely hot day.
Even better, attend the next meeting of South Coast Orchid Society and talk to a friendly bunch of orchid enthusiasts, all eager to get you started in a fascinating hobby!
---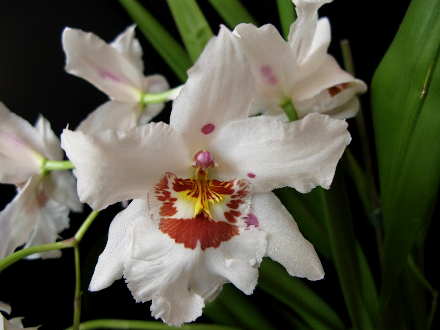 Blast from the past: 1964
Probably the most important development in the history of growing orchids as a hobby took place around 1964 in the little suburb of Boissy-Saint-Léger, on the southeast side of Paris. There, the venerable firm of Orchidées Vacherot & Lecoufle, founded as a small nursery business by Henri Vacherot in 1886, but by the mid-1900's at the pinnacle of the orchid trade, achieved the mass cloning of Odontonia Boussole 'Blanche'.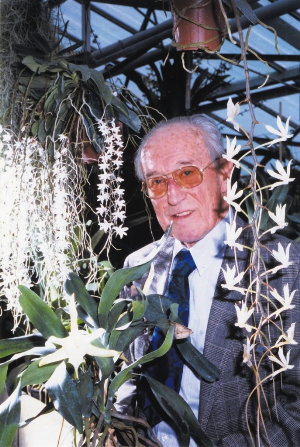 The genius behind this development, the first nurseryman to apply the laboratory techniques that had been developed in the previous several decades to a commercial application, was Marcel Lecoufle (1913-2016), in his lifetime frequently known in France as the "Pope of orchids", but also a well-known expert on carnivorous plants, bromeliads, and other subjects. With the cloning of 'Blanche', it became possible for large numbers of people around the world to appreciate orchids of exceptional quality, and at a reasonable price. Vacherot & Lecoufle is still in business, and a large number of their older plants have become an official part of the French cultural heritage. You can find them on the internet and on Facebook.
---
September, 2018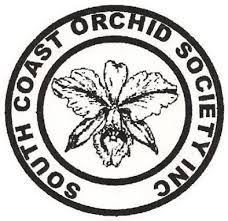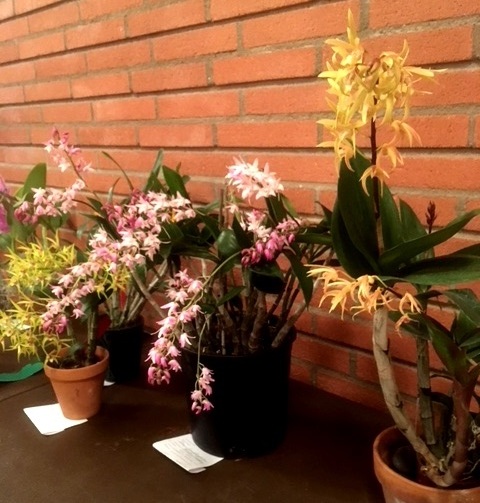 Outdoor Dendrobiums:
Our September, 2018 speaker, Scott McGregor (Pushing Limits — Growing Orchid Species in Coastal Southern California), mentioned that he has had good success growing many Denrobiums outdoors in his shade house, exposed to all the summer heat and winter damp — conditions that decades of orchid cultural tradition tell us will kill the plants, or at least prevent them from flowering. Intrigued, we asked him for some additional recommendations for outdoor Dendrobium and related genera in our area. See his recommendations, below!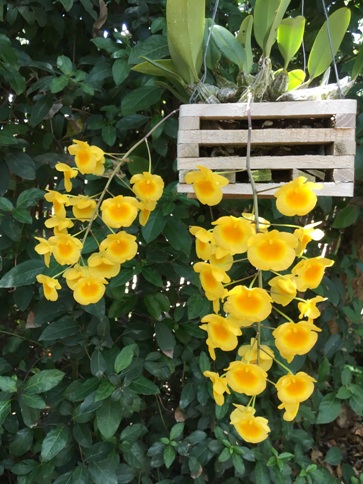 Most of us learned that D. aggregatum (and the smaller D. jenkinsii, see below for its story!) has to be kept bone dry during the winter in order to bloom. But Scott has found (and your web master confirms in his own back yard! — see left) that these species can do just fine if left outside all year long, but without extra water during the winter. Maybe initiating flower spikes in these species has more to do with cooler night temperatures and longer day length, provided they don't sit too long with wet feet.
Here are Scott's recommendations for additional Dendrobiums that have performed well for him outdoors (photos kindly provided by Scott McGregor):
Dendrobiums comprise a very large genus of around 1200 species, with broad geographical and climatic diversity. Many do very well in our Southern California climate. Dendrobium nobile and its many hybrids can be found in your neighborhood grocery store. Australian species D. speciosum, D. kingianum, and their respective hybrids are plentiful in Spring orchid shows. These are easy to grow and are probably already in your collection.
There are many lesser-known and under-appreciated Dendrobium species that also do well in our climate and have a charm of their own. Here are five of my favorites to try—one very easy, three intermediates, and one to challenge more expert growers…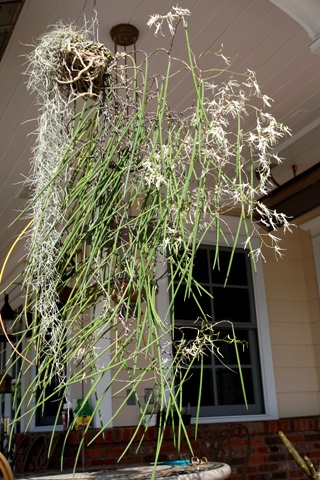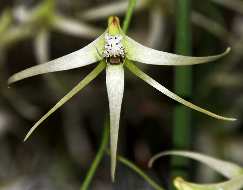 Dockrillia teretifolia (Dendrobium teretifolium). This is an easy Australian species that has long pencil-like "terete" leaves that hang downward. These plants are best mounted or planted in small baskets with a bit of sphagnum and lava rock, so they can drape downward over time as the plant grows. In California, these plants bloom in the Spring with many clusters of fragrant white flowers, sporadically through the summer and then another flush bloom in Autumn. They need little care—give them bright light (larger plants like a few hours of full sun). Water and fertilize them more frequently when actively growing and less so in the winter. They don't mind summer heat and can handle a light frost.
---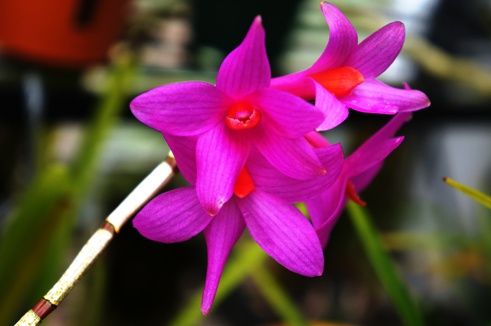 Dendrobium glomeratum (also sold as D. crepidiferum or D. sulawesiense) has a fantastical deep magenta crystalline flower with an orange/red lip. Keep moist year-round, give it bright light, and either mount or grow in a small basket. The flowers vary quite a bit in size, form and color, so it is best to buy one you can see in bloom, or with a picture of the flower from the plant you're buying.
---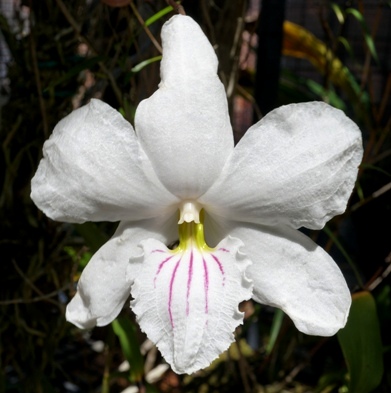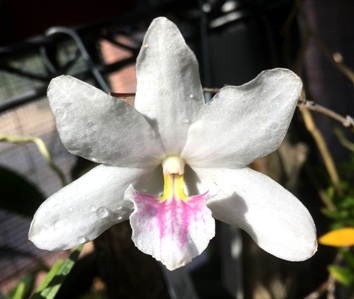 Dendrobium papilio comes from the Philippines and is attractive even when not in bloom with bamboo-like fine, dark-green leaves on wiry thin canes. The fragrant flowers are 3-4" in size and are a sparkling crystalline white with rose markings in the lip. The flowers seem to appear without notice late spring and summer as the buds mature quickly, and wave in the breeze. Grow this one cool and moist, with bright light year-round. A bit tricky to find, but Andy's Orchids is a good source.
---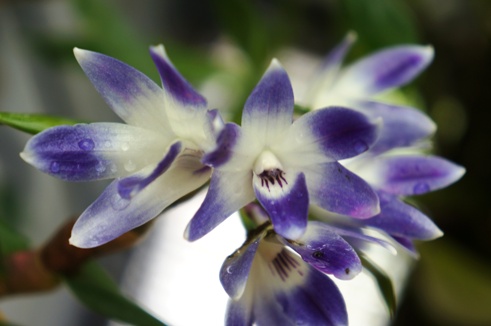 Dendrobium victoria-reginae comes from the mountainous areas in the Philippines, and has pretty, long-lasting violet/blue and white flowers in the summer. Keep it moist all year, shaded, and it enjoys cool nights, so this is one that will do better outside than in a greenhouse and is especially suited for those who live within a few miles of the coast. It flowers on older, leafless canes.
---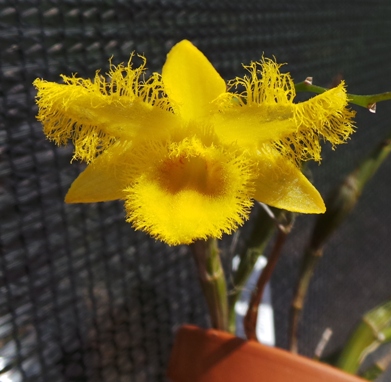 Dendrobium harveyanum comes from Burma, needs a completely dry rest in the winter, and plenty of water, warmth, and bright light in the summer. This one is a bit more challenging than those above, but if grown well will reward you with the Dendrobium equivalent of Rhyncolaelia digbyana—wildly fringed bright yellow flowers. Best mounted or grown in a small pot so the roots can dry out—it doesn't like to be overpotted.
Hope this inspires you to try one or two new Dendrobium species. Happy growing!
—Scott McGregor
Most of our local orchid nurseries carry Dendrobium species. Andy's Orchids has a particularly large selection. Scott found some of these species on eBay, but he reminds us to pay attention to vendor ratings.
---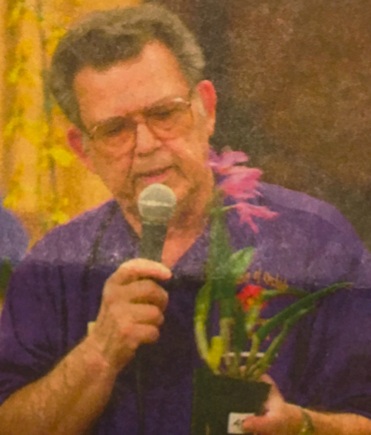 Blast from the past: 2002
Janell found a newspaper clipping about the SCOS auction in 2002 (Press-Telegram, November 28, 2002). The scene is familiar: the same tables and chairs in the same meeting room, and a jumble of plants hoping to go home with you! The auctioneer was Dr. Phil Plocher, past president of the society.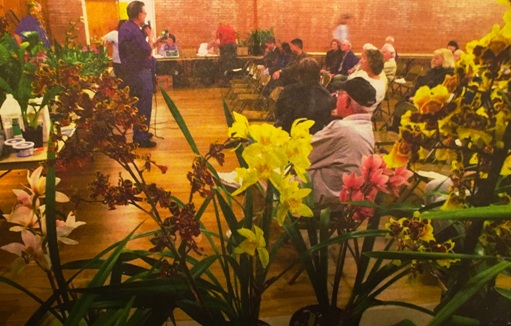 The SCOS auction is our main fundraising activity. Many of the plants are donated by local nurseries. However, the selection often includes divisions of "back yard" plants, no longer commercially available, that have been kept going by dedicated hobby growers. The auction provides an excellent opportunity to obtain some distinctive plants for your collection!
---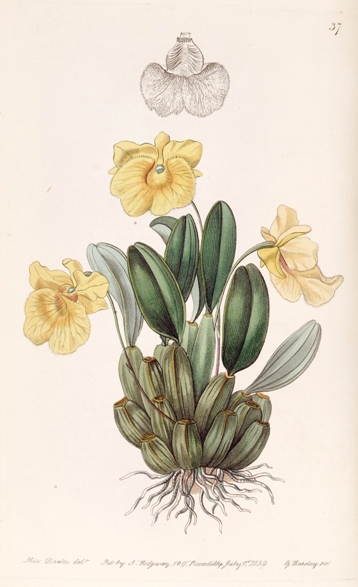 Blast from the past: 1839
Dendrobium jenkinsii has been appreciated for a very long time! "Miss Drake" (Sarah Drake, a well-known botanical artist of the time) published this illustration in Edwards' Botanical Register in 1839! However, at various times this form has been lumped with D. aggregatum, which in turn has also been known as D. lindleyi. Sometimes you will find plants that are definitely the D. jenkinsii form labeled as either aggregatum or lindleyi. The difference when the plants are in bloom is obvious: the form usually known as aggregatum has long, pendant spikes with many flowers, while jenkinsii has short spikes, not particularly pendant, with usually only one or two flowers per spike. The leaves and pseudobulbs of jenkinsii are noticeably smaller as well, if you are able to see the two forms side by side. The description accompanying the plate from 1839 also notes that the pseudobulbs of D. aggregatum consist of several internodes, while those of D. jenkinsii are formed from a single internode. This distinction should be easily visible from the way the dried sheaths are attached along the length of the pseudobulbs, but the descriptions of the time were based on a very small number of plants collected from the wild, and, therefore, the differences might not be as definitive as first thought.

Unfortunately for our plant labels and sane communication, the name Dendrobium aggregatum got tangled up in some taxonomic errors or missteps, with the result that the "official" name is now held to be Dendrobium lindleyi, and the smaller form jenkinsii is frequently considered to be only a variety of lindleyi, called Dendrobium lindleyi var. jenkinsii. However, aggregatum and jenkinsii are so well established in the orchid trade, that most of us cling to the old, familiar names. Pick a name and stick with it, but be aware that you may find any of these names in nursery catalogues!

Do the two forms occur together in nature? Or do they have distinct distributions, habitats, or pollinators, suggesting that they might really be distinct species? Your web master would be happy to undertake a fact-finding mission, if anyone would care to fund an expedition into the mountains of South-east Asia.
---