January, 2019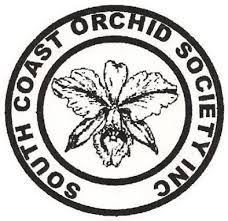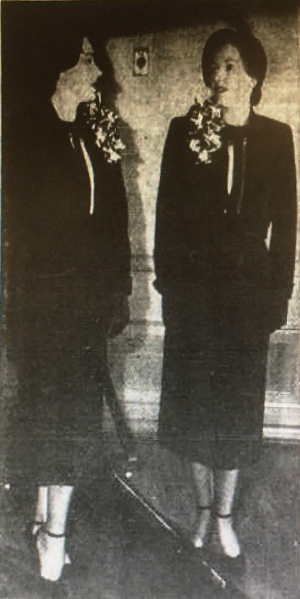 A Blast from the Past: 1950 —
Our First Bash!
The story of our first big party, on December 20, 1950, was reported in The Independent on Sunday, December 24, with several pictures — two of the "lovely Claire Hammel", elegantly dressed and with South Coast Orchid Society corsages to accent her beautifully tailored outfits from Dinel's Feminine Apparel in downtown Long Beach (long gone, and perhaps that's why nobody dresses like this anymore?), and a photo of our society's first President, the "oil man" Paul N. Baker.

(From The Independent, Long Beach, California, Sunday, December 24, 1950)

Orchid Growers' Contest

By BESS SETTLE.

In her hair she wore a gorgeous brassolaeliacattleya, Decorating her wrist was a dendrobium Formosum giganteum . . . and adorning her bodice was an oncidium zygopetalum.

If you don't know what the gal was wearing just ask her. She will probably say "orchids to you."

Your reporter, who can scarcely distinguish a phaleanopsis from a dendrobium, found herself slightly confused amid an ocean of orchids Wednesday night in Bowling Green Clubhouse, Recreation Park, where the South Coast Orchid Society staged a meeting and grower's contest. Head of the society is Paul N. Baker of Long Beach who lives at 424 Windslow Ave., and as a hobby raises his choicest blooms in a glass house at 370 E. 37th St.

But as the Bard of Avon so aptly put it, "What's in a name?" To the uninitiated a cyripedium cymatodes is just as pretty as a cypripedium delanatti . . . it's all a matter of personal preference.
Any orchid grower will tell you that there are 15,000 varieties. Fortunately for you and me most of them have common names such as "Big Festivity" designated by the grower as "brassolaeliacattleya."
Wednesday night's session was in the form of a contest for plant growers and corrsage making. Many of the amateur growers also excel in the art of making bouquets and corsages of their dainty blossoms.
WIN AWARDS
Winner of the grand prize was Ann MacQuiddy of Compton. First prize for the best cattleya went to Genevieve Toy of Gardena; second prize to Nora Pino of Torrance and third to Mrs. Morris Holmquist of Long Beach.
Awards for making orchid corsages went to Mrs. Paul N. Baker, Long Beach; Mrs. Charles Atkinson, Balboa, and Nora Pino of Torrance. Mrs. Baker won all three honorable mention awards for making corsages.
Judges were Lillian Newman, Rosemary Short, Claire Hammel and Minka Zorka. Many members of the South Coast Orchid Society are also affiliated with the Southern California Orchid Society and with the American Orchid Soceity at Harvard University.
During 1951, meetings of the South Coast Orchid Society will be conducted each fourth Monday night of the month in Woodland Clubhouse, Recreation Park.
The site of Mr. Baker's "glass house" turns out be the location of a big hole in the ground, intended, we think, for a Jewish senior housing development, right across 37th Street from the Latter Day Saints church, just east of Long Beach Boulevard. Perhaps not coincidentally, the location is also close to the Petroleum Club, where for decades South Coast Orchid Society held its annual banquet and installation of officers each January. Of the lovely Claire Hammel, we haven't learned anything further, but we expect to spend some time on the internet searching digitized newpapers and Long Beach history sources. We were lucky to have such an effective orchid spokesmodel.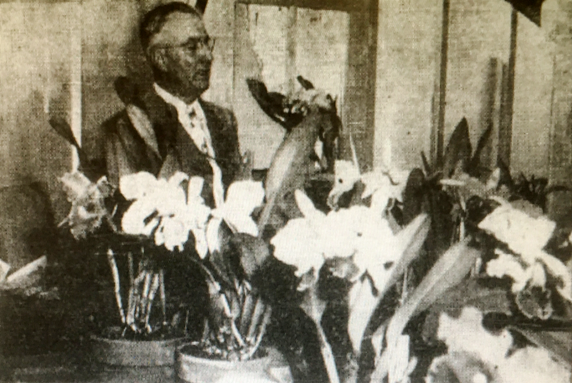 Caption for the photo of our first President, Paul N. Baker, from The Independent: BAKER'S BLOSSOMS—Oil and orchids are beautifully blended by Paul N. Baker, Long Beach oil man, who lives at 424 Winslow Ave. Adjoining his place of business at 370 E. 37th St. he has a glass house where as a hobby he raises spectacularly beautiful orchids. He is shown here surrounded by a few of his choicest specimens. He is president of the South Coast Orchid Society. Mrs. Baker shares her husband's enthusiasm and wins awards for her orchid corsages. (Independent Photo by Fred Wilson.)
---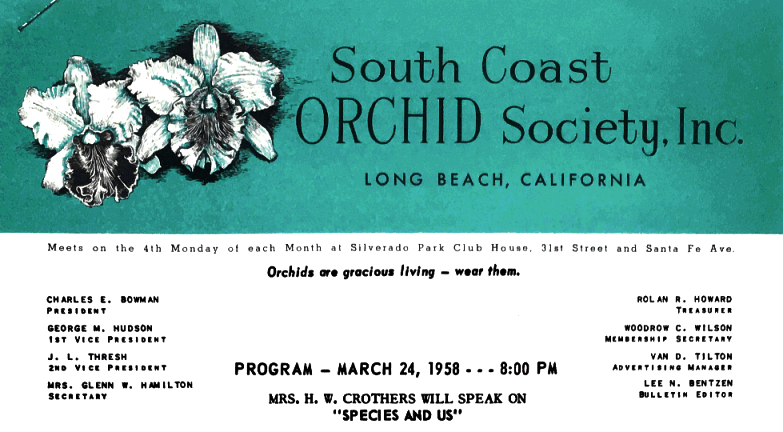 South Coast Orchids Society newsletter masthead from 1958
About those corsages...
Recently our friend Brandon Tam discovered a trove of SCOS newsletters in the "orchid archive" at The Huntington Botanical Center. Armed with our little iPhone, we spent a morning with Brandon in the basement of the Botanical Center and photographed them. They have now been converted to pdf format and are included in the Newspapers link on this web site. We were surprised to spot this motto on the newsletters from the 1950's and 60's: Orchids are gracious living — wear them.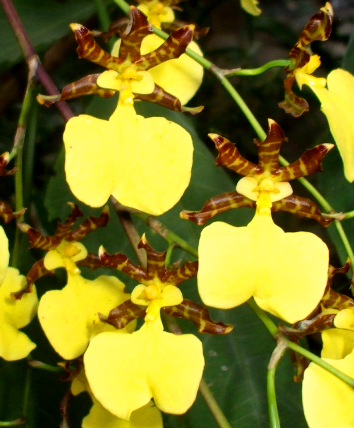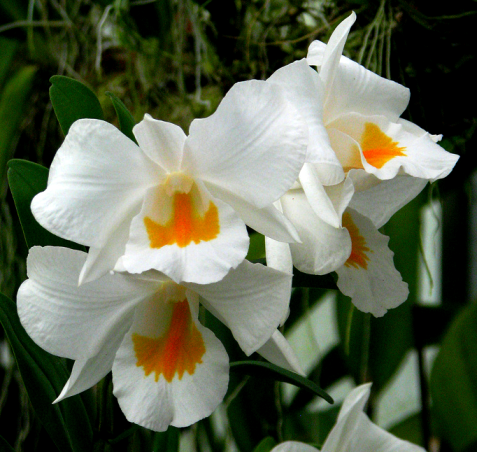 A quick trip to the internet shows that orchid corsages aren't what they used to be. The popular flowers now are Cymbidium, Dendrobium, and Phalaenopsis, especially the lurid, dye-infused "blue" ones. We suspect the lovely Claire Hammel, Mrs. Baker, and all the rest of the founding members of South Coast Orchid Society had better taste — and they knew how to wear their flowers!
We are grateful to Art Chadwick of Chadwick & Son Orchids, Inc. for some pictures of Cattleya corsages done right. The archives are full of pictures of American First Ladies on inauguration day, but as that happens in January, everyone is shown wearing bulky coats and, usually, furs. The pictures usually don't reveal very much about the orchids, either, except that they were numerous! Perhaps more interesting is the picture of modern corsages in the style favored by First Lady Edith Wilson, proving it can still be done, and in good taste.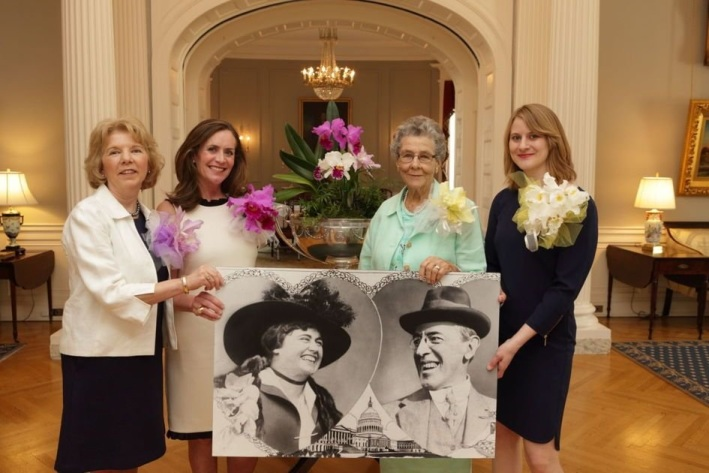 But we saved the best for last: the "travel corsage" fashion plate from the 1940's is definitely high style. The corsage uses the very best quality of Cattleya hybrids and complements the ensemble. We're not so sure about the minks draped around the model's neck, though, complete with their little heads, claws, and toothy grins. When you were very young, and some big-city aunt visited you wearing one of these little varmints, didn't it creep you out? Where was the model supposed to be traveling from? Maybe a weekend at a hunting lodge? Are you sure there isn't a shotgun hiding somewhere in the picture?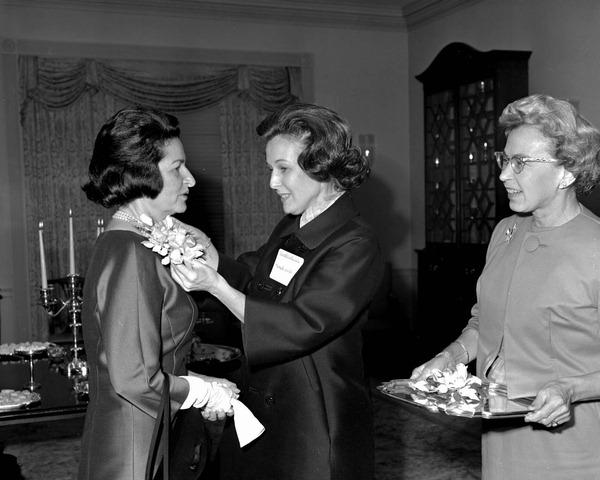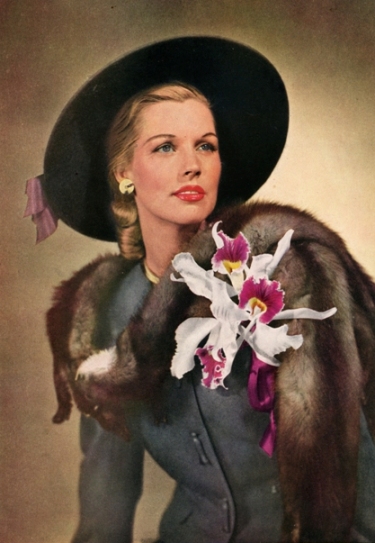 ---
December, 2018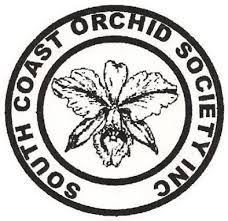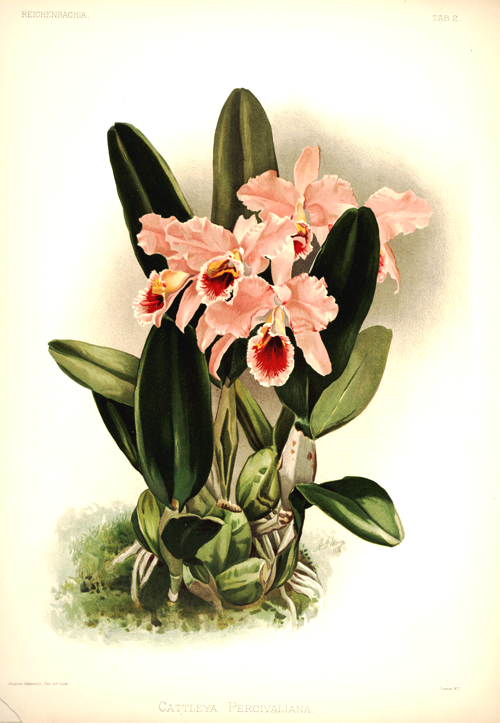 A Blast from the Past: 1881 —
Cattleya percivaliana: An Appreciation.
Orchid fashions are cruel. Yesterday's darling plant may not end up on today's trash heap, but it often disappears from collections. Hobby orchid growers lose their plants through benign neglect, black rot, bugs, squirrels, rats, and other pests, or sometimes through accidents such as a failure of the heating, cooling, or irrigation system, a very hot day, or a sudden frost. And orchid nurseries tend to stock not the plants that every serious orchid grower "should" have, but, rather, those plants that are likely to sell. So it is, that the wonderful plant you read about turns out to be unavailable from any of the nurseries you visit.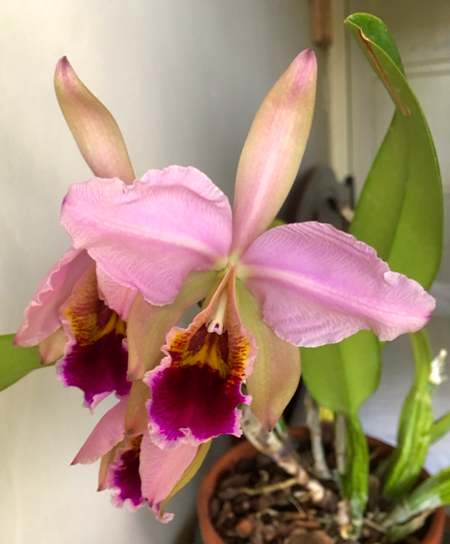 There was a time when Cattleya percivaliana enjoyed commercial success as a potted plant for the Christmas season. While everybody was delighted by the intense colors and intricate pattern on the lip (like a "Persian carpet"), the flowers were judged too small for the corsage trade, as well as for the highly-publicized exhibitions where all the awards went to huge, floppy Cattleyas, or else massive specimen plants with hundreds of blooms. Yet there was something about percivaliana that appealed to just enough growers to keep it from disappearing entirely.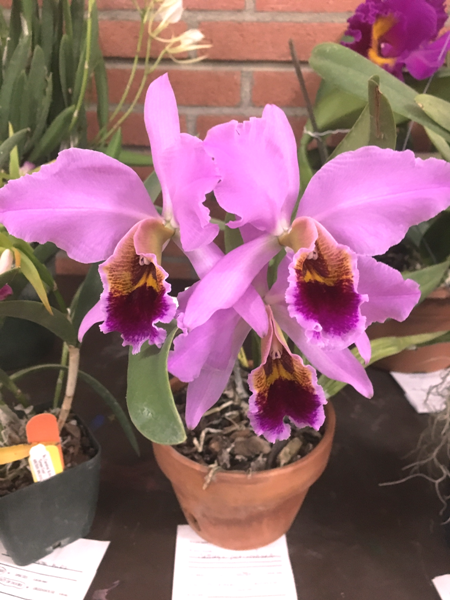 C. percivaliana came late to the party. It was not discovered until 1881, many decades after most of the other large-flowered Cattleya species. At first, based on only a selection of herbarium material (dried flowers!) it was held to be just another variety of C. labiata, or else perhaps a poor relation of C. mossiae. There was a brief flurry of interest from the cut flower trade, hoping for a big orchid that bloomed between C. labiata (November) and C. trianae (January), until it became clear that the flowers of percivaliana were only half the size of those of the best labiata cultivars. By 1883, it was published as a new species, and the famous plate from Sander's Reichenbachia: Orchid Illustrated and Described (volume 1) was published in 1888. The plate, however, does not do justice to the beautiful details of the lip, nor to the overall color and form of the flowers.
The new plant proved something of a disappointment to hybridizers as well. The intense colors in the lip did not show up in the primary hybrids. Did anyone think of producing an F2 cross from one of the primary hybrids, in case the genes responsible for these colors happened to be recessive? Very few percivaliana hybrids seem to have had much of a following, but new crosses continue to be made. The lip is too intriguing for orchid breeders just to give up.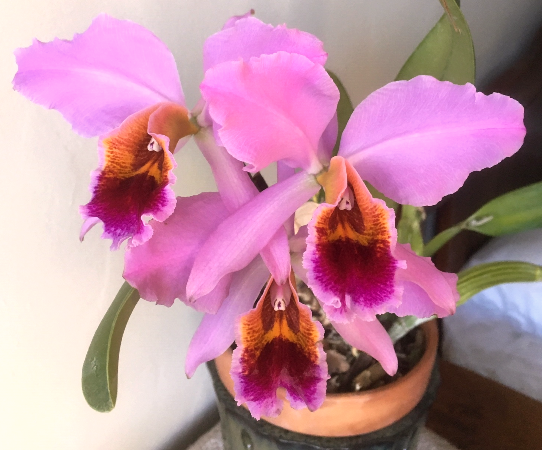 Over the years, a number of "superior" cultivars have been discovered, including a few with much wider petals ('Summit', 'Meril'), alba forms, and some semi-albas as well ('Jewel', for example). Fortunately, it is still possible to find this species, and some excellent cultivars, at a few of our local nurseries. Recently, we saw divisions for sale at Sunset Valley Orchids and Santa Barbara Orchid Estate. And we spotted pictures of some excellent cultivars on Cal-Orchid's Facebook page — perhaps a sign of things to come! There are probably other local sources as well. Orchid nurseries, at least the successful ones, pay attention to what their customers want!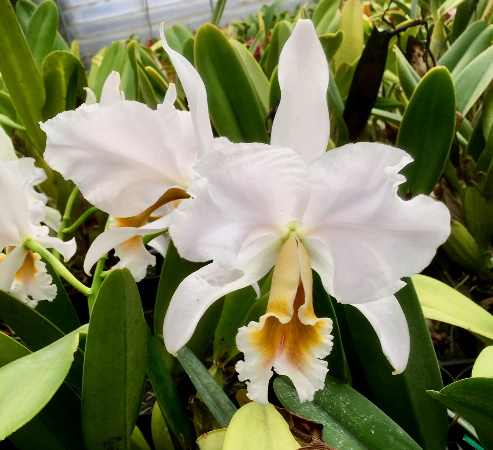 This species turns out to be easy to grow outdoors in our area. It comes from highland forests (the Andes of Venezuela and, according to some reports, Columbia), sometimes growing on rocks. It can take a lot of light, provided it does not get too hot — so, shadecloth is a must during our hot summer days. The flowers seem to last for at least 2-3 weeks in captivity.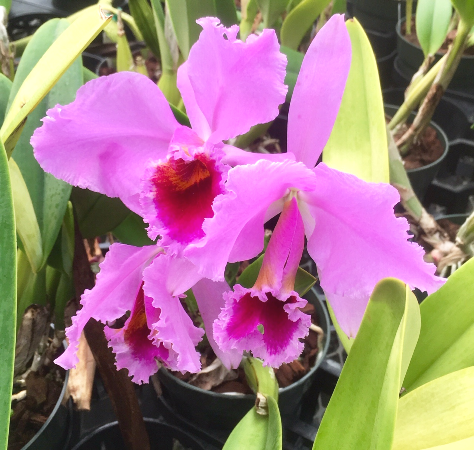 ---
What should a percivaliana lip Look Like?
The deep colors of crimson-purple and gold, plus the strong markings, seem to be what makes C. percivaliana distinctive. But some of the cultivars (whether from nature or from the hybridizer's greenhouse) have more of one color or the other, and some have lips that are strongly tubular, so that the gold color and the pattern are hard to see. Which type of lip best marks what we want to see in this species?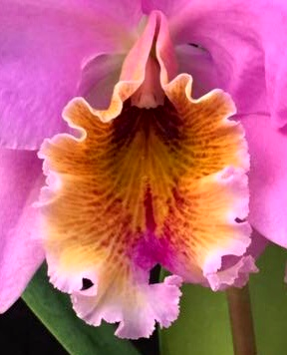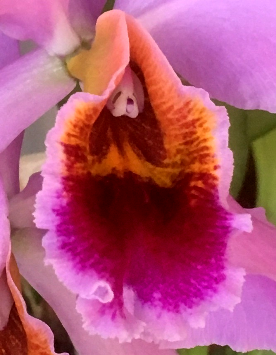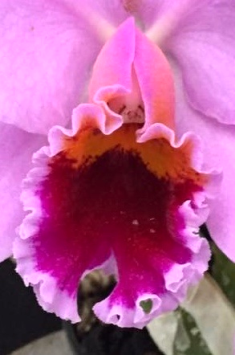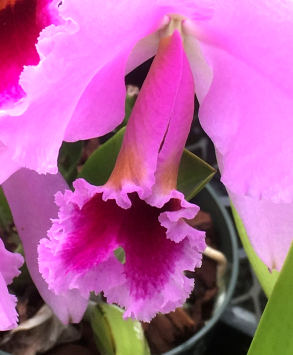 ---
---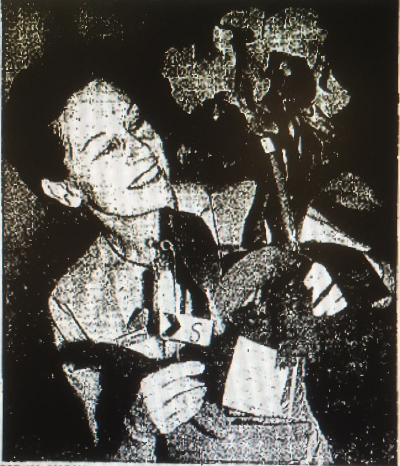 Blast from the Past: 1955 — More SCOS Stories from the 4th Western Orchid Congress
(Long Beach Independent, Sunday, November 13, 1955)
Woman Rejects $1,000 for Orchid. By Ben Zinser. You can become an orchid grower for as little as $2.50, insists John W. Hanes, general chairman of the Western Orchid Show ending at 6 p.m. today at Municipal Auditorium.
"Really, it's not as expensive as most people think," he adds.
Yet something was troubling Hanes, president of the South Coast Orchid Society.
He paused before a Leleo Cattleya, an entry of Mrs. Grayce Hecker, Canoga Park.
"A back bulb for $200, perhaps?" the San Gabriel man asked Mrs. Hecker, who with her husband operates a San Fernando restaurant.
"No," she said, smiling.
* * * *
MRS. HECKER had reason to smile. Moments earlier someone had offered her $1,000 for the entire plant, which she calls "Bonanza."
Mrs. Hecker admitted she thought this might happen. "Bonanza" is insured for $1,500.
The plant lived up to its name. It took four of the show's ribbons, including that for best flower in show. There are about 300,000 plants on display.
Bonanza is a king-sized orchid. Its flowers possess a deep iridescent fuchsia shading with a touch of gold in the center.
It was grown in a plastic greenhouse and is one of 125 mature plants raised by Mrs. Hecker, who up until this year was an amateur grower.
Mrs. Hecker is a typical orchid grower. She drives to Long Beach from Canoga Park just to attend meetings of the South Coast Orchid Society.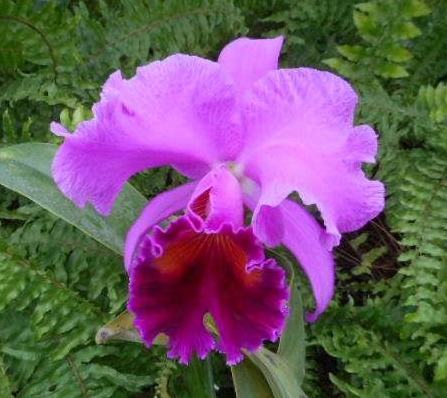 * * * *
SHE, OR HANES or any one of the dozens of others exhibiting orchids can tell you:
That when you say "make mine vanilla," you're eating an orchid. Vanilla extract comes from a tropical North American orchid.
That in the Philippines some of the natives use a butterfly orchid to make herb medicine.
That an orchid doesn't have to be huge to be rare. The Ornithocephalus, found in Central America, is a dainty miniature botanical orchid. There's one at the show, incidentally.
That orchid-growing gets in one's blood.
* * * *
"THAT'S RIGHT," commented a security policeman at the show. "We're here to see that people keep their pocketknives in their pockets. Someone might want to whack off a bulb, you know."
Most growers, however, have nothing but respect for an orchid plant, despite the catalog plea of a West Los Angeles firm which calls itself the "largest breeders of orchids in America."
"First of all, remember that orchids are plants," says the catalog, which is handed to visitors at the show, "Don't be afraid of them."
---
$1,000 for a prize-winning Cattleya? Hard to imagine today, but if we take into account inflation since 1955, the offered price would be worth about $9,400 in 2018 dollars! Times have changed, the availability of mericloned orchids has made these wonderful plants accessible to the hobby market. You can probably get a clone (or even a division) of an awarded Bonanza, near blooming size, for around $40, although the market seems to have moved on to more recent generations of big lavender Cattleyas, such as Norman's Bay, Amy Wakasugi, etc. But the reduced price has not made the earlier hybrids any less attractive or desirable.
---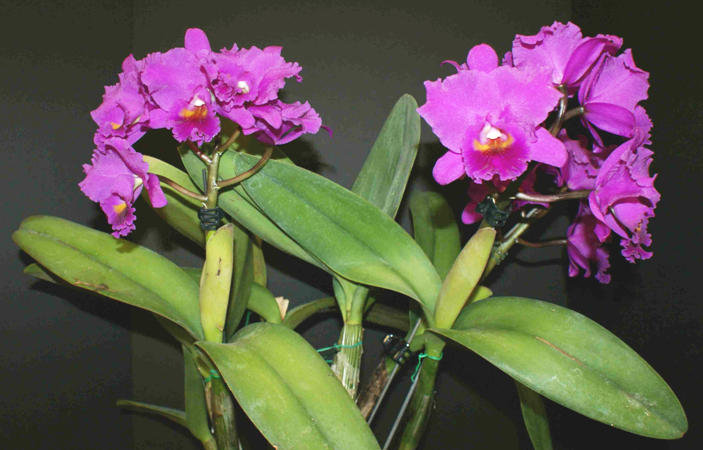 But wait! There's more! Grayce Hecker went on to create a number of hybrids, mostly using her Bonanza. The most successful was Lc. (now Cattlianthe) Adolph Hecker, C. (now Cattlianthe) Porcia x Lc. (now C.) Bonanza (Bracey), registered in 1959. By 1964, she and her husband had moved to Las Vegas, where we found this account of further developments in the local newspaper.
(Las Vegas Sun, Monday, January 20, 1964, p. 14) HELPFUL HANDS – Our town's renowned orchid grower, Grace Hecker, has her new creation, the Adolph Hecker orchid, colonizing California and Florida.
In Los Angeles, the largest grower is reproducing it in quanty as (to quote his ads) "the best medium-sized bifoliate to be developed in years." (Bifoliate heck! – it's a by Hecker.)
In Florida, ex-Governor Gore is using it as a parent plant for further experimentation, Grace tells us.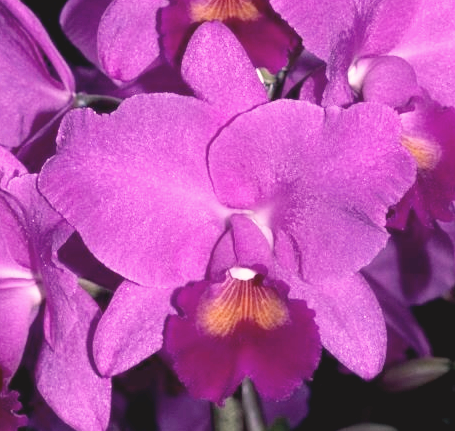 Adolph Hecker (the husband, not the orchid) took a plant of the species named after him up to Mercury to be raffled for a member of the motor pool up there, "Tiny" Hendricks, who had to have a foot amputated at the ankle.
The boys sold 50 tickets at $1 and the one who won the orchid plant is tickled pink with it. What'll he do with it? "Become an orchid grower," smiles the really tiny Grace, "that's the way we get 'em hooked."
---
November, 2018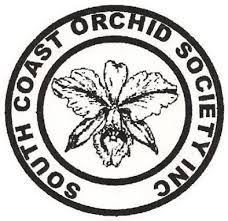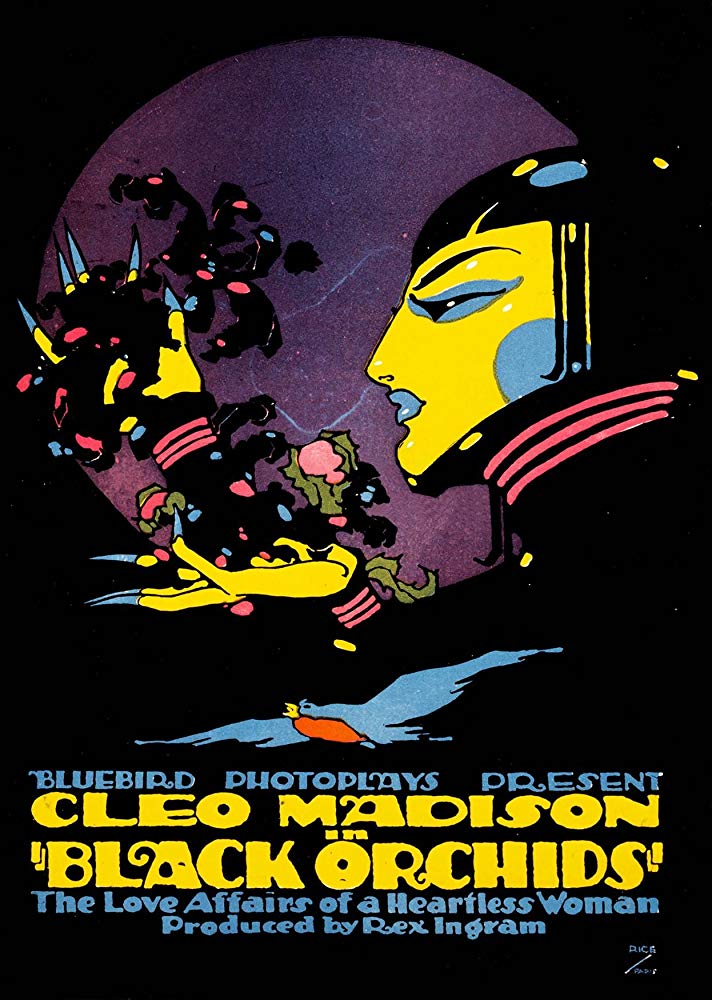 Fascination of Black Orchids:
Why black orchids? Perhaps it is the association of the exotic and the mysterious, something that evokes dark recesses of the human condition, both fascinating and terrifying? In the popular media, the first example may have been the silent film Black Orchids that appeared in 1917. The film is apparently lost — mercifully, if we can judge from the lurid synopsis that survives — but a stylish lobby poster remains. As far as is known, the black orchids in question only appear in what must have been a dim, grainy film, when the evil temptress Zoraida (Fred Clarke, are you listening? How about naming one of your black orchids after this character?) places them on the grave of her husband the Marquis, who, as it turns out, is not actually dead. So, these black orchids seem to have been irrelevant to the plot, though symbolic of something evil or even depraved.

But wait! There's even more about Black Orchids !

Black Orchids, synopsis: Marie, the daughter of novelist Emile De Severac, is engaged to famous artist George Renoir. Because Marie becomes very flirtatious with other men while she is on vacation from her convent school, her father relates the plot of his unpublished novel, Black Orchids, in which Zoraida, the protagonist, seduces many men. Sebastian De Maupin, whose son Ivan is Zoraida's current lover, desires her himself and thus arranges for Ivan to go to war. When Zoraida then dallies with the handsome Marquis De Chantal she enrages De Maupin, who tries to poison the marquis, but is himself killed when Zoraida exchanges the lethal cup. After Ivan returns from battle, he and Zoraida renew their affair, thus precipitating a duel between himself and De Chantal which ends when Ivan seemingly slays his rival. Ivan and Zoraida then go to a castle which De Chantal has bequeathed to her. Although De Chantal has been fatally wounded, he lives long enough to go to the castle and seal the lovers into an airless death chamber. After the story is complete, Marie resolves to pursue a different course in life. (AFI web site)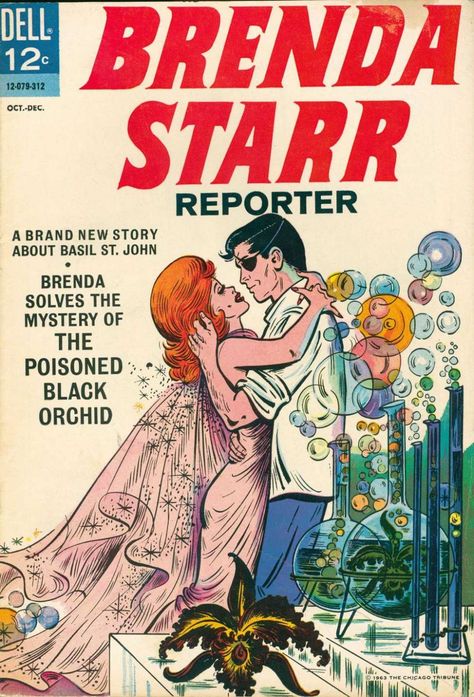 Black orchids were a central part of the story of the comic strip heroine Brenda Starr, resourceful and fearless newspaper reporter, struggling to be taken seriously by her male colleagues. The strip first appeared in 1940 and ran until 2011 (under different authors after 1985). Something of an overachiever, Brenda was always the reporter who managed to get the most sensational stories, frequently at great personal peril. Along the way, she chanced to fall madly in love with a dashing Basil St. John, her "mystery man". But he was afflicted with some unspeakable, incurable disease that could only be held at bay with a serum derived from "black orchids" from the Amazon jungle, and so he kept disappearing on what today would be called eco-travels. These black orchids look a lot like a large Cattleya, perhaps something like C. maxima. He spent a lot of time in a jungle laboratory preparing his "serum". Countless orchid fanciers probably wanted to go with him, your web master among them.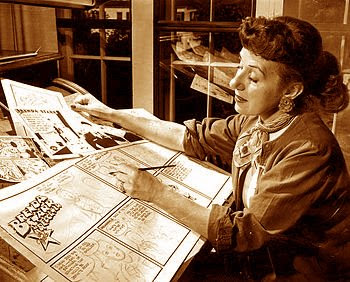 Dale Messick (1906-2005), creator of Brenda Starr, Basil St. John, and his black orchids, was herself a pioneer in a field then reserved for men. Somehow, she came to resemble her own creation. Art resembles life and life resembles art. As for Brenda, she found her way into comic books and films, but, as far as we know, never made it onto Broadway.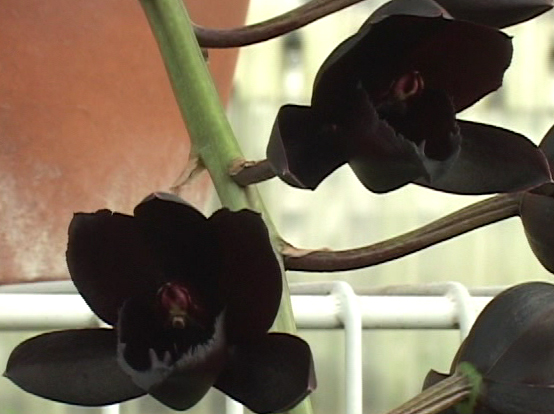 More recently, black orchids appeared both as a plot device and in real life, in the form of a sort of orchid documentary, The Judge, the Hunter, the Thief, and the Black Orchid (2012), drawn from orchid-related episodes that came to the attention of the film-maker Rich Walton. Among his subjects was our friend Fred Clarke of Sunset Valley Orchids, and his real black orchids. A review in the Long Beach Post (August 9, 2012) describes Fred as "an orchid hybridizer, one of a dying breed", but, fortunately for us and for the future of orchid hybrids, Fred and many other orchid breeders are still with us. We talk with them every month at our meetings, and at shows and sales throughout the year! The lurid ideas associated with black orchids (and perhaps also with orchid fascination gone wild) apparently got the better of the reviewer.
The reviewer also reports that Walton found "[orchid] societies themselves are not nearly as clandestine as one might think"! Evidently the black orchids are still inflaming the imaginations of newspaper reporters. For us, it is more a matter of trying to grow these orchids well.
---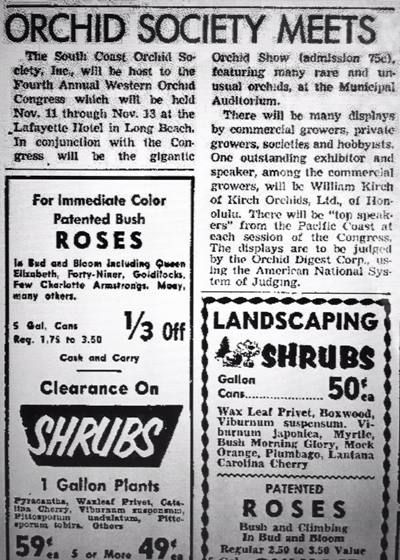 Blast from the Past: 1955 South Coast Orchid Society was barely five years old when it hosted the Fourth Annual Western Orchid Congress, November 10-13, 1955. SCOS was already meeting at 7:30 PM on the fourth Monday of every month, in 1952 at the Woodland Clubhouse in Recreation Park, and by 1955 at the Silverado Park Clubhouse. The headquarters for the convention was the venerable Lafayette Hotel at 140 Linden Ave. in downtown Long Beach, now an apartment block. Admission to the exhibits and lectures at the Municipal Auditorium was 75¢. Presiding was Morris Holmquist (Oscar Morris Holmquist, 1902-1990), a Long Beach realtor and developer, but at the time apparently living in Artesia, who was active in the little group of orchid enthusiasts who were responsible for the organization of various orchid clubs in Southern California. Holmquist served as President of the Orchid Society of Southern California in 1952.
At the Congress in 1955, the first Orchid Digest Medal of Honor, an award of recognition for "Meritorious Service to the Orchid World", was presented to Robert Casamajor, first editor of Cymbidium News, who had been chairman pro tem at the 1946 organizational meeting of the Cymbidium Society. Casamajor (1885-1960) was active in many of the garden clubs in Southern California, including the Camellia Society, whose members formed the nucleus of the new Cymbidium Society. He has the distinction of having a Camellia, a Paphilpedilum (he was well known for his Paph hybrids and his cultural techniques), and a Cymbidium named after him.
The Long Beach Press-Telegram (November 7, 1955, p. 15) reported: "Orchid Care to be Shown Parley Here — Demonstrations and displays on corsage-making and potting and care of orchids will be held Friday at Municipal Auditorium as part of a four-day convention of the Western Orchid Congress. The show Friday, from noon to 10 p.m., will be open to the public.
"The congress will open sessions Thursday at 5 p.m. with a reception and social hour at convention headquarters, Lafayette Hotel. Morris Holmquist, Artesia, will preside.
"Special convention events include tours of the commercial orchid-growing establishments in the Long Beach – Los Angeles areas, meeting of the amateur growers, tours of amateur greenhouses and a banquet."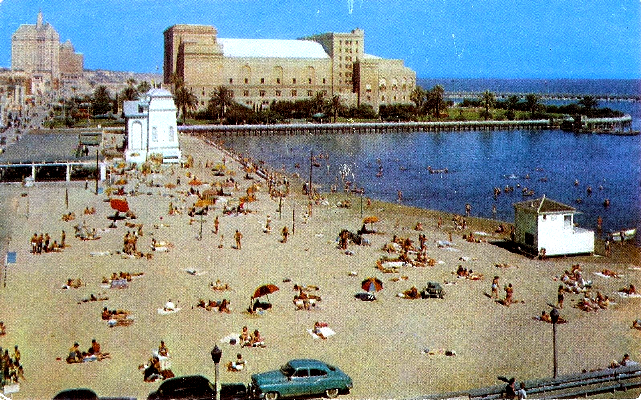 Both Holmquist and Casamajor were involved in the development of orchid judging in Southern California. John D. Stubbings (A Short history of American Orchid Society judging, Awards Quarterly, 18:90-91, 1987) noted that "in 1953, judging was expanded to include quarterly sessions in California headed by Morris Holmquist, Jay Muller, Robert Casamajor, Howard Anderson, and Etta Gray as a subcommittee of the COA" [Committee on Awards, renamed as the Judging Committee in 1996]. By 1955, as a result of developments at the First World Orchid Conference (St. Louis, 1954), a second edition of the AOS Handbook on Judging and Exhibition had been published, and an AOS regional judging center, meeting monthly, had been established in Los Angeles. Although we haven't tracked down the rest of the story yet, it appears that SCOS must have been involved in orchid judging under the Orchid Digest rules at that time, since the article in the Pasadena Independent seems to mention those rules. And it has been a very long time since we saw an orchid corsage, although we seem to recall that more than a few them were worn with the obligatory floppy Cattleya facing upside-down.
Ernest Hetherington (March 14, 2004, "Introduction", on the web site of the Cymbidium Society of America, Inc.), quotes Jack Hudlow, one of the founders of the Cymbidium Society of America who spoke in 1966 at a meeting of the Society in Pasadena, Californa, as follows: "Early in 1946, a small group of gardening enthusiasts (previously members of the Camellia Society) were invited to meet at the Pasadena public library with the purpose to 'initiate steps toward the organization of an "outdoor orchid society" '. These invitations, in the form of a letter, were sent out by Dr. David McLean. Prospective members were invited to bring a Cymbidium plant for the exhibit table. The organizational meeting was held April 3, 1946. At this meeting, the following persons were elected, pro tem: Robert Casamajor, chairman; Roy M. Bauer, secretary; and James Wright, treasurer. About forty members paid a $5.00 entrance fee..."
So far, we have not found any press coverage about the exhibits, the plants and their awards, or other activities held during the 1955 Congress. Please contact the web master if you have additional information.
---