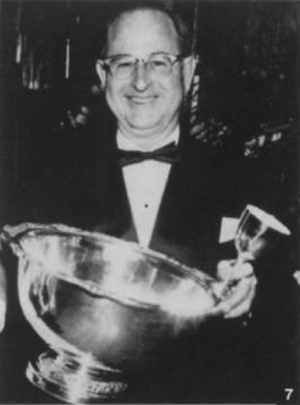 Born in Ladonia, Fannin Co., Texas, November 6, 1908, died December 20, 2005 in San Gabriel, Los Angeles Co., CA. He served in the US Navy twice, his first enlistment in 1930, the second in World War II. He and his wife Elva May ("Tommie") (June 9, 1909 - August 25, 1999) were both active in all phases of the orchid world in the Los Angeles area, particularly as judges, first under Orchid Digest and then AOS standards. President, Orchid Digest Corporation, 1959, 1960. He also served as President of the Orchid Society of Southern California, 1960 and 1968.
Obituary: John W. Hanes Jr., died Tuesday afternoon December 20, 2005 at the age of 97 at his home in San Gabriel, California. The oldest son of eight children, he was born and raised on a farm in Ladonia, Texas. He worked in the east Texas oil fields prior to joining the Navy in 1930. During his naval service, he became interested in orchids and other botanical species as a result of a visit to the Royal Botanic Gardens in Trinidad and various shore leave experiences in Southeast Asia, the Philippines and Hawaii. He met and married his wife Elva (a.k.a. Tommie) while stationed in Long Beach, California. They were married for 65 years prior to her death in 1999, and have lived in the same house in San Gabriel since 1949. After leaving the Navy a second time after World War II, he worked in accounting and later sales but soon after he started to raise his family his avocation and second love became raising orchids. His wife Tommie shared his renewed interest in orchids (from his Navy days) and together they were instrumental in establishing the American Orchid Society and were active participants form the mid 1950's through the late 1990's. They were also active in the Orchid Society of Southern California, the South Coast Orchid Society and various other orchid and botanical groups. During this time and after he retired in 1973, John had a small orchid business that had customers visiting his San Gabriel home from all over the world. He won recognition and many awards for his work hybridizing orchids, especially Paphiopedilums (lady slippers). John's work and love of orchids enabled them to travel the world where they made presentations of American and World Orchid Conferences sharing his love, passion and knowledge of Paphiopedilums and other orchids with anyone who was interested. John was loving husband, father, grandfather and great grandfather. He is survived by his son John, two grandchildren Leah and Craig, his great grandson Evan and his youngest sister Georgia Elizabeth who still lives in Texas. He was a good man and will be missed by all. White Emerson Mortuary. (Published in Pasadena Star-News, January 7, 2006.)
Arcadia Tribune, January 21, 1973, in publicity for his lecture to the Cymbidium Society, San Gabriel, Tuesday, January 22: "Mr. Hanes was first introduced to orchids in 1932 while visiting the Royal Botanic Gardens in Trinidad, British West Indies, and had started to grow a few reed epidendrums when World War II interrupted his activities. Soon after his return from service in the U.S. Navy, he again turned to growing orchids, this time in a greenhouse and growing many genera. His specialty is Paphiopediums or Lady Slipper Orchids, especially the hybridization of this exotic flower. His dictum is "To obtain the best results in hybridizing one must start out with the best." And to obtain the best he has purchased top breeding stock from around the world. Mr. Hanes advocates that everyone should have a hobby that related to nature's scheme of growing things, whether it be a few cacti on a window sill or African violets and orchids over the kitchen sink."
John Hanes on Paphs: from The Orchid Collection, newsletter of the Genesee Region Orchid Society, December 1989: Gordon Barringham, "Understanding Paphiopedilums": John Hanes of Hanes Orchids of Distinction, has conducted careful experiments with a wide range of paph media and concludes that the main differences in growth are found immediately after re-potting. Most plants are growing equally well two years later, regardless of the mix. We amateurs should probably take note that this result was found when all other growing conditions were about as good as humanly achievable. Perhaps the lesson to take home is that many problems in the medium can be compensated for by other cultural conditions, such as water pH, watering schedule or repotting schedule.
(Orchid Digest, 1966, pp. 146-147) Conference Judging with an International Flair. An interview with John W. Hanes. — Has any World Orchid Conference ever used an International Judging System before? The American Orchid Society System was used at the first Conference in St. Louis, in Hawaii, and in Singapore. Or course there was ribbon judging at the shows, but the English Conference, No. 3, used the Royal Horticultural Society form of judging, which is by committee. I understand that some foreign judges were included in the judging sessions at that conference.
Actually, no international form of judging was used before the Conference here in Long Beach. There were a few judges from various parts of the world that were invited to participate in the judging at the other conferences, but it was basically AOS judging here or RHS judging in England.
It was after the Third World Orchid Conference that I became interested in a form of judging that might unite the better qualities of all the judging systems. For the World Orchid Conference should certainly operate with an international form of judging. This would give judges from all over the world a chance to participate.
At that time I discussed this idea with several of the local judges and talked about the possibilities of unifying the judging systems into a form that would make possible an international sytstem at a world orchid conference. We discussed it in general and wrote to judges in other parts of the country, but some of them thought it would be too cumbersom to try to unit the ideas of committee judging and point scoring systems.
At the time that the Orchid Society of Southern California was chosen to be the host society, I went to work to see if we could not have a truly international system of judging. Following the plans and ideas that had been noted in my diary and had been discussed with a number of people, I began to make the recommendations more specific.
When did you finally complete the plans to have international judging? By September, 1965, J. Howard Carrington, Ernest Hetherington and I had pretty well formulated the procedures and policies that were most important in getting the conference judging ready to present to the Conference Committee. We felt that it was possible to incorporate the RHS system of committee judging, the Cymbidium Society of America form, the Australian standard form of judging used in that part of the world, and the Malaysian system. We used the American system of point scoring as a base and extended to other systems as we refined our ideas.
Did the Judging Committee include members from these judging areas? After the Orchid Society of Southern California was chosen to host the Conference—actually all of the societies in Southern California were hosts and participated fully and should be given credit for their support—we sent letters to all judging areas throughout the world to ask their advice and suggest changes to the proposed international system so we could work together. We sent letters to judges in 18 different countries.
How many countries were finally represented in the judging? There were eight countries that produced judges for the judging teams. Including the artistic division, we had roughly 200 judges.
Were the judges able to work together on this system?
Actually, the judges found that their objectives of judging were quite similar throughout the world. Some judges are more strict in their evaluation of the flowers than others. We found that this was true from all the areas, and I have found it true with AOS and ODC judges. People who have had more experience in judging and are familiar with a greater number of species and varieties naturally are more apt to be critical of a flower (type and breeding) than persons with less practice in judging.
Were there any particular phases of judging that predominated the interest of individual judges? Some judges were more interested in color and scored the plant high for this quality, while others were more apt to score a flower high on form, if it met their idea of perfect shape. Really, there is probably more variation in the eight regional areas of judging in the United States than was noticeable among the judges working at the Conference. The norm for quality was consistent among the judges throughout the world.
What would you suggest to make this system work on a larger scale? What kind of form would you recommend after using the judging procedure in Long Beach? Before you developed a "form for judging," an international group of judges would have to set some standards and then develop a "system" that would work for all areas. It would have to be a system that would not put a straightjacket on perfection. In a broad sense, appreciation of perfection would be the standard. You know, the Australians have a system for judging commercial flowers that would be worth further investigation along these lines. Back to your question though, the "form" is just an aid in helping judges evaluate the total flower. Perhaps committee judging like the RHS would work if our standards were more completely uniform, but each judging team and area does not have the vast file of colored paintings to refer to as does the RHS. This might be an ideal to work toward, and you know the importance of orchids in color. But you also know the problems of obtaining colored slides that are true to the flower—even after a few years, the color may change.
Would you recommend award pictures to be taken in stereo? Photographic technique and equipment is constantly improving and it certainly would be worth while. It is every expensive to do this kind of work, especially if you were going to do it for all judging areas. This would be most advantageous to the judges. Here again, the three dimensional flower in this special slide device would be costly, but it would be a vast improvement over our present method of having to remember a flower that was awarded ten or more years ago.
I believe we could make large colored pictures from the slides that we normally take and have a reference to a previous award—something like the British have. It would be costly, but very practical to have a set of these pictures for each judging station. You really need documented proof that a former award was of the standard indicated by the awards register. The picture could help you confirm the mental image you retained of the previous award.
---
Elva ("Tommie") Hanes served as Secretary for SCOS. Thanks to her careful notes about our monthly meetings, which were published in Orchid Digest, we know something about our society at the time we became a judging center for Orchid Digest. An obituary was published in our September, 1999 newsletter: "Tommie Hanes — The South Coast Orchid Society has unfortunately lost one of our earliest, highly dedicated members. Tommie Hanes has been deeply devoted to us since before her husband John was our fourth president 1955-1956, and long maintained an active interest, as well as offices, in the society. Despite her being distanced recently by advancing age, she kept in touch with her many friends. Tommie's longtime service as an AOS judge included efforts, shared with John and other distinguished AOS and ODC folks, such as Ernest Hetherington and Helen Adams, to bring the current form of AOS judging system into being. In recognition of her contributions, the Pacific South Judging Centers proposed that the AOS Trustees give her Judge Emeritus status, granted gladly in 1992. Tommie lived a long and fulfilling life into her 90th year, at least 65 of them in happy company with John. We are glad to have had her share so much of herself with us these many years, and celebrate the memory of her life in orchids"
John was also the first "West Coast Chair of the AOS Committee on Awards" (1962). He was a key figure (along with several other SCOS members) in both the AOS and Orchid Digest Corporation judging programs, and very likely played a role in the eventual merger of these programs at the beginning of 1968. However, nothing about this merger came about seems to have been published, a serious gap in our history. We would like to hear from anyone who has knowledge of these events!
---
During 1996, Orchid Digest devoted the back cover of each issue to "Digest Doer's Profiles", featuring a portrait and short reflections provided by each of the subjects. John and Tommie Hanes were featured in the July-August-September issue.
---
DIGEST DOER'S PROFILE
---
JOHN AND TOMMIE HANES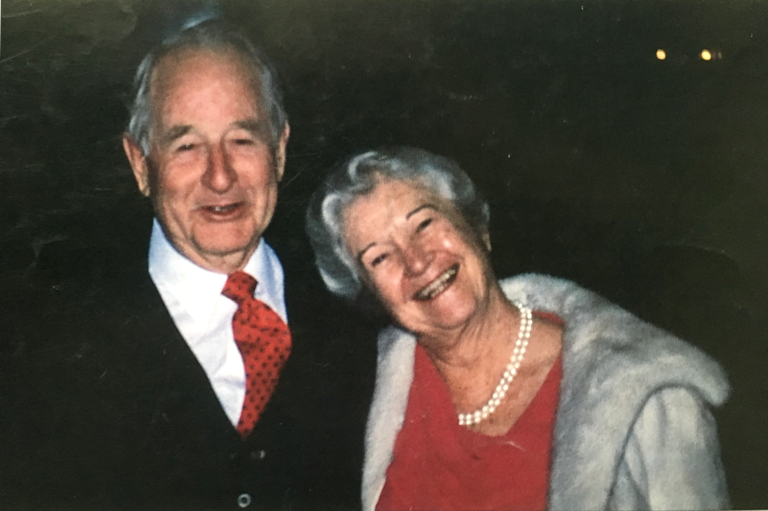 ---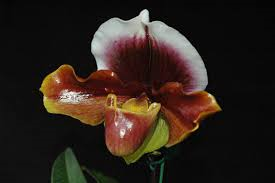 Eponymous orchids: Besides the two Paphs named after John and Tommie, (John Hanes was the originator, they were registered by Rod McLellan & Co.), there are many other orchids associated with the Hanes. John created many hybrids and sold them through his home business in San Gabriel, Hanes Orchids of Distinction. Between 1962 and 1992, John Hanes created at least 658 orchid hybrids that have since been registered, and he also was the registrant for at least 525 hybrids, the vast majority of them Paphs that he created, a phenomenal record.
By far the most successful of his hybrids, however, at least in terms of the number of registered hybrids for which it was one of the parents, was Rlc. Goldenzelle, one of those inevitable crosses involving distinguished parents, in this case Rlc. Fortune × C. Horace. Seedlings of this cross bloomed with big flowers, many of excellent form, in an astonishing array of colors, ranging from lavenders and pinks through various sunset shades to gorgeous pale yellows with subtle shading. At least 30 of these obtained AOS awards. In the next generation, Goldenzelle was the parent of at least 199 registered hybrids, and around a hundred more botanical grandchidren.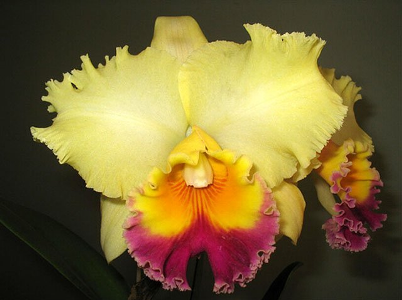 ---
We can't leave Rlc. Goldenzelle without relating its origin story, preserved by Courtney T. Hackney (2004) in his wonderful volume, American Cattleyas. During his interviews with Norito Hasegawa, Roy Field (both SCOS members), and many others, he learned that at least three growers (Roy Field, Murray Spencer, and John Hanes—all members of SCOS!) had made precisely the same cross, Blc. Fortune 'Golden Throne' × C. Horace 'Maxima', at about the same time. It was one of those inevitable crosses involving clones that happened to catch everyone's attention at the same time, and it would not be surprising to discover that they had traded divisions of the parents at our meetings! Both of these parents were tetraploid, but, for whatever reason, not all of the progeny were tetraploid. While it was John who eventually named and registered the hybrid in 1982, Roy went on to try self and sib crosses with the best of the tetraploid progeny, obtaining a group of spectacular yellows. We might regard this outstanding hybrid as a SCOS group project!
---