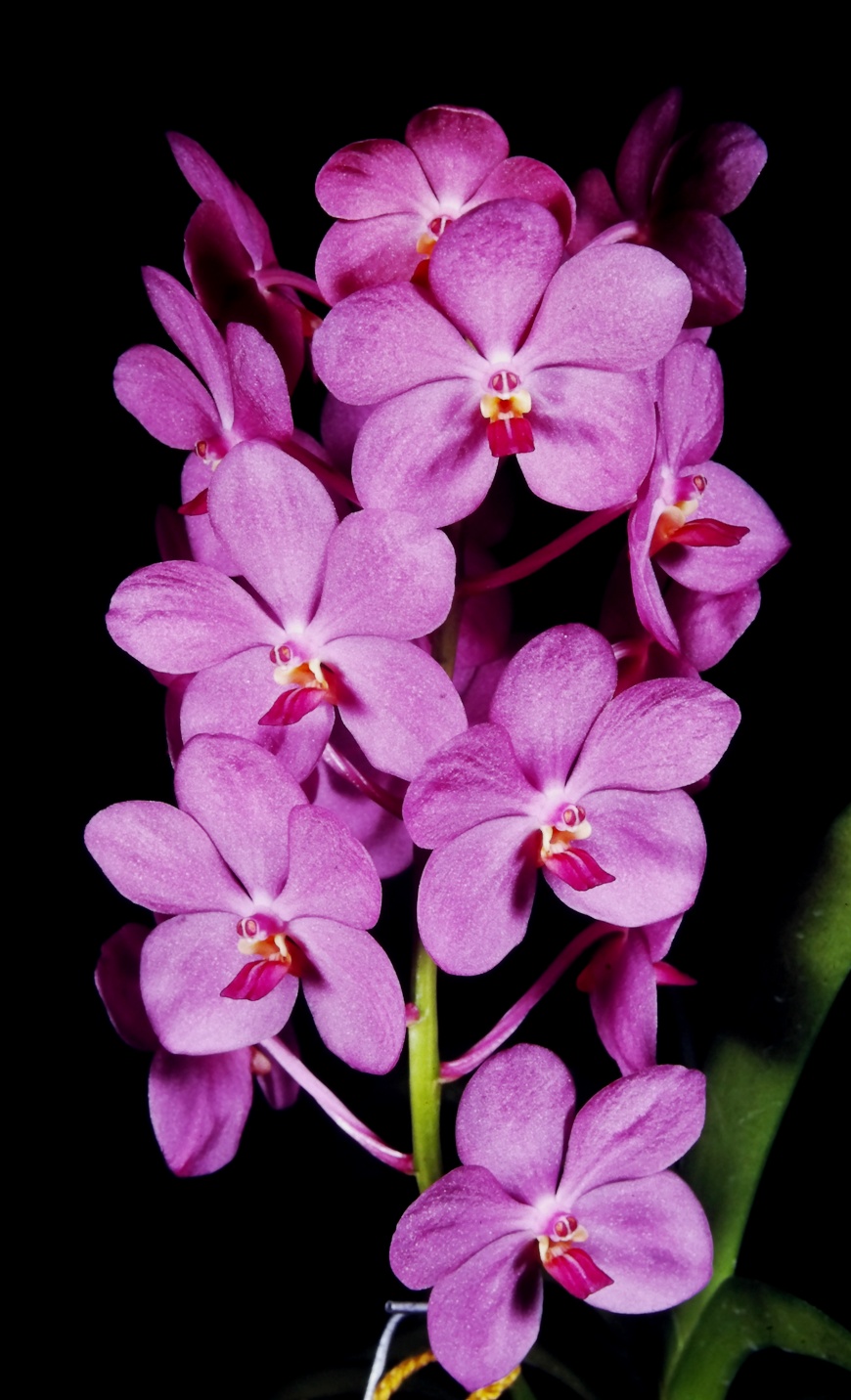 July, 2022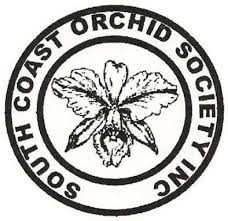 Ascocenda Nostalgia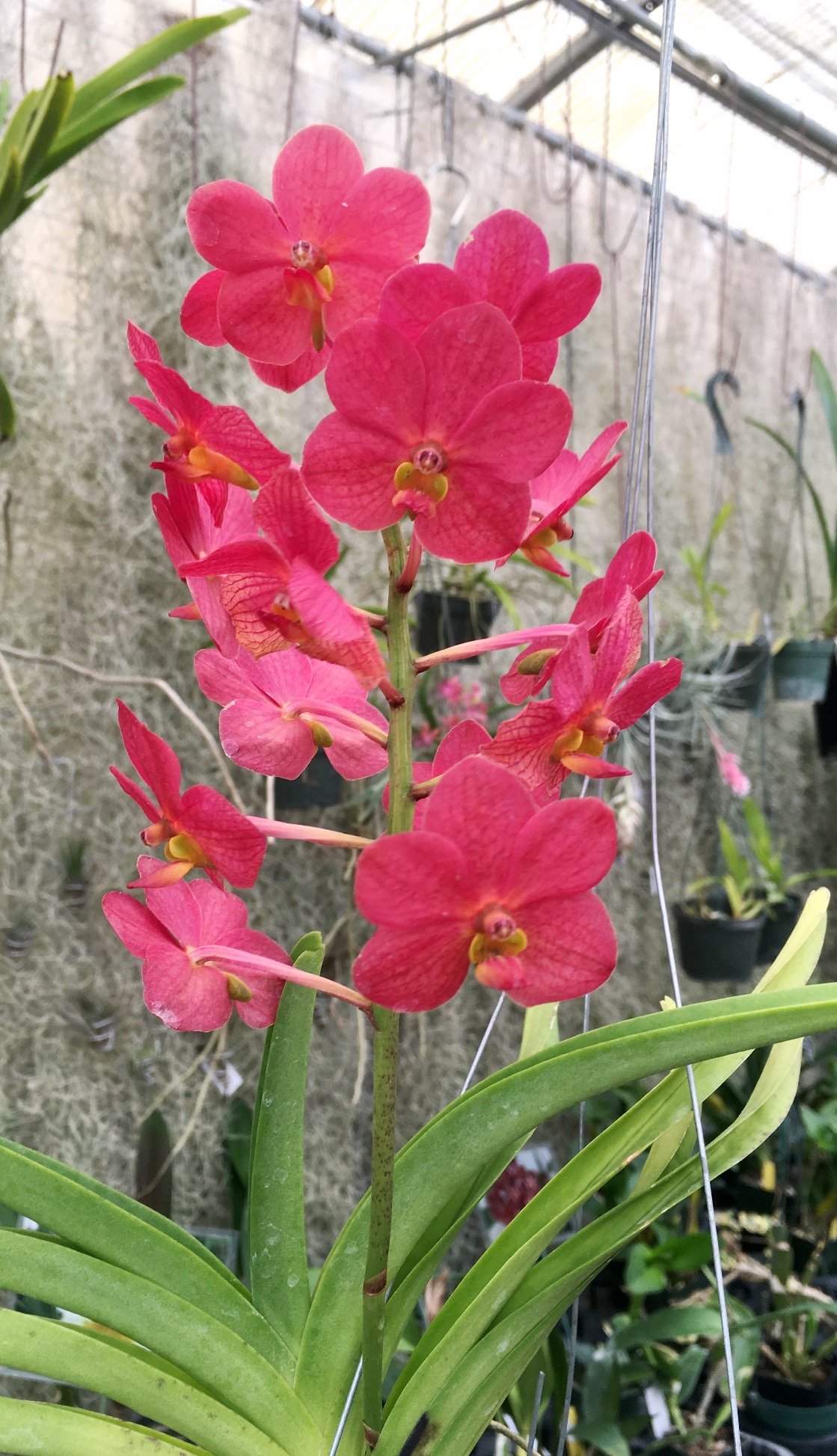 During our project to recover the orchid awards associated with SCOS, first under Orchid Digest Corporation standards from December, 1954 through December, 1967, and then from January, 1968 right down to the present under American Orchid Society standards, we were surprised to find a large number of awards for Ascocendas. The Ascocendas awarded in Long Beach were stunning! Rarely seen these days, at least in our area, Ascocendas used to play a starring role. Hybrids of Ascocentrum and Vanda, they produced beautiful round flowers in jewel tones, from small Vanda-like plants. They were much easier to manage in a small greenhouse than "standard" Vandas. Today, when fewer people are able to afford and manage a greenhouse environment, even a small one, their place has largely been taken by "compact" Cattleyas, "novelty" Phalaenopsis and Paphiopedilums, and Neofinetia hybrids, all of which are suitable for either outdoor or indoor cultivation, without a specialized and carefully regulated growing area.
Today, also, there is a prevailing school of thought that says Ascocendas no longer exist, because Ascocentrum and several other genera have been completely submerged into Vanda. We will have something to say about that development below.
The first Ascocenda was produced in 1949 by Dr. Christos Plutarchou Sideris, then a plant physiologist working in Honolulu. Sideros was born in 1891 on the island of Samos, Greece, and came to the United States in 1909. He attended college in California, receiving his Ph.D. in plant physiology in 1924 from the University of California at Berkeley. His first job after that was with the Pineapple Producers' Cooperative in Honolulu, which later became the Pineapple Research Institute. He may also have held a position at the University of Hawaii. Orchid growers in Hawaii have explained that agricultural scientists in Hawaii in those days traveled frequently to Southeast Asia in connection with their research on improving productivity of pineapple and other tropical crops in Hawaii, and during these travels encountered interesting orchids, some of which they brought back with them to Hawaii.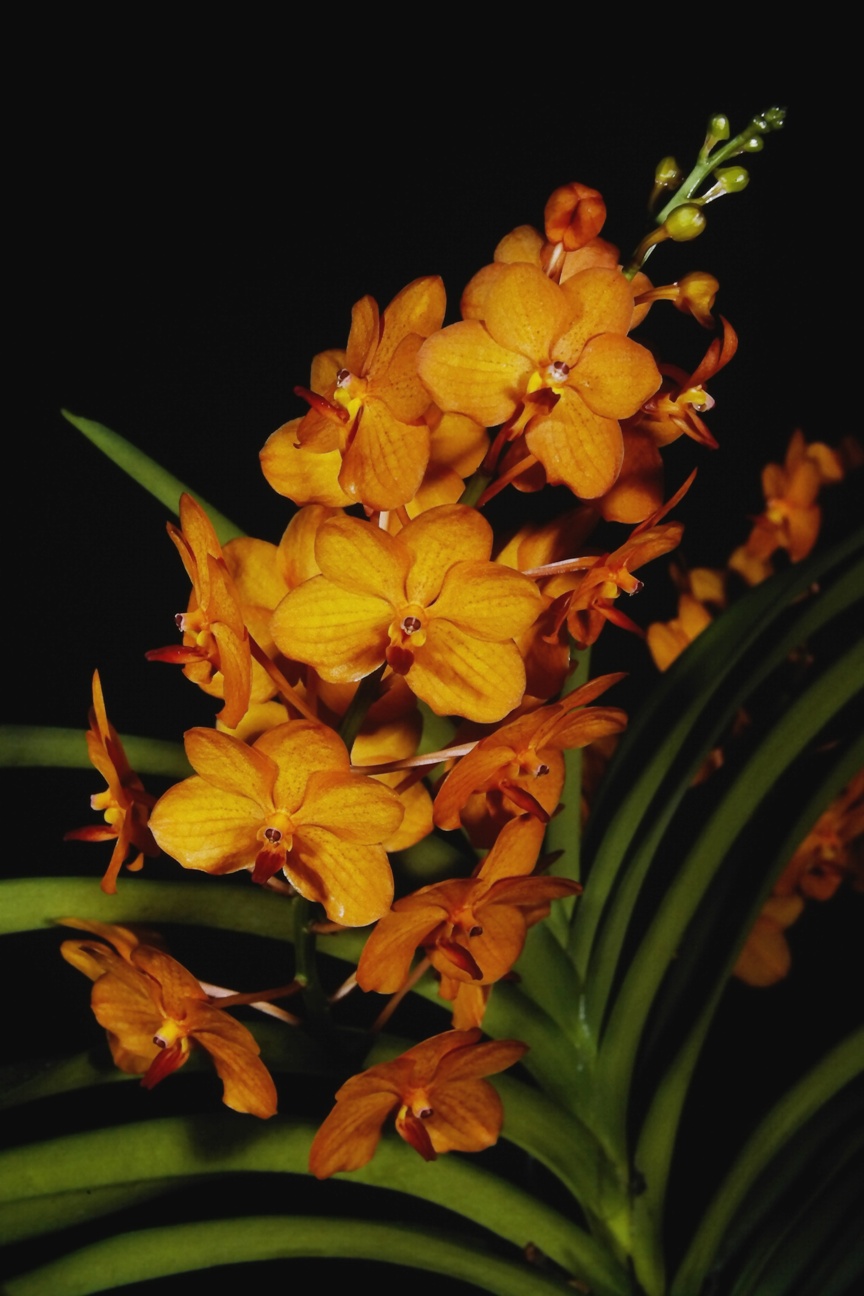 Dr. Sideris became interested in growing orchids. Travel presumably stopped during World War II, but in 1949, he registered the intergeneric hybrid Ascocenda Portia Doolittle (Ascocentrum curvifolium × Vanda lamellata), named after the wife of one of his friends in Honolulu, Dr. Stewart E. Doolittle, who also had a "hothouse". Ascocenda Portia Doolittle, at least the examples known today, was not a spectacular plant, but it proved that these two genera could produce viable hybrids. Dr. Sideris had also made a more promising cross, Ascocentrum curvifolium × Vanda Rothschildiana, which he registered in 1950 as Ascocenda Meda Arnold. It was a stunning plant, with full, round, brilliant red flowers (and several other shades) over an inch across, well displayed on erect spikes. We found 66 AOS awards for this hybrid.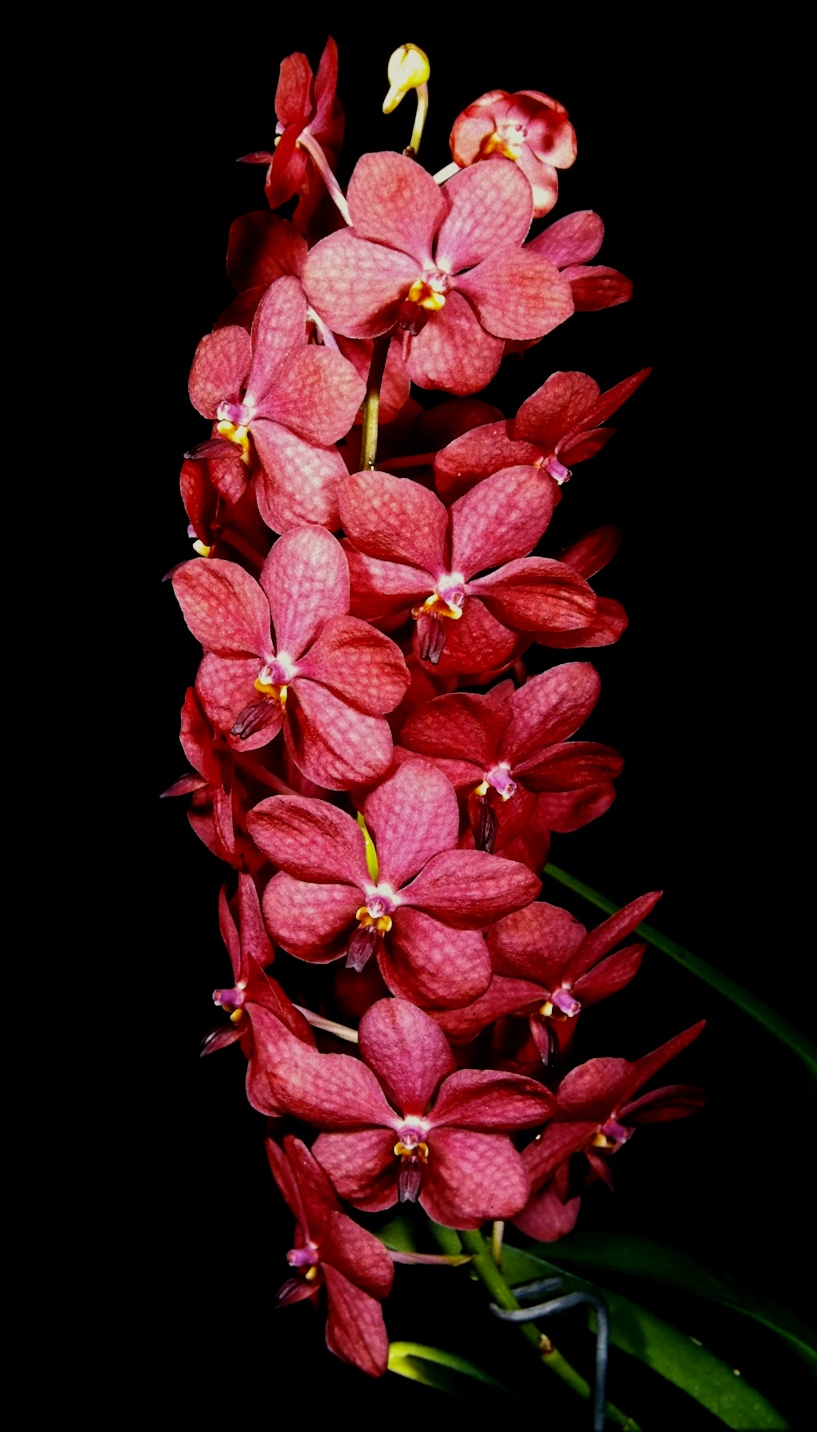 Who was Meda Arnold? Born Meda Lorraine Sheldon, she was the wife of Dr. Harry Loren Arnold, a physician who seems to have come to Hawaii as a Major in the US Army before 1920. By 1930 he was in private practice. He was a founding partner in the Straub Clinic in Honolulu, and at his retirement in 1967, chief of staff at Queen's Hospital. He died in 1971. He and Meda had come from Michigan. Meda was born in Michigan in 1884, married there in 1911, and died in Honolulu in 1974.
Did they grow orchids? They certainly did! Even during World War II, orchid shows were held in Honolulu, and Dr. Sideris was there. In 1949, show winners included C. P. Sideris, Dr. Harry L. Arnold, and Dr. Stewart E. Doolittle. In 1954, there was a two page photo essay in a local newspaper featuring Dr. Arnold and his orchids, in great detail. In 1950, the "Garden of the Week" column in the Honolulu Advertiser was devoted to the C. P. Sideris garden. The Advertiser also ran a column "All About Orchids" for a time, and in 1954, this column featured an extract from an article by Dr. Sideris in the Pacific Orchid Society of Hawaii Bulletin, on "Iron in nutrient solutions for orchids".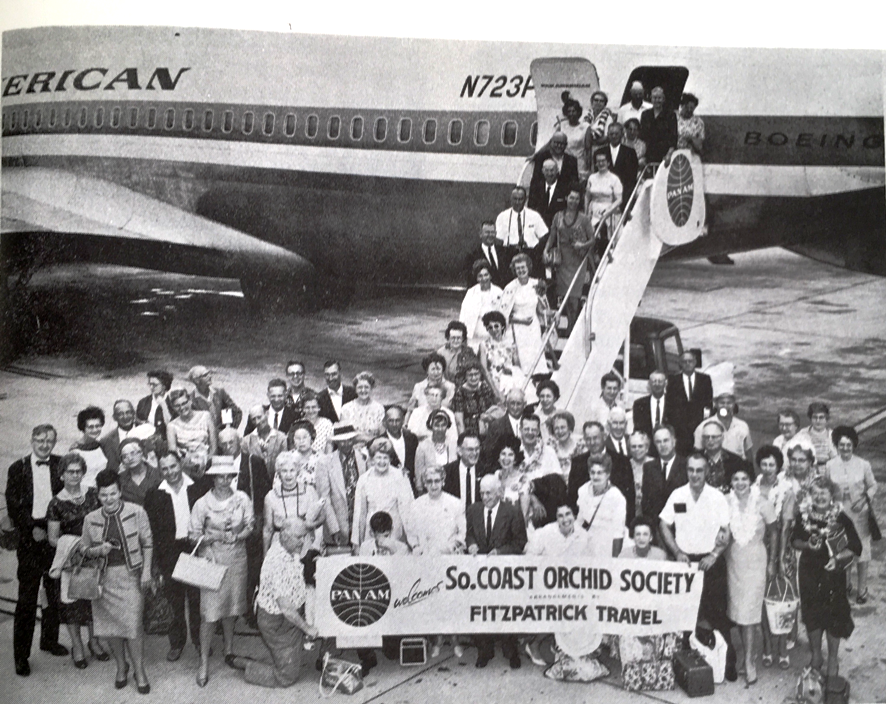 We know from SCOS newsletters that the early Ascocendas had arrived in the Long Beach area by 1964, because both Ascocenda Ophelia and Meda Arnold received awards from ODC judging at our meetings in 1964-1966. They may well have arrived in Long Beach as a direct result of charter flights for orchid hobbyists to Hawaii arranged by SCOS. One well-publicized tour, September 16-30, 1963, was dubbed "South Coast Orchid Society's Rendezvous Hawaii", at a cost of only $360.00. A full account of this tour appeared in the newsletter of the Orchid Society of Southern California. Arrangements were made by Fitzpatrick Travel and PanAmerican Airlines (remember PanAm?). Our happy SCOS tourists visited numerous orchid growers in the Islands, and we can only assume they brought back many orchid plants as souvenirs. Hawaii was such a popular place in those days that SCOS held an annual luau every August, with Hawaiian-themed decorations and entertainment.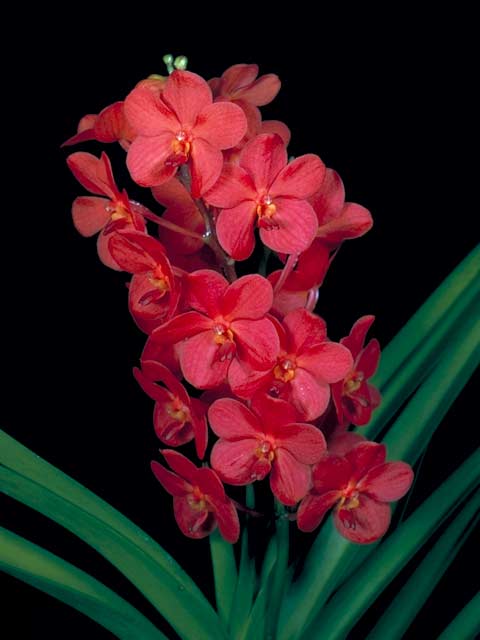 Meanwhile, the Ascocenda story continued. Hawaiian orchid grower Roy Fukumura tried the cross of a very nice Vanda cultivar for which he had won an award (Vanda Pukele 'Helen' HCC/AOS, awarded in 1960 at the Third Hawaiian Orchid Congress, Kahalui, Maui) with Ascocentrum curvifolium. Seedlings were distributed before any had bloomed; the first one to bloom had found its way to the Yip Kee Garden, a family-run nursery in Kuala Lumpur, Malaysia, and the proprietor, Mr. Yip Sum Wah, registered it in 1965 as Ascocenda Yip Sum Wah, which quickly became even more famous than Meda Arnold. Yip Sum Wah turned out to be extremely productive, routinely producing one big spike a month, and quickly became a favorite for the cut flower trade, with weekly exports to Europe from Thailand. So far, we know of 108 AOS awards for Yip Sum Wah. Flower sizes for the awarded plants have generally been in the range of 1½" to 2", but a few have come close to 3". Color range is generally red, with shades from red-orange to raspberry red, often with an overlay of dark red dots.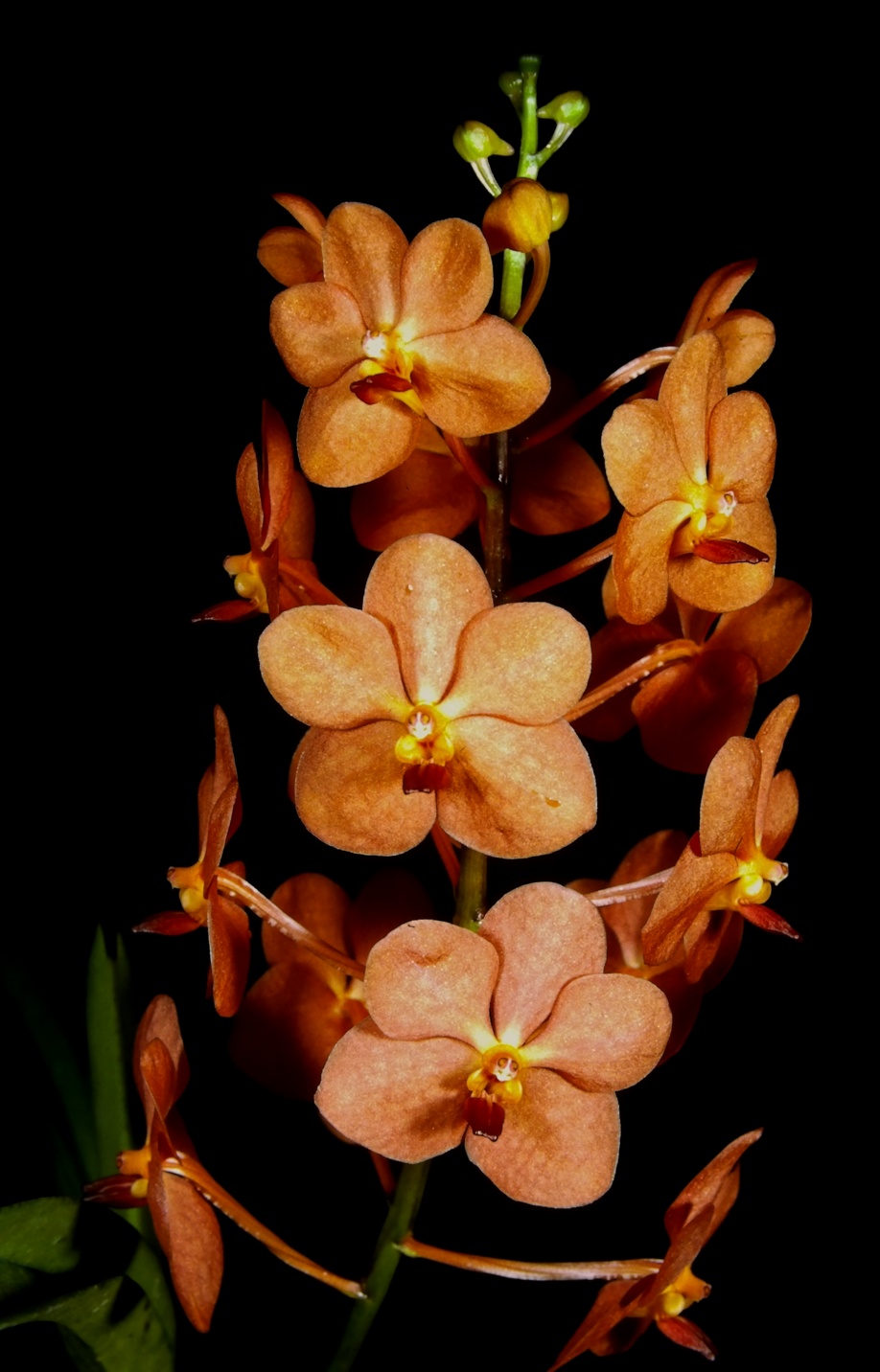 The natural consequence of these two stunning hybrids, Meda Arnold and Yip Sum Wah, was that someone would cross them. That honor went to Robert Perreira Orchids, of Kaneohe, Hawaii. The cross was registered in 1970 as Ascocenda Fiftieth State Beauty, which has received at least 38 AOS awards. The color range is excellent, including some rose shades; the size tends to be about the same as Meda Arnold. SCOS members brought in some fine cultivars for judging.
Today there are still new "Ascocendas" being registered, but, since April, 2013, they are now all called Vandas, as a result of some taxonomic adventures that now need to be explained. We don't see many of them locally, but they are still popular in Hawaii and Southeast Asia. Some have larger flowers, and it appears some of the newer hybrids tend to be larger as well, as a result of further crosses with "standard" Vandas. The color range has expanded, too, as a result of crosses involving other genera (some of which, however, have also turned into Vandas).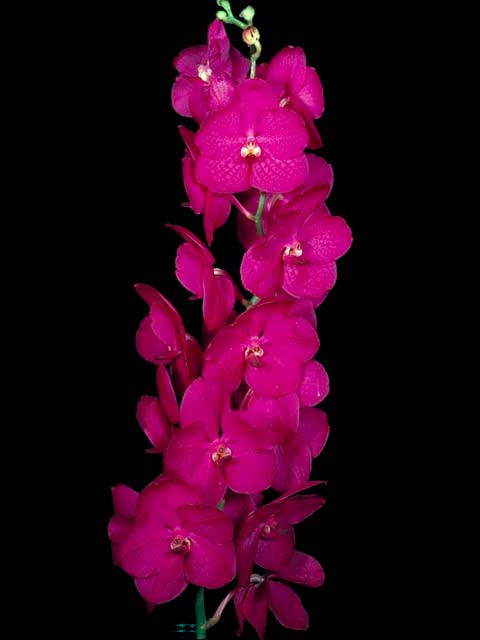 SCOS members are well aware of the taxonomic upheavals of the past couple decades. In part, the large-scale changes of orchid names have come about through the application of DNA sequencing methods. These methods have revealed unsuspected genetic relationships of various species and genera, some of which have by now been validated by additional research on morphology, pollination strategies, and detailed studies of natural populations. However, the technology is still evolving, and along with it, taxonomic concepts for interpreting the results.
One of the newer concepts we can call "monophyletic purity". For purposes of determining the boundaries of a genus, it is now almost an article of faith for many taxonomists that a genus can only contain the evolutionary descendants of a single hypothetical ancestor, and that it must contain all such descendants. It has become distinctly unfashionable to split out groups of species that are morphologically very distinct, unless all of the other related groups at the same level of the "phylogenetic tree" (usually derived through analysis of genetic data) are also split out into separate genera. For example, in order for the very distinct Neofinetia to remain as a separate genus, it would be necessary, under the idea of "monophyletic purity", to split Vanda and maybe some other, related groups of species that branch from the evolutionary "family tree" at about the same level, into multiple new genera. It is a sort of "fairness" argument that has nothing to do with the utility of the new classification for anyone, except possibly the taxonomists themselves. Further, it is an idea that gives primacy to genetic data, to the virtual exclusion of what the plants look like, how they behave in cultivation or in nature, or any other visible character that might actually be useful to the gardener or even to the field naturalist.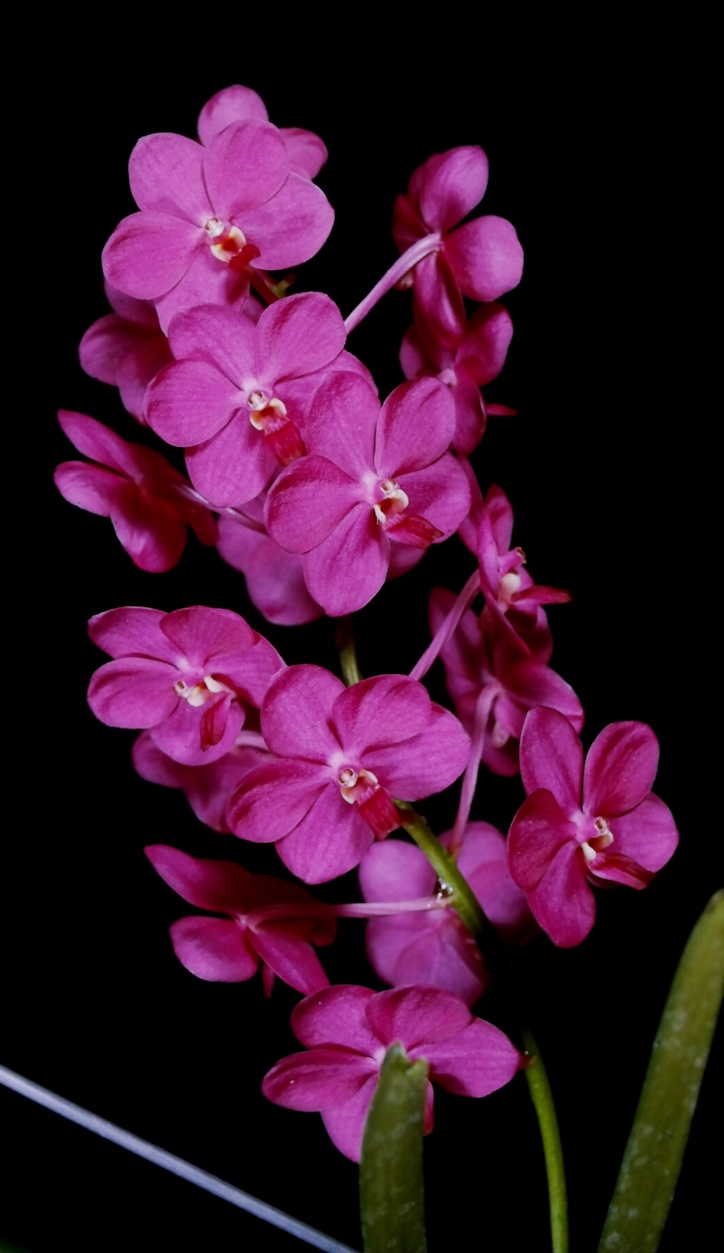 One of the ways that genetic data have been applied to orchid taxonomy is in the creation of a monumental revision of the genera of orchids, entitled by exact translation into Latin, Genera Orchidacearum, in six huge volumes. It is not, however, the size of the volumes that concerns us, but rather, their prohibitive cost. That the cost (initially about $160 per volume, but we have seen prices on the internet as high as $700 per volume) is actually prohibitive can be judged from the fact that we have been unable to locate anyone in our area who owns or has even held one of these volumes.
Perhaps understanding that few people are likely ever to see or use these volumes, many of the contributors have published some or possibly all of their data elsewhere, but it is not yet clear how much additional information or what new interpretations may be found in Genera Orchidacearum. This fact makes the work difficult to evaluate.
Nevertheless, most of the decisions in these volumes concerning the names and composition of the genera of orchids have apparently been adopted by the Royal Horticultural Society as the basis for orchid hybrid nomenclature and registration. That is the story behind the elimination of the genus Odontoglossum, for example.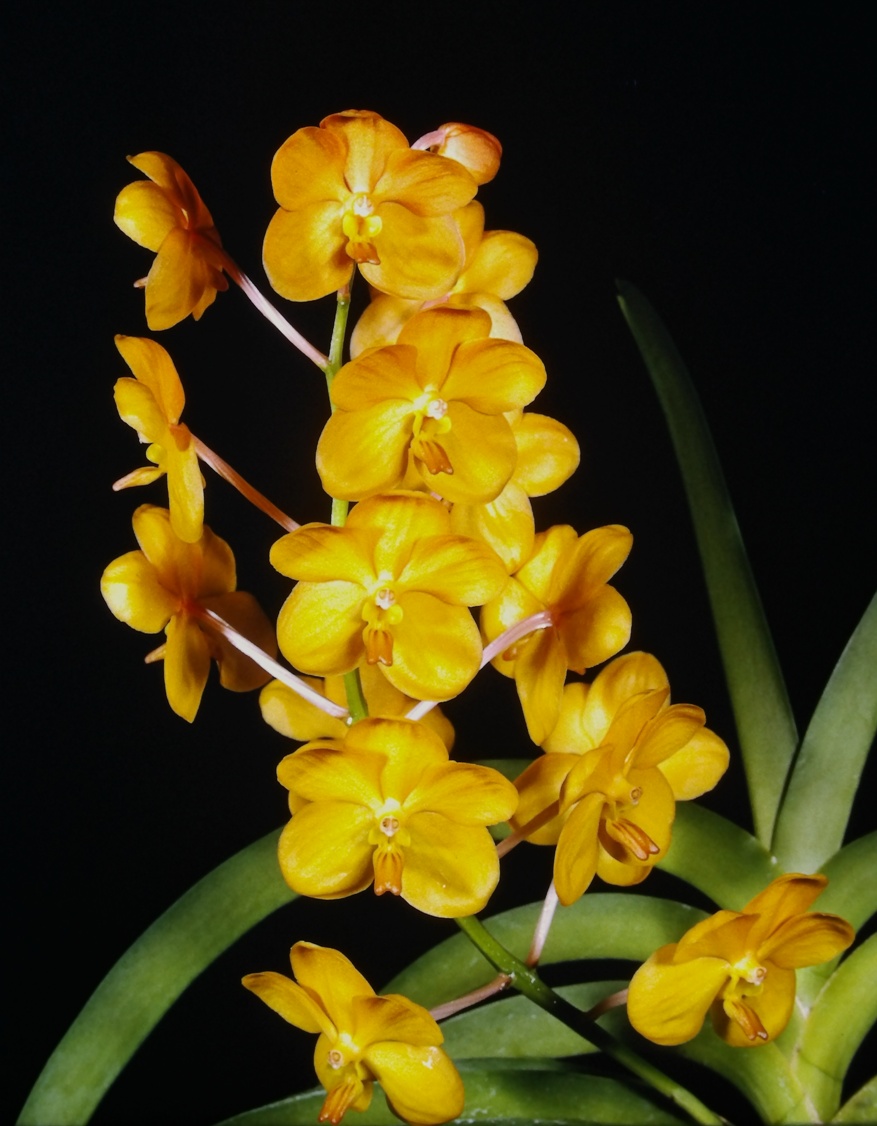 For Vanda, the story is mixed. Preliminary to the publication of the account in Volume 6 of Genera Orchidacearum, what appear to be the genetic data underlying it were published separately (Gardiner, Lauren Maria, Kocyan, Alexander, Motes, Martin, Roberts, David L, and Emerson, Brent C., 2013, Molecular phylogenetics of Vanda and related genera (Orchidaceae), Bot. J. Linn. Soc. 173:549-572). These authors presented data and derived phylogenetic trees based on selected regions of chloroplast DNA (for a total of 154 "potentially informative characters"), with the result that the Ascocentrums they sampled did not cluster together, but were instead interspersed with other Vanda species in the phylogenetic tree. That seemed to clinch the case that Ascocentrum and several other genera were not inherently separate and distinct from a genetic, evolutionary perspective, and should therefore be lumped into an enlarged genus Vanda. From this paper, it was apparently a short step to the account (which we still have not seen) in Volume 6 of Genera Orchidacearum (which finally appeared in 2014), and from there to the decision by the RHS to accept these conclusions — a decision, however, that was actually made in May, 2013, before Volume 6 had appeared (reported, for example, in Orchids 82(7):439 (July, 2013)).
However, another study, comparing a much larger set of DNA markers, appeared in 2015, with a very different conclusion: Zou, Long-Hai, Huang, Jiu-Xiang, Zhang, Guo-Qiang, Liu, Zhong-Jian, Zhuang, Xue-Ying, 2015, A molecular phylogeny of Aeridinae (Orchidaceae: Epidendrioideae) inferred from multiple nuclear and chloroplast regions, Molecular Phylogenetics and Evolution 85:247-254. This team used not only the same chloroplast DNA regions as Gardiner et al. (although not necessarily with the same "primers" or results), but also included the "internal transcribed spacer" (ITS) regions from nuclear ribosomal DNA as well as other nuclear DNA regions, for a total of 1802 "potentially informative characters" — a major expansion of the amount of information available for working out the genetic relationships. In their hands, the final result was that Ascocentrum and Neofinetia, as well as other groups, proved to be distinct from the traditional Vanda genus. In terms of experimental design, the inclusion of a much larger selection of genetic data is expected to yield a better, more reliable result. Further, the fact that two apparently technically sound studies produced different results suggests that the question of generic boundaries is not yet settled, and must be confirmed by further studies. In effect, it looks like Genera Orchidacearum and the RHS may have jumped the gun. It would be better to wait until the scientific community has a chance to evaluate and confirm the experimental findings and to consider the taxonomic questions from more points of view. There is no need to rush taxonomy.
Ultimately, taxonomic revisions, no matter how authoritative they may appear, are only and always suggestions. There is always the expectation that they may need to be revised when additional information becomes available. In this case, we should remember Ascocendas, because we may need to bring them back, officially, someday.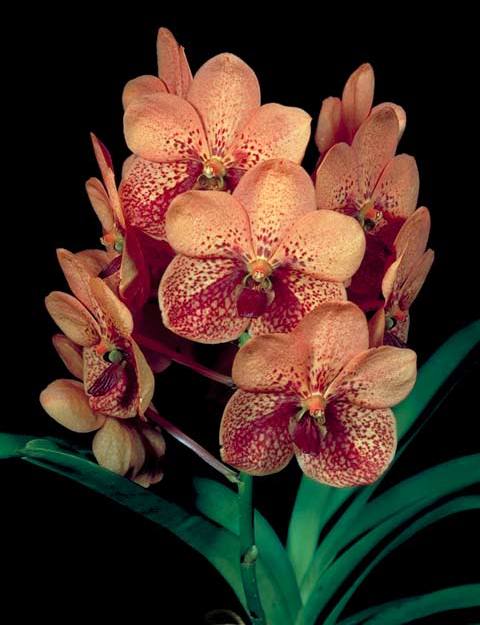 ---
---