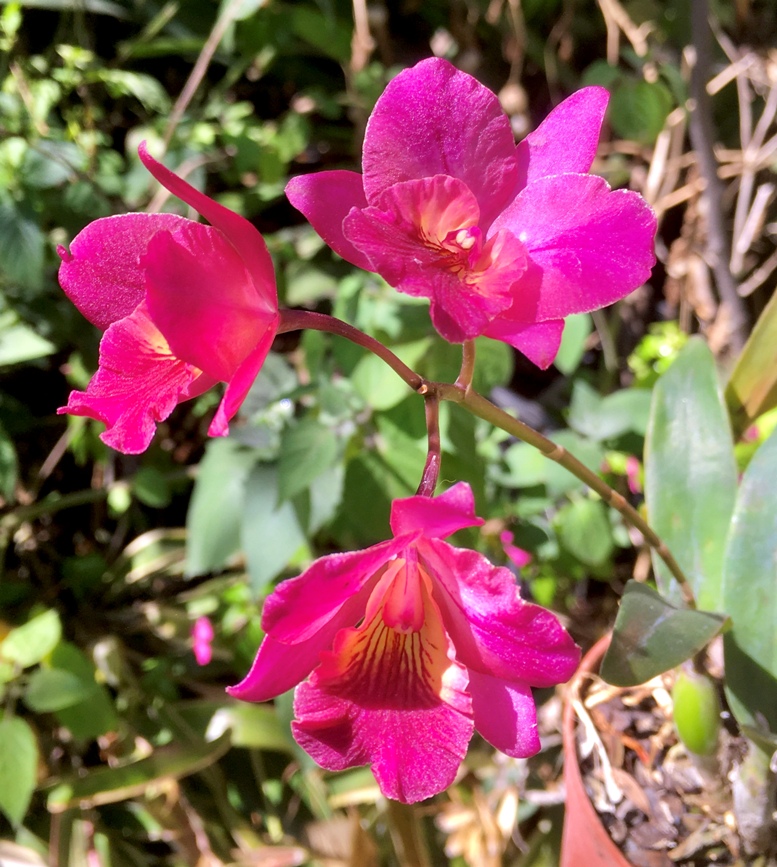 April, 2022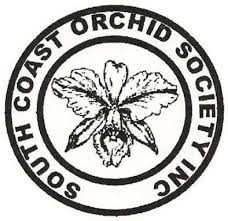 Name That Orchid!
Name That Orchid Ballantineara!
We present this essay with mixed feelings: awed by the vast array of Cattleya hybrids, and exasperated by the process of trying to keep track of them.
An obscure orchid seedling has just bloomed, a cute little hybrid from Sunset Valley Orchids, still unregistered, whose parents used to be known as Laeliocatonia Peggy San and Epicattleya Kyoguchi. Both are parents of many hybrids, but Fred Clarke seems to be the first to try crossing them with each other. Peggy San produces sprays of spash-petaled flowers that look a lot like Broughtonia. Kyoguchi produces long branched sprays of yellow flowers with deep maroon lines on the lip.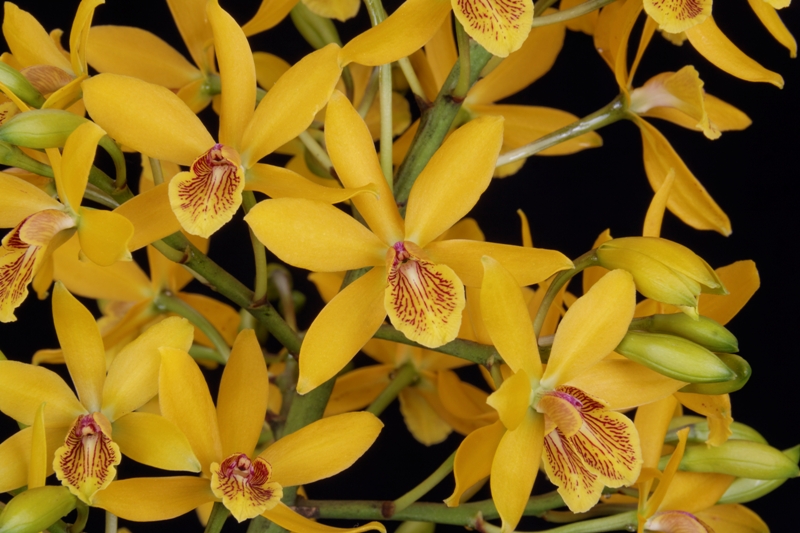 Not surprisingly these days, the names of the parents have changed, as a result of various upsets in the Cattleya tribe: they are now correctly Cattleytonia Peggy San and Guaricyclia Kyoguchi.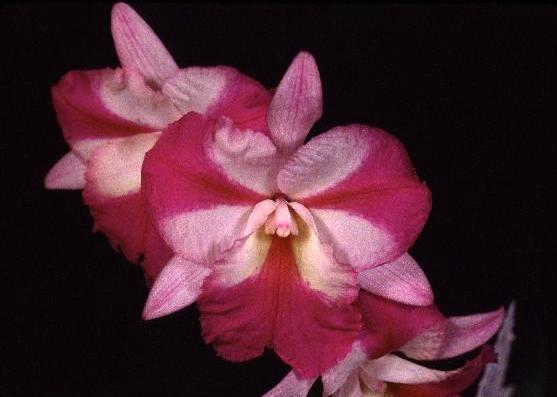 When the changes in the taxonomy of the Cattleya tribe were accepted for purposes of hybrid registration by the Royal Horticultural Society, the Registrar, Julian Shaw, was faced with the task of coming up with more than 80 new names on short notice, for existing hybrids whose intergeneric make-up had suddenly been altered. The particular combination involved here, Broughtonia × Cattleya × Encyclia × Guarianthe, was dubbed Ballantineara. This tsunami of new names was published in Orchid Review, volume 116, March-April 2008, as part of the "Quarterly Supplement to the International Register of Orchid Hybrids", covering October-December 2007 registrations. This name was one of the lucky ones. Quite a few of the new names became obsolete barely a year later, when the genus Sophronitis was submerged into Cattleya, and Mr. Shaw had to come up with almost 50 more new names.
Ballantineara has so far survived for more than a decade as a valid intergeneric hybrid name, virtually unnoticed. Mr. Shaw did not indicate who the honoree was, but it wasn't hard to spot the probable candidate, Mr. H. Ballantine, head gardener for Baron Sir J. H. W. Schröder of The Dell, Egham, England, in the late 19th and early 20th Century.
Conveniently, a short biography and a photo of Mr. Henry Ballantine appeared in The Gardener's Chronicle, September 14, 1907, pp. 200-201: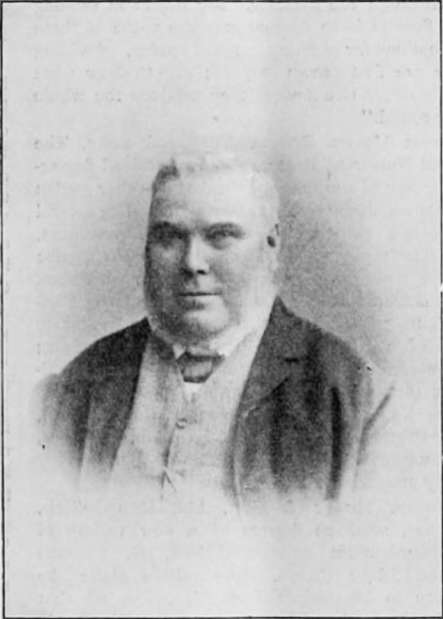 Mr. Henry Ballantine has been for many years head gardener to Baron Sir H. Schröder, The Dell, Egham. The Dell gardens are among the most beautiful and best maintained establishments in this country. They are especially famous for the rich collection of Orchids they contain. Many important species and varieties have been shown from this collection at the Royal Horticultural Society's meetings, and may be found in the list of plants which have received first-class certificates. It is interesting to recall some of the fine plants from The Dell gardens. Taking, for example, the spotted forms of Odontoglossum crispum, which are among the greatest favourites at the present day, there is a very fine collection at The Dell, and this collection contains specimens from the earlier introductions, which are still some of the best plants to be seen, notwithstanding they have been under cultivation for long periods. First-class certificates have been obtained by O. crispum Ballantinei, O. c. flaveolum, O. c. Dellense, and O. c. Veitchianum in 1884; O. c. Schroderianum and O. c. Sanderianum in 1885; for O. c. apiatum, which was the sensational Orchid of its day, in 1886, and for O. c. Baroness Schröder, O. c. nobilior, and other grand forms at more recent dates.
Turning to the blotched forms of O. Pescatorei, the record is equally remarkable, The Dell collection still retaining in splendid health the beautiful O. Pescatorei Veitchii (F.C.C., 1882) and O. P. Schröderianum, both of which plants are still unmatched, despite thousands of specimens of this species which have been imported since that year. Mr. Ballantine had the good fortune to present the first Odontoglossum Wilckeanum on March 10, 1885, and its variety Godroyæ on the same day. First-class certificates were awarded for both plants. In most other sections of Odontoglossum early honours were secured by representatives from this collection. From 1891, when The Dell specimen of Cypripedium insigne Sanderæ secured a first-class certificate, it was for some years, and probably still is, one of the best plants of its kind; and many other cases might be cited where Baron Schröder's liberality in securing the best varieties and Mr. Ballantine's skill in cultivating them to the highest standard have brought credit to the gardens in which they both take such delight.
Although the Orchids have played the most important part in spreading the fame of The Dell gardens, other branches of gardening have been equally well carried out. It would be well for horticulture if the types of owner represented by Baron Schröder and of gardeners by Mr. H. Ballantine were the general rule.
Apparently, there were a fixed number of positions for the membership of the Victoria Medal of Honour. As vacancies occurred during the previous year (because of the deaths of Sir Thomas Hanbury, after whom the popular Encyclia (formerly Epidendrum) hanburyi is named, Sir Michael Foster, and Mr. Harry Turner), they were replaced (elected by the Council of the Royal Horticultural Society) by Sir John Dillwyn Llewelyn, Baronet, Mr. Henry Ballantine (the veteran head gardener to Baron Schröder), and Mr. George Dickson, the rosarian, of Newtonards, Ireland, in 1907. Ballantine died in 1929, noted in the Journal of the Royal Horticultural Society, 1935, p. 59. Baron Sir Henry Schröder, Bt. (=Baronet of The Dell), C.V.O. (=Commander of the Royal Victorian Order), died in 1910. According to the Wikipedia, Sir John Henry William Schroder, 1st Baronet and Baron von Schröder (13 February 1825 – 20 April 1910) was an Anglo-German merchant banker, his firm being Schroders PLC. He was known as Baron Sir John Henry Schroder. Schroder was born Baron Johann Heinrich Wilhelm Schröder in Hamburg, Germany, the fourth of twelve children of Baron Johann Heinrich von Schröder (in the Prussian nobility) and Henriette von Schwartz. Both his parents were born into prominent Hamburg merchant families. In 1814, at the age of 16, Sir John joined the London office of the banking house founded by his father. He later moved to England and was created Baronet of The Dell, in the Baronetcy of the United Kingdom, in 1892. The title became extinct upon his death.
Baron Schröder seems not to have been connected with the orchid aristocracy to the extent that some of his contemporaries were. Few, if any, of his awarded plants were featured in the fabulous color plates that were so popular at the time. There are a few paintings of individual flowers in the archives of the RHS, but we were not able to find any illustrations of entire plants that would show us why Baron Schröder and Mr. Ballantyne were so highly regarded.
Hybrids now correctly known as Ballantineara that were registered before 2008 were formerly known as Cycatonia (established for Broughtonia × Cattleya × Encyclia in the April-June, 2006 registrations, published in Orchid Review vol. 114, September-October, 2006). The need for a new name was occasioned by the split of the new genus Guarianthe from Cattleya. Even earlier, before Encyclia was split out from Epidendrum, similar hybrids were called Epicatonia (Broughtonia × Cattleya × Epidendrum). One of the early ones was Epicatonia (now Ballantineara Purple Vista, registered in 1999 by Fred Clarke, which received an HCC/AOS on September 25, 1999 at the San Diego International Orchid Fair at Del Mar, CA. (AOS Award No. 19991500, photographer Charles Rowden) for cultivar 'Sunset Valley Orchids'. The flowers were large for the type of breeding, 6.2 cm across, with 18 flowers and 4 buds on a "sturdy", branched spike. The version of the award photo in OrchidPro is faded in such a way that the color is distorted. A much better version of the same award photo (a mirror image) was contributed to OrchidRoots.com by Fred Clarke, and is found also on the Sunset Valley Orchids web site.
This little excursion demonstrates a long-standing problem for orchid growers: Name changes can take many years, or even decades to reach us (even those of us who have tried to keep up with orchid news), and by the time we find out, the odds are fairly good that even the new name we just learned about has been replaced by something else.
---
---