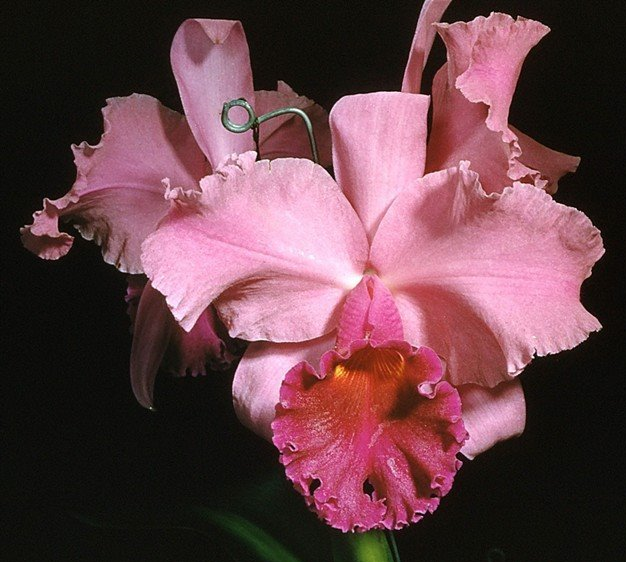 September, 2022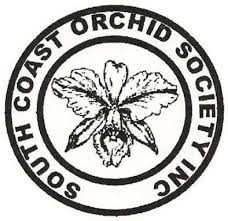 A Big Project: Tracking Down Old Orchid Awards!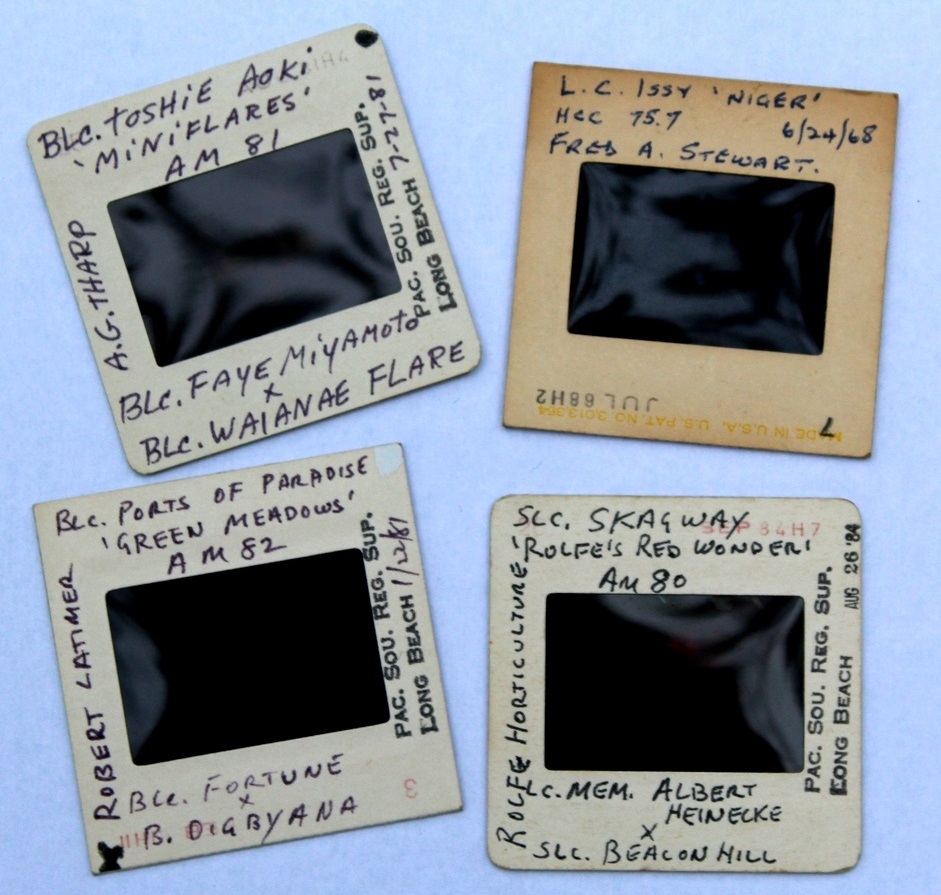 When we started digging into the history of South Coast Orchid Society, we learned about our members from the past. Many of them turned out to be important players in the development of modern orchid hybrids. We wanted to know more about their plants.
Gradually, starting about August, 2021, we have been able to track down the awards from Long Beach judging. At first it was a slow and confusing process. There were multiple sources to be checked, for the most part not indexed, and sometimes with glaring discrepancies and errors. We gradually worked out a process for recovering the data as efficiently as possible, and began to understand the limitations of each source.
Where to find our Long Beach and Southern California awards project: click HERE! Links are provided to Long Beach ODC awards 1954-1967 and their few surviving photos, Long Beach AOS awards 1968-1980, and all other Southern California AOS awards 1950-1968. The web pages will be updated with additional photographs and information as they are discovered.
The story of Long Beach judging begins in late 1954, when SCOS members voted to go ahead with a request to start official Orchid Digest Corporation judging in conjunction with our monthly meetings.
At first, SCOS recruited judges from the Orchid Society of Southern California who had been accredited by Orchid Digest Corporation – most of whom were already members of SCOS as well. The first official Long Beach judging session was held at our December, 1954 meeting, and duly reported in the form of a summary of the meeting published in Orchid Digest, prepared by our Secretary at that time, Elva "Tommy" Hanes.
Our meetings had been scheduled, from the very beginning, to be held on the fourth Monday of the month, exactly two weeks after the monthly OSSC meetings, so that no matter when your fabulous orchid came into bloom, you could show it off at some Southern California orchid club. Consequently, many people joined both societies and regularly attended both sets of meetings. In those days, the freeways were not crowded; it was considered normal to drive down to Long Beach from Canoga Park every month for the SCOS meeting (as Grayce and Adolph Hecker did), or in the reverse direction, from Long Beach to the OSSC meeting site in Fiesta Hall at Plummer Park in Hollywood (now part of West Hollywood). One consequence of this arrangement is that the history of Southern California orchid activities is not a history of separate societies, but rather a history of a network of individuals and societies who collaborated freely to improve their knowledge, skills, and resources.
Soon, we starting growing our own judges, through the same process that is still used today in AOS judging. Generations of judges, first under Orchid Digest Corporation standards, and then in 1968, after the two judging systems were merged, under American Orchid Society standards (which had become nearly identical by then anyway), studied and "mentored" under SCOS judges such as John Hanes, Glenn Hamilton, Woody Wilson, A. G. Tharp, and many others.
The development of judges and judging was easily found in our old newsletters and in Orchid Digest and the AOS Bulletin, although there are still some aspects that are murkey. But we had more trouble finding the actual awards.
For ODC awards, a large bundle of SCOS newsletters, donated to ODC by Rita Crothers and now in the "Orchid Archive" at The Huntington Botanical Center, plus additional award lists published in Orchid Digest, gave us a nearly complete list (about 85%) of the ODC awards for Long Beach covering 1954-1967. That was a good start!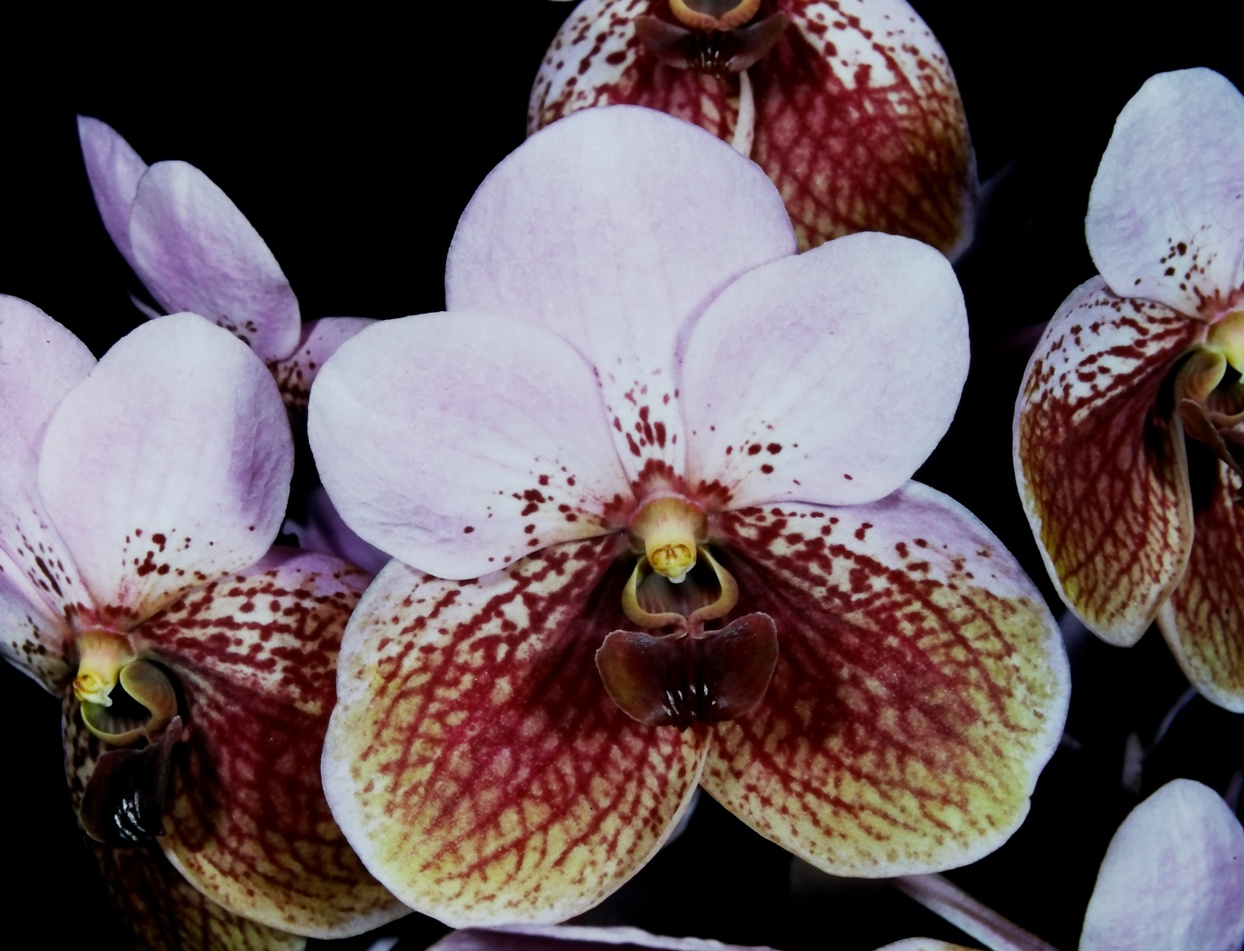 Long Beach AOS awards, 1968 to the present, have proved more difficult. The awards were published mainly in a separate journal, Awards Quarterly, but when those awards were transcribed and entered into the first AOS awards database, and then propagated through several generations of databases down to the current one, OrchidPro, all sorts of errors crept in. Those errors proved so pervasive, we estimate that they have affected about 18% of all Long Beach AOS awards 1968-1980, making many of the awards unfindable or misleading.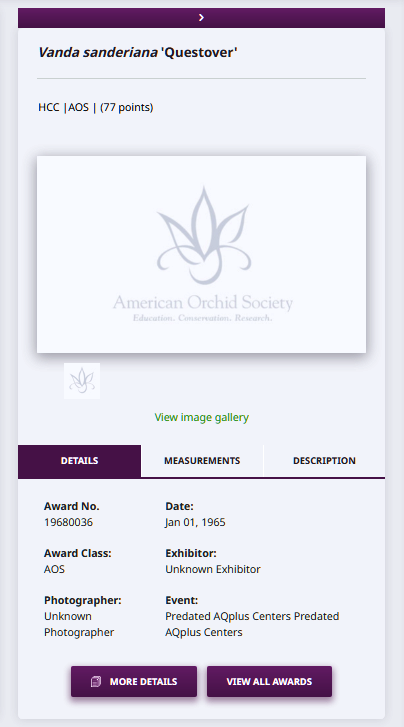 When AOS started developing an awards database, the intention was probably to create a complete inventory, very similar to the information found in the Register of Awards, covering all awards up through 1968, and in Awards Quarterly, covering all awards 1969 through about 2006, but in a searchable format. However, the task seems to have become too daunting, so that a very large group of awards, from about 1950 through the mid 1960's, now appear in OrchidPro with only very limited information: the name of the plant, the award, the award number, which includes the year of the award, and occasionally, the official award photo. Missing from this group of awards are the name of the exhibitor, the place where the award was conferred, the date of the award, and all descriptive information and measurements. In effect, these are place-holder entries, likely considered a temporary expedient until someone had time to enter complete information. The missing information, of course, can generally be found in the Register of Awards and Awards Quarterly, although there was a period when HCC/AOS awards were not required to include descriptions or measurements.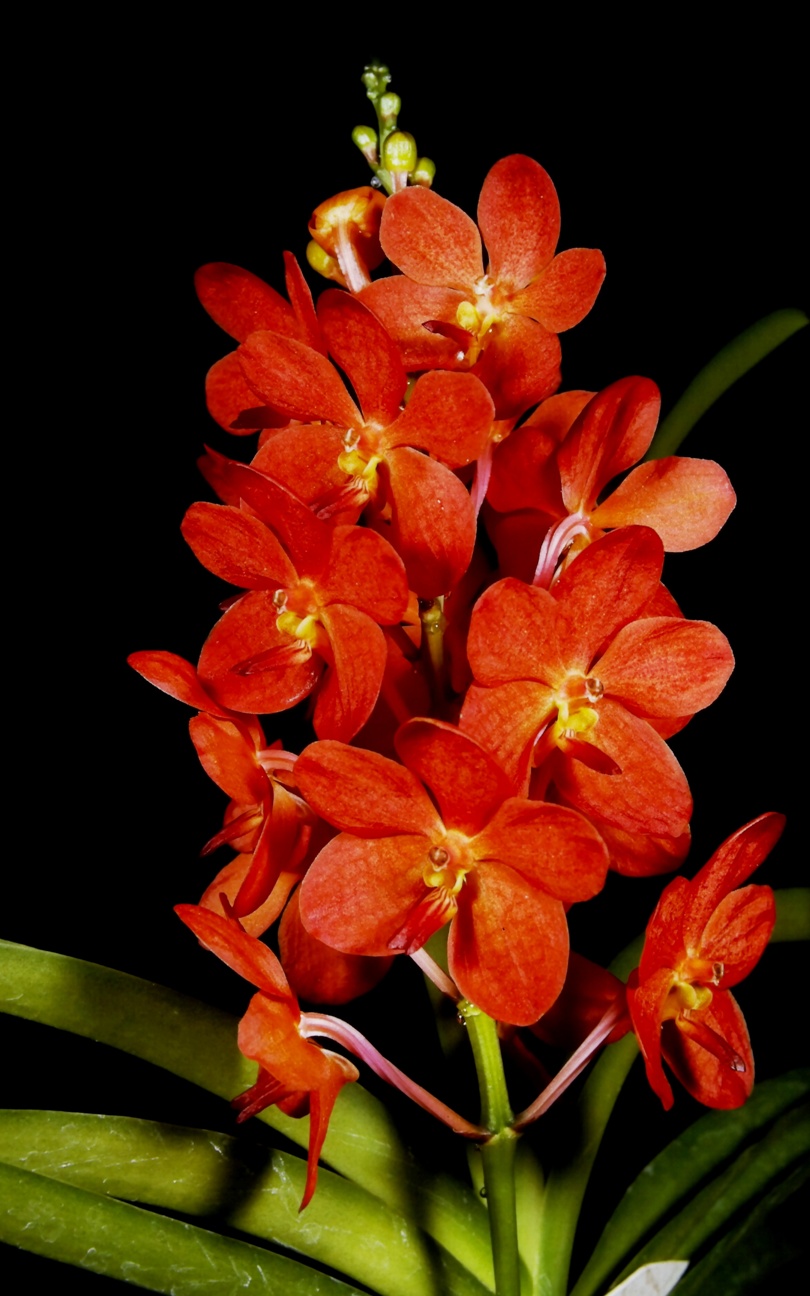 One feature of the older awards would have created difficulties for data entry: For the early years, measurements were recorded in inches, to the nearest 1⁄16th inch. Current practice expresses measurements in centimeters, to the nearest millimeter. The best way to approach this problem would be to use a spreadsheet or customized data entry screen that converts the measurements automatically from inches to centimeters. When the first database was created, such a tool was likely unavailable, another reason to bypass these records.
It is important to note the sequence in which the various sources were generated or published: For Long Beach, the award was made at our monthly meeting, slides were prepared, labeled, and sent to AOS headquarters or otherwise distributed. The information was generally published in our newsletter for the following month. After the information reached AOS headquarters, there might be a delay until an award fee was paid by the exhibitor, and an additional delay if the award was for a hybrid that had not yet been registered with the Royal Horticultural Society. After the completion of those formalities, the awards were reported in the AOS Bulletin (this practice was discontinued in 1975). The next step was publication in the Register of Awards (for awards up to the end of 1968) or Awards Quarterly (for awards from 1968 through about 2006, when Awards Quarterly was discontinued — by then, all awards were entered directly into a database). The last step was entering the information into whatever database was in use at the time. Errors might and actually did occur at each step along the way. The information the Register of Awards was very closely edited, although we discovered a few errors there that seem not to have been noticed before. Editing of Awards Quarterly, at least in its early years, was far less careful, resulting in the creation of many duplicate award numbers, date errors, and all sorts of other problems that were compounded when the information was transfered to a database. We found it essential to review all of the published sources to be sure we had found the correct information.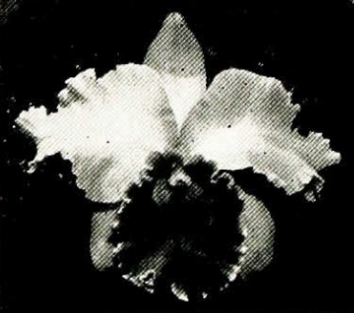 Some of the original award notices in the AOS Bulletin were accompanied by small black and white photos, generally cropped to show a single flower. At various times, those photos became extremely scarce for Southern California awards. These photos were often copied when the same awards were reported in the Register of Awards or in Awards Quarterly. However, these black and white photos were extremely rare or did not appear at all in some years for Southern California judging sites, while photos from judging in the rest the of country appeared frequently. Eventually, complaints mounted, to the point where they were mentioned in the AOS Bulletin, with the admonition that the required 12 duplicates of the color slide plus one black and white photo had to be received by a deadline at the offices of AOS at Harvard University, Cambridge, MA. What was the problem? Did someone on the west coast have the wrong mailing address, so that the photos ended up in the wrong mail slot at Harvard? Or was the mail, and communication generally, just too slow in those days? In any case, those rare black and white photos, when they can be found, have proven to be extremely useful in confirming that color images found elsewhere are in fact the official award photos. In a very few cases, even the black and white photo accompanying the first publication of an award had turned out to be incorrectly identified, by comparison with the award description published at the same time.
Thus, when we began looking for AOS awards involving some of our notable SCOS members from the past, there were big gaps. OrchidPro could not tell us about the early awards to say, John Hanes, or Imogene and Carl Keyes, because the names of the exhibitors, as well as the date and location, were almost always omitted.
After developing a "complete" list of Long Beach AOS awards and retrieving as many award photos as possible from a variety of sources (a major source proved to be the old collection of award slides maintained by the Pacific South regional judging program, now at The Huntington Botanical Center), we turned our attention to the rest of Southern California. Was it possible to find out what SCOS members had been doing before AOS judging started at Long Beach?
After thinking about the problem, we realized that it should be possible to enter key data from the Register of Awards (the original volume plus the six "Supplements") into a spreadsheet, and then use spreadsheet "formulas" to generate the text and HTML code required to format the information for a web page. Oddly, the idea worked the first time, and we now have a comprehensive list of Southern California AOS awards 1950-1968, with all of the exhibitors and locations and with as many photos as we could find in published sources. One big part of this project remains, to search for the remaining Southern California award photos in the Pacific South awards slide collection. How far back do the award slides go? We don't know yet!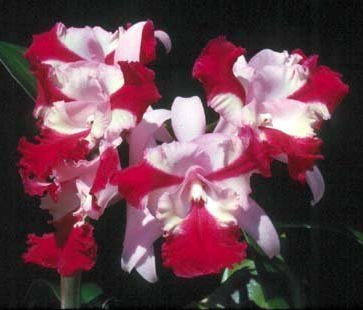 However, a number of award slides ended up in the hands of AOS judges, and many have since been donated to OrchidWiz. Only a minority of the images in OrchidWiz are official award photos, but a significant number of them can be identified as such, from other information. In many cases, we can match the OrchidWiz photo with a black and white image published in the AOS Bulletin, or with an image from OrchidPro. The OrchidWiz images are generally much better scans of the original slides than the scans in OrchidPro, as many of the latter seem to have been created using very early scanning technology. Many of the OrchidWiz award images turn out to be mirror images of the photos in OrchidPro or the award slides — not everyone knew which sides of the slide were properly the "front" and "back", and how to orient the slide in the scanner!
From the photos in OrchidWiz that can be identified as real award photos, and from occasional mentions in the old SCOS newsletters and elsewhere, we know that color slides were being made during judging sessions as early as the 1950's, and that, by the 1960's, there was already a requirement to supply 12 copies of the award slides, plus a black and white photographic print, to AOS headquarters. The 12 duplicate slides were to be distributed to judging centers and also loaned out to local societies for their own use. Additional duplicates might have been made at the same time for use by local judges or influential nurserymen. Consequently, award slides probably ended up all over the US. Whether there is a complete archive of the "original" slides at AOS headquarters, we don't yet know.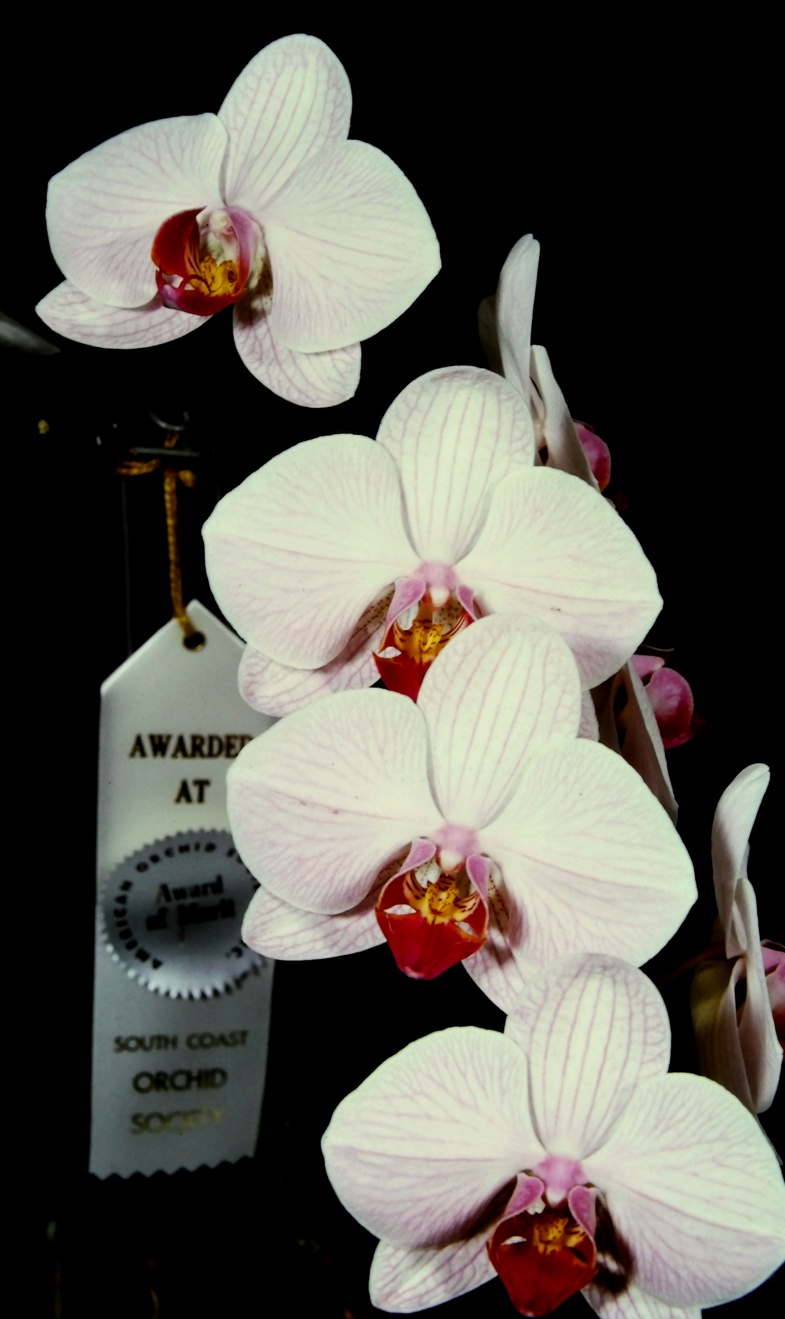 At least for the Pacific South region, the quality of the slides is generally very good — we were able to obtain stunning digital images using an inexpensive portable scanner — but a large number suffer from technical issues: some are badly overexposed, especially for white flowers, and require additional work to recover a good image. Others, especially red flowers, are badly oversaturated. A great number have an overall blue tone that needs to be removed to recover something closer to realistic color. A few slides are spoiled by small blue or purple spots, presumably due to splatter of some sort of chemical during the process of making the duplicate slides.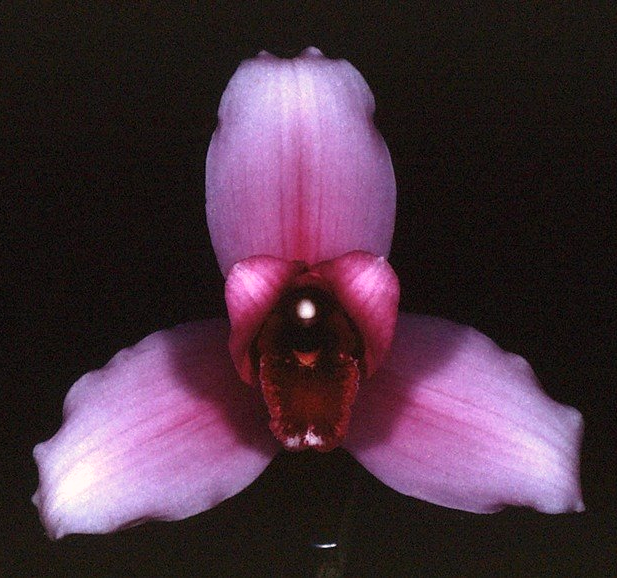 Also, whole groups of slides are missing: all of the early Lycaste awards, all awards for the remarkable Cymbidium hybrid Lillian Stewart, all awards for some of the famous Cattleya hybrids such as Bonanza and Bob Betts, etc. Were those slides "borrowed" at some point by someone who was preparing articles for publication in the AOS Bulletin or Orchid Digest, and never returned? Do the missing slides still exist in other archives, and can we find them before those collections are discarded as "obsolete"? At least until all of the images can be properly scanned and added to OrchidPro, they are an important resource and need to be preserved by all of the judging centers and other institutions that may have them!
The skills of the photographers varied tremendously as well. By about 1950, there was plenty of advice for aspiring orchid photographers. A notable example is the extremely successful commercial photographer Valentino Sarra, who, once he had encountered orchids, became an expert grower and a collaborator in some commercial orchid ventures. He wrote about the difficulties of lighting, backgrounds, and all the technical details and tricks that could be used to produce satisfying images of the most difficult flowers. Some of the award photographers in our area took these lessons to heart, others did not. The problem is especially noticeable for Phalaenopsis flowers, which were almost always photographed as a spray, rather than an individual flower. Some photographers used careful lighting from one side, which emphasizes the texture and contours of the flowers; others apparently used lighting from the front, which almost always produces a washed-out image. Controlling the depth of focus, through a combination of light intensity and the f stop, was another obvious difficulty, which some photographers used to advantage, while others did not.
In spite of these problems, the new scans from the Pacific South award slides have yielded many images that are far superior to those now in OrchidPro, as well as many excellent images that are not found in OrchidPro at all.
Now, at last, we can begin to recreate that long parade of stunning plants that was displayed at our meetings, as well as the plants that built the well-deserved reputations of some of our most energetic and innovative members from the past. There is much to learn from these pictures and the lists of awards. We hope the information we have recovered will point the way to improvements in future generations of the AOS awards database. We think the record of awarded plants and the remarkable people who produced them is worth preserving.
---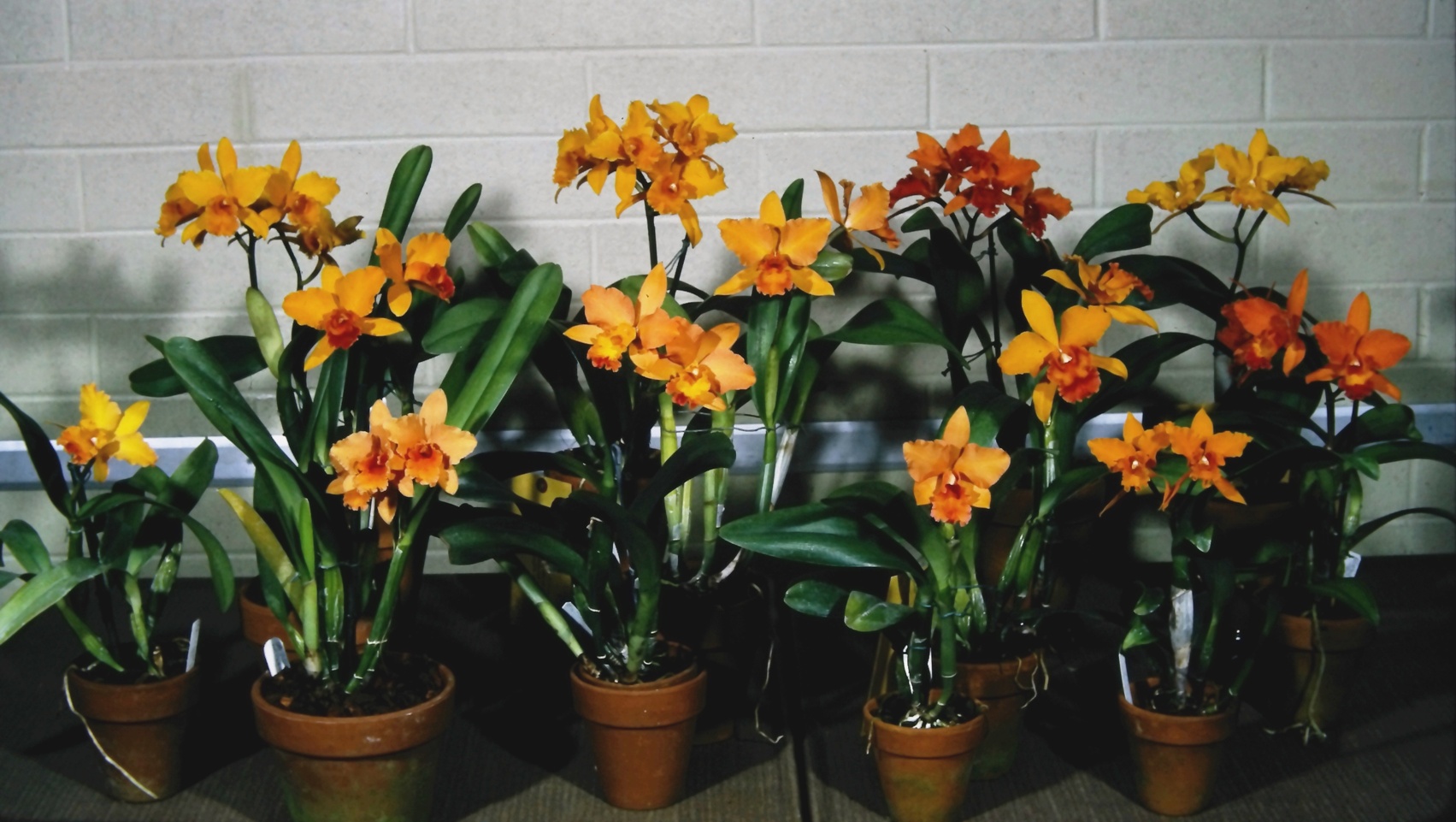 ---
---