South Coast Orchid Society
Orchid Judging in Long Beach, 1954 and Beyond!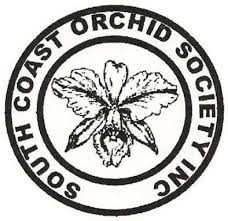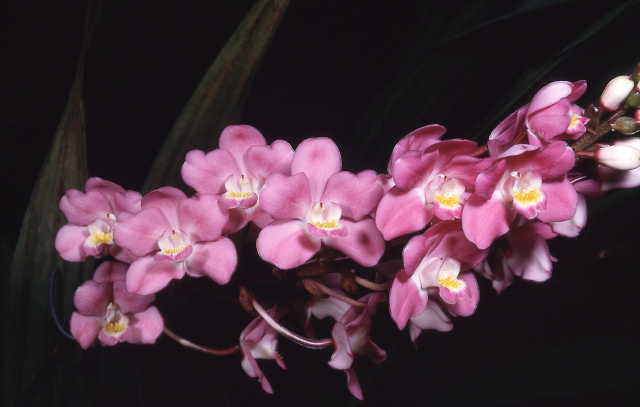 Judging under Orchid Digest Corporation standards began at SCOS meetings in December, 1954, as a result of an earlier discussion and vote by the membership. Judging under the auspices of Orchid Digest Corporation continued at the Long Beach site, first with certified judges "borrowed" from the Orchid Society of Southern California, and later with our own, home-grown judges, until December, 1967, when the ODC judging program was merged with the AOS judging program, which started at the SCOS meetings in Long Beach in January, 1968. During the period when ODC standards were used, the judging team in Long Beach gave each award a sequence number, which, along with other award information, was regularly published in our newsletters and in some cases republished in Orchid Digest.
Between the SCOS newsletters (we have recovered almost all issues from 1958 through 1973 — these were donated by Rita Crothers, probably to the library of the Orchid Digest Corporation, which was transferred later to the Huntington Botanical Center, where Brandon Tam brought them to our attention) and the reports of SCOS activities and ODC awards published in Orchid Digest, we have been able to reconstruct about 85% of the 522 awards conferred at Long Beach during that period.
The practice of assigning a sequence number continued when AOS judging started at our meetings in January, 1968, starting again with 1. The sequence numbers continued to be used at least well into 1973, as the AOS awards were regularly published in our newsletters until late in 1973. Eventually, not only the sequence numbers, but information about the awards themselves was dropped from our newsletters. Nevertheless, the existence of a numbered sequence of awards in our newletters, from 1 to 226, allowed us to compare the activities of the Long Beach judging center with the award records published in the AOS Bulletin, the Register of Awards (covering AOS awards up to the end of 1968) and its successor, Awards Quarterly (covering AOS awards 1969 until about 2006), a separate index, American Orchid Society Awards 1932-1989: A Combined Index (we will cite this as "AOS awards index 1932-1989") compiled by systematically extracting information from the Register of Awards and Awards Quarterly, as well as the AOS awards databases Orchids Plus and the current online database, OrchidPro. We were also able to compare these records with information extracted into the proprietary OrchidWiz database, which contains award descriptions as well as photographs obtained from a variety of sources, including what have turned out to be some Long Beach award photos. We discovered that some awards conferred at the Long Beach site did not find their way into OrchidPro, or else had been miscopied or otherwise corrupted in ways that made them unrecognizable. At least a couple photographs in OrchidPro were attached to the wrong award records, and a number of "Long Beach" awards turned out to be from other judging sites.
As a result of these investigations, we can now present a relatively complete view of the Long Beach AOS awards for the 11 years 1968-1980 — a set of virtual orchid shows that have never been seen together before! The pictures are glorious, many of the exhibitors are well known from SCOS history (and in some cases, still with us). They show the activities of some of our most industrious members from the past, and remind us just how good the old orchids were.
---
Orchid Digest Corporation Judging at Long Beach, 1954-1967
Only a few photographs have been recovered, although we expect there are more to be found!
---
American Orchid Society Judging at Long Beach, 1968-1980
Complete (?) list of awards from the Long Beach judging center, 1968-1980, with photos and additional information from diverse sources:
We will continue the list as time permits! Our goal is to continue the investigation, year by year, until we reach a point where the award records appear to be complete and accurate. In order to accomplish this, we are reviewing all available sources, but for the years after 1967, the most significant source is Awards Quarterly, for the reason that an award published there can be taken as definitive proof that AOS recognized the award as valid. However, it is already clear that not all award photos were included in Awards Quarterly, at least for some years.

Some observations about the content of OrchidPro, as of March, 2022:

For awards before about 1968, many lack the actual award date and other information. Most of the missing information (but usually not the award photos) can be recovered from official AOS publications. We think a thorough review of these awards against the published sources is worth the effort!
For the years 1974 through most of 1978, at least for the Long Beach judging site, most awards are not accompanied by photos, even though we strongly suspect that the photos were made and were distributed in the form of color slides. For the last couple years in this period, photos were published or found their way into the database for AM and FCC awards, but generally not for HCC awards.
A few awards that were officially published are not found in OrchidPro in any form.
A few awards that were officially published are found in OrchidPro under an incorrect award date, or an incorrect location, or some other combination of erroneous data that makes them difficult to find. There are even cases where the award is correctly identified, but the description is clearly from some other award.
The quality of the award photos found in OrchidPro varies tremendously. Some are from very poor scans made decades ago, probably from badly faded color slides. In other cases, the scans appear to be of good quality, but the slides themselves are badly faded. New scans from the color slides should be made. We had occasion to examine some slides that were found by the family of a former AOS judge in Long Beach, dates ranging from 1977 to the 1980's, none of which showed any evidence of fading, from which we were able to make excellent digital images using an inexpensive film scanner.
Some award photos have turned up among images contributed to OrchidWiz (notably by Steve McNerney and William Merritt), in the form of excellent scans with superior color and resolution. Many of these are mirror images of the photos now in OrchidPro, which suggests that scans have been made without attention to the correct orientation of the color slide.
Many award photos were later published as illustrations of articles in the AOS Bulletin. Some of those illustrations involve photos that are not found in OrchidPro, although the quality of the published illustrations varies tremendously. With careful attention to the award history of individual cultivars, it is often possible to establish with reasonable certainty that the illustrations are in fact from the original award photos. We hope to be able to confirm some of these from color slides, such as a collection now deposited at The Huntington Botanical Center.
For Paph and Cymbidium awards from the Long Beach site, the same flowers were often judged and awarded within a few days at CSA judging, so that CSA photographs of the same flowers can be found, either contributed to OrchidWiz or published by CSA in Orchid Advocate. We have not yet found a contact in CSA who can begin a discussion of whether those photos can be used to fill some of the gaps in the AOS award records.
Overall, we estimate that about 10% of the AOS awards from the Long Beach site prior to about 1990 have or had some sort of data problem in OrchidPro. If that figure is at all representative of what has happened to awards from other sites, a thorough audit of the data would be useful. For the Long Beach site, we have a nearly complete record of the AOS judging activities from 1968 through 1973, published in the SCOS newsletter — the judging team assigned a serial number to each award! For other sites, the awards published in the AOS Bulletin, the Register of Awards, and its successor Awards Quarterly should be regarded as the official record of awards, that should match OrchidPro, and should serve as a basis for identifying photos and resolving data issues.
It appears that the compilers of the AOS awards index 1932-1989 were aware of the problem of duplicate award numbers (these would have become apparent when the extracted records were sorted by award number) and that some attempt had been made to resolve the duplications, by assigning different award numbers so that each entry had a unique number, even though that procedure caused the award numbers in the index sometimes to differ from what is found in Awards Quarterly. Unfortunately, these changes seem not to have been carried successfully into the later awards databases, including the current version, OrchidPro. Many of the original duplicated entries from Awards Quarterly have instead suffered a variety of fates, such as being conflated, assigned to other numbers, or, not infrequently, being omitted entirely.
From time to time, corrections were published in Awards Quarterly. It is not clear yet whether the published corrections were accounted for in the AOS awards index for 1932-1989. The corrections need to be checked.
In addition to the errors already noted, we discovered some award records in OrchidPro that are not found by a "long beach" location or event search, but which are attributed to the Long Beach judging site on a date corresponding to our normal meeting schedule, but are found to come from other sites and on other dates in AOS Bulletin and/or Awards Quarterly. Each such record needs to be investigated carefully.

---