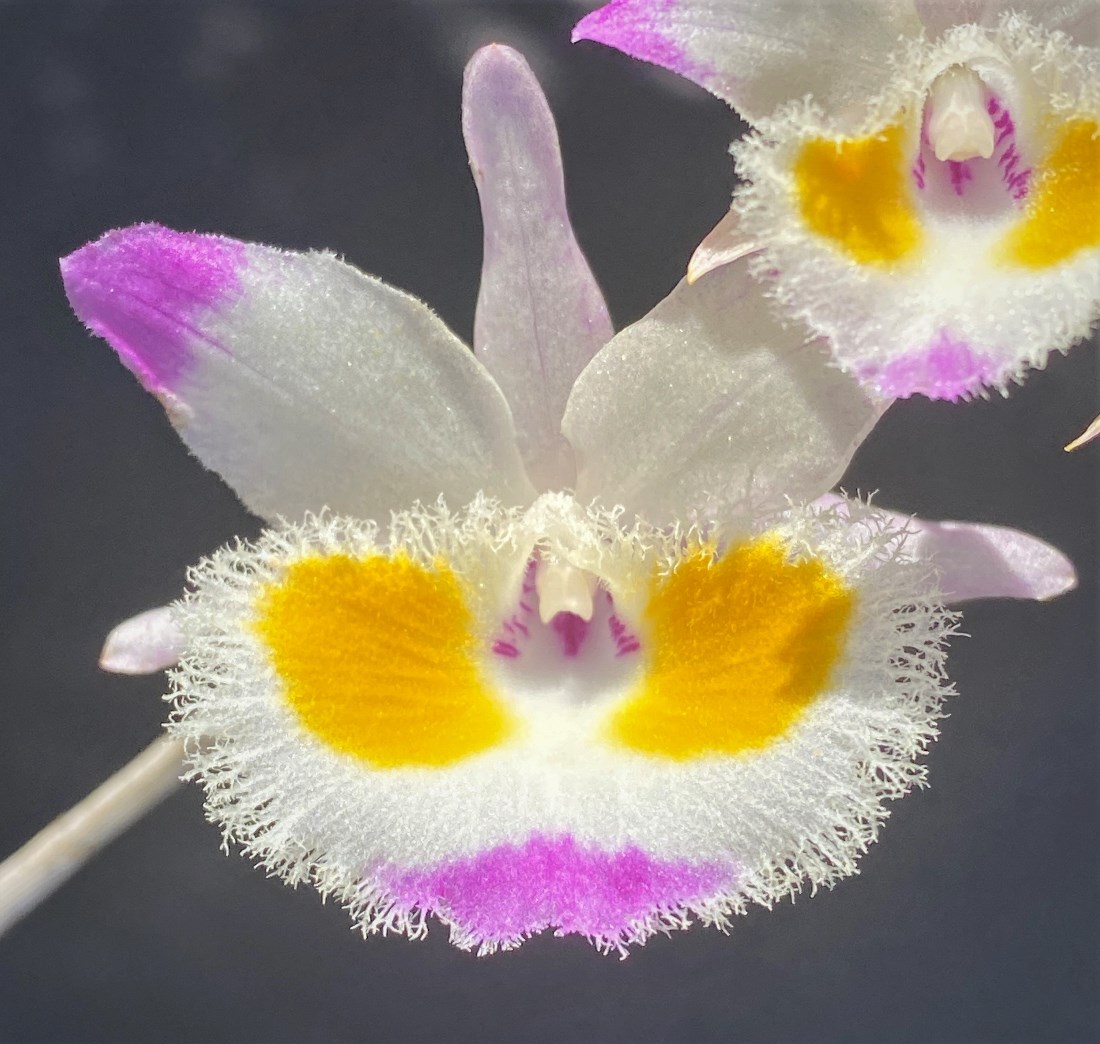 It's been well over 4 years since we first encountered Scott McGregor, when he presented a program for South Coast Orchid Society on growing scies orchids outdoors. We were intrigued by his simple, well-designed outdoor growing space, a sophisticated shade house with curb appeal. He was happy to share his recommendations and experience, and that was the inspiration that launched our Orchids Today and Yesterday blog. Our sincere thanks, Scott!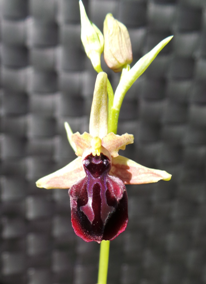 Scott returned as soon as we were able to hold in-person meetings after the pandemic, in March, 2022 (in fact, it was the same program we had invited him to present in March, 2020, just when our meetings were shut down), to recount his experiences with terrestrial orchids from "Mediterranean" climates, where the rain comes in the winter and the summers are dry, just as we expect in Southern California. His success in this effort caught the attention of Orchid Digest, which sent Phyllis Prestia to San Juan Capistrano to interview him. Her report was published in Orchid Digest in the second issue for 2019, "Growing Mediterranean native orchids: Serapias, Ophrys and Orchis (Orchid Digest, 83(2):114-118).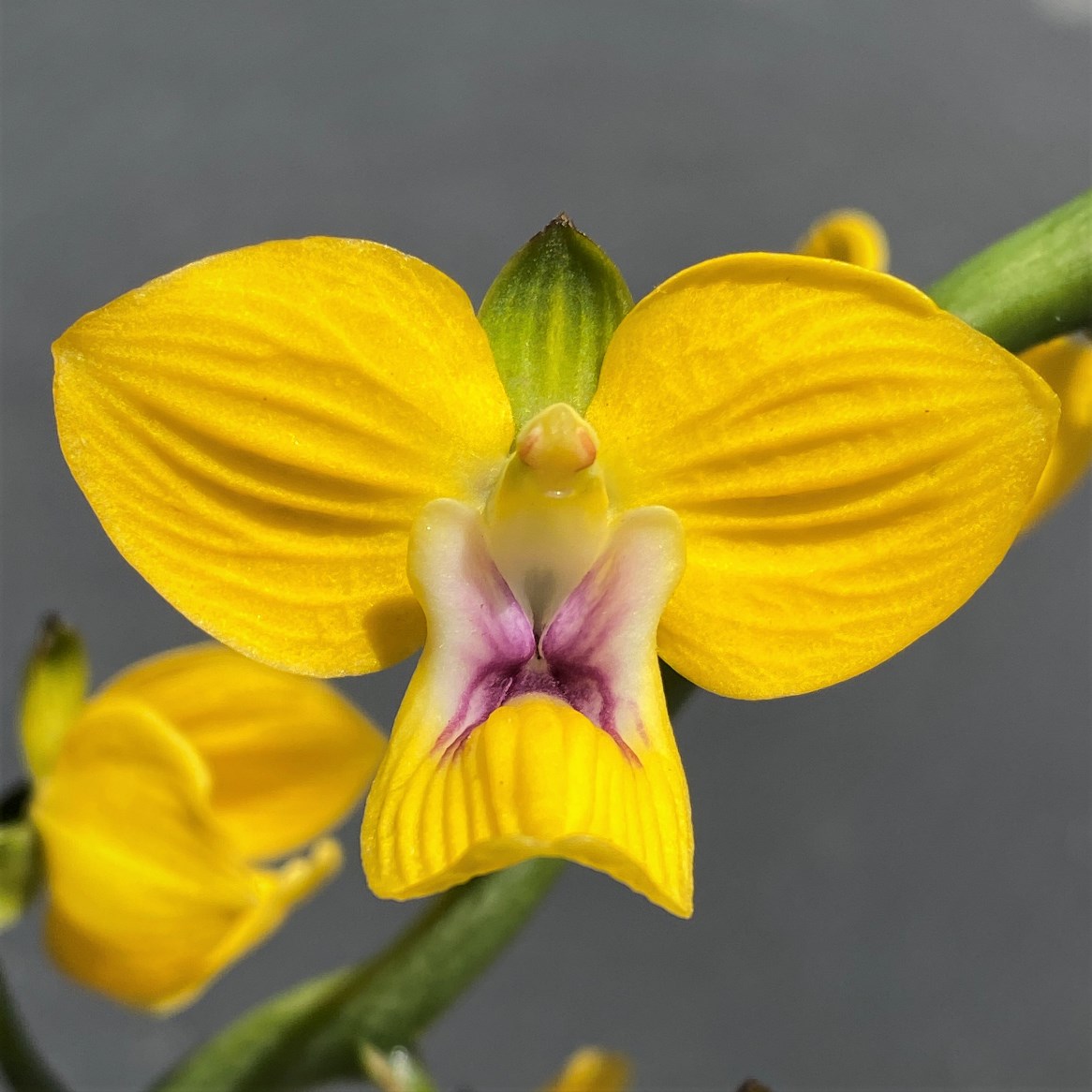 Now, to begin 2023, we thought it was time to bring Scott back to take a fresh look at growing orchid species outdoors in our area. There are so many orchid species that have been tried in Southern California backyards, going back at least to the 1950's — some of them mentioned in our old newsletters, in old issues of Orchid Digest and the AOS Bulletin, and in old show program and nursery catalogues. Different authors have had different recommendations, because so many microclimates are possible in Southern California. Scott writes, "Southern California, with its favorable climate, is an ideal location to grow hundreds of orchid species outdoors. This is the story of an on-going experiment to push the limits on what might be possible to grow, with a number of surprising outcomes. From this talk you'll learn about some beautiful new species you can grow and some tips/techniques on outdoor growing."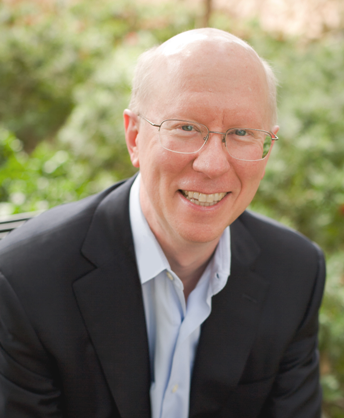 Scott McGregor has been growing orchids since he was 12, when a neighbor gave him a plant. That plant had a short life, but the hook was set, and he found books and sources for orchid species while growing up in St. Louis. His collection has morphed over time, living in different location around the world, but has always centered around the more unusual species. Scott grows all his plants outdoors, without a greenhouse, just "subtracting some sunlight and adding some water" to what nature provides in Southern California.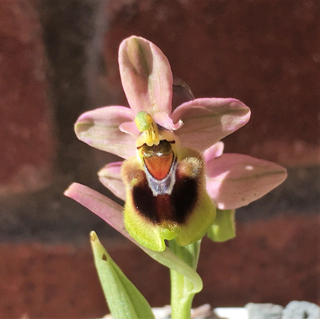 He especially enjoys finding new species that grow well in our climate (many are far more adaptable than most people would believe), and the last time we checked, grows over 500 different orchid species, along with cloud forest companion plants such as Heliamphora and epiphytic Utricularia. He rarely uses chemical insecticides or fungicides, preferring fresh air, beneficial insects and our native tree frogs.
Scott retired from the corporate world a few years ago, and stays active on corporate boards and working with non-profit groups that promote science education for kids. He resides with his family in San Juan Capistrano, California.
---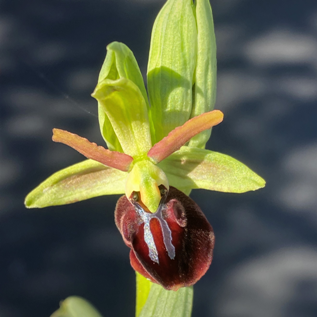 But wait! There's more! Scott's 2022 program on "Mediterranean" climate terrestrials touched on many topics. The actual Mediterranean isn't the only place in the world where Mediterranean climates occur. It turns out Australia has some intriguing terrestrial orchids that expect the same conditions — among others, Thelymitra, a genus that that comes in many colors, including true blue. Taken together, the terrestrial orchids from "Mediterranean" climates are a remarkable group that most of us have never seen in person. That we may be able to grow them in Southern California is welcome news! However, we will have to unlearn some of our usual garden practices, such as watering during the summer months, and let Nature and these little orchids guide us.
---
The Fantastic "Bug" Orchids: Ophrys
The "bug" orchids are probably the best-known examples of flowers that mimic insects. They are charming wildflowers that grow in grassy areas in much of Europe, along with many other intriguing wildflowers, including many terrestrial orchids. They don't have the huge, showy flowers that most people will recognize as orchids, but their charms have long been appreciated by people who are willing to slow down and enjoy nature. They have also been appreciated by artists for their intricate structure and coloration — a welcome challenge for botanical illustrators. Here is a group of old illustrations, found almost at random on the internet. They are plates by Walter Müller in Friedrich Kränzlin's Abbildungen der in Deutschland und den angrenzenden Gebieten vorkommenden Grundformen der Orchideen-Arten (Berlin, 1904).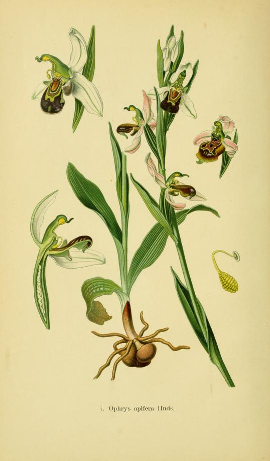 ---
What about those companion plants?
Heliamphora is a genus of carnivorous "pitcher plants" native to South America, where they are mainly epiphytic. Utricularia is a very widespread genus of carnivorous plants, many of them aquatic. However, there are some epiphytic species in South America, with showy flowers. These plants are so attractive and their requirements would seem to be very similar to many of the orchids we already grow. We will ask Scott for more information!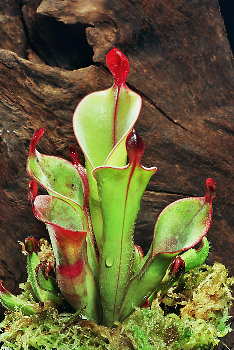 ---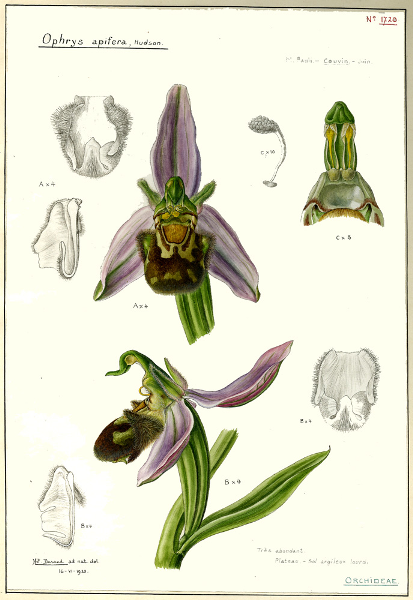 ---